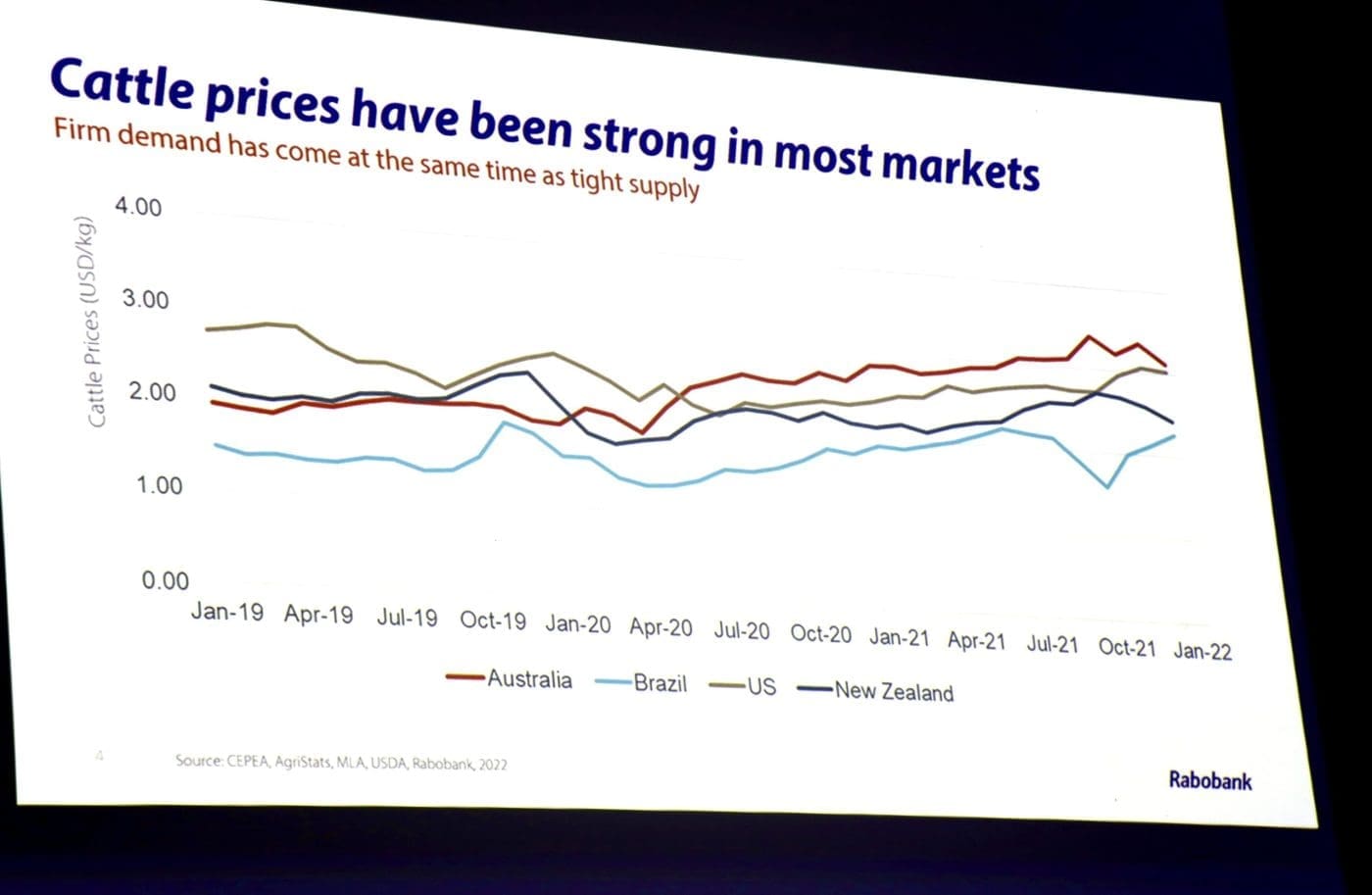 What can cattle producers do to get in front of the curve when cattle prices start to come back down?
One of the things that makes everyone nervous about how good prices are "is that we think that when prices are good, they can only go one way", Rabobank global animal protein strategist Justin Sherrard noted at Friday's Northern Territory Cattlemen's Association conference in Darwin.
"Now we have been thinking that for a couple of years and they have only been going up," he said.
Despite concerns about "how long it can last", the outlook for cattle prices remains positive, according to Mr Sherrard's projections.
Global beef production this year is expected to be slightly down on where it was last year, particularly in the United States.
So in effect supply is tightening while demand remains firm, which is placing continued upwards pressure on prices.
Costs are also rising though.
Russia's invasion of Ukraine has contributed to higher global fuel prices, while inflationary pressures are forcing up the price of fertiliser and other raw materials such as steel and hardware.
Pain in the supply chain
While high cattle prices have been wonderful for many cattle production businesses, they have caused significant problems for those further along the supply chain including processors, live exporters and overseas customers.
MORE NTCA 2022 CONFERENCE COVERAGE:
Exporters explained in a panel session on Friday that the tight numbers of cattle available have been managed by sharing ships, sending part shipments and delivering different types of cattle which have different prices to reduce the average price for customers.
Of concern was that long-term buyers of Australian cattle were also increasingly looking to now source cattle from other origins such as Brazil and Mexico.
Live export prices are likely to lower over the next few months as a lot of cattle come onto the market, the panel session was told, with dry season mustering camps already now underway following a light wet season.
However, the trade is expecting to be short of cattle again in the second half of the year.
Invest in good times to prepare for bad times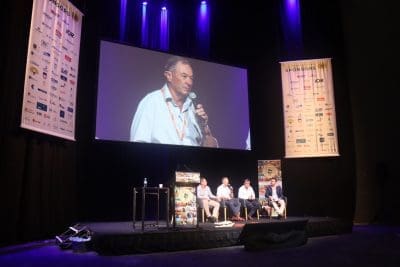 When attention turned to the question of how producers can "get in front of the curve" when prices eventually do come back, a number of panellists pointed to the importance of taking advantage of the current good times to prepare for the future.
At present, all types of cattle are benefiting from "a high tide that is floating all vessels", seedstock producer David Bondfield (left) from Palgrove noted.
"There has been a scramble for every type of animal and every weight range and every quality range," he said.
"Once we see that curve start to bend the quality end will hold, the other end will slide more quickly."
He said the past 18 months to two years had created an opportunity to invest back into businesses with infrastructure and management upgrades, and genetics was "very much a part of that".
"As a seedstock producer we are anticipating these high prices not to continue like they are and it will balance out, and certainly the quality end of the market will hold at a higher level than the other end," he said.
Tom Slaughter from Austrex agreed investment in genetics was critical in helping Australia to maintain a competitive advantage in overseas markets.
"We have the ability to guarantee a certain level of performance for our trading partners, especially long standing ones like Indonesia, who have a lot of data and information and are always trying to improve their systems," he said.
"The more value we can provide them around those animals and the ability to turn them off faster is a benefit."
Ben Dwyer from Harvest Road concurred that investing back into businesses to prepare for when there was a correction was the best strategy.
"Invest in your organisation so you're reducing your cost of operation, so when it does come back you are getting a better return," he said.
What role can Government play?
In response to a question from moderator Matt Brann about what role Governments can play, Patrick Underwood from Australian Cattle Enterprises said that despite its excellent performance, the live export trade from Darwin to South East Asia had been caught up in onerous regulatory measures resulting from the Awassi Express sheep export issue in 2018.
"In our last nine consignments to Indonesia we haven't had a single mortality, we're getting weight gains, it is a truly great trade, but they're already talking about putting independent observers back on ships again which cost us $30,000 on a trade that is very good," he said.
"We need a regulator, the government is very important to the trade, and I must say the last couple of days we have had a very senior delegation up from Canberra who have listened, spoken to us individually as exporters and as industy and I think we're on the right track."