CALLS to import live Lumpy Skin Disease virus into Australia's high-level disease research and containment facility at Geelong are being urgently sounded as the threat of the disease entering Australia's cattle herd grows.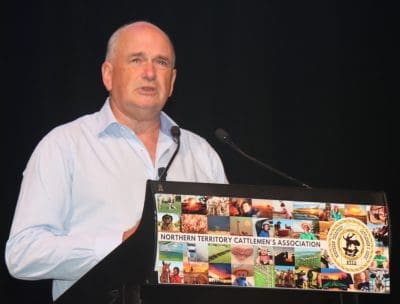 With Lumpy Skin Disease (LSD) now confirmed in Indonesia, the time has come for industry and Government to have urgent discussions about bringing a live version of the virus into Australia to aid in the development of an effective live vaccine and diagnostic capabilities for Australian conditions, Department of Agriculture deputy secretary Andrew Tongue (left) told Friday's NTCA conference in Darwin.
Previously there has been staunch resistance to the idea of importing live versions of devastating viruses such as LSD and Foot and Mouth Disease into this country, which Mr Tongue noted.
When the Howard Government developed the Australian Centre for Disease Prevention (ACDP) at Geelong in 2006 – which is recognised as one of the highest level containment facilities for animal and human diseases in the world – Australian agricultural representatives voiced enormous concern about moves to import live versions of pox viruses (of which LSD is one) and Foot and Mouth Disease into the facility.
As a result, the ACDP does not hold either of those diseases, a position which still stands today.
However, with LSD now just 3000km away and looking like it is "headed towards us", Mr Tongue said it was time to revisit that decision.
"We think the equation has changed," he said.
Need to develop local vaccine
A lot of the vaccines around the world that have been developed to fight Lumpy Skin Diseases are live vaccines, he said, which aren't currently allowed to be imported into Australia.
"Because some of those vaccines have been poorly manufactured they have interacted with the disease and new variants of Lumpy Skin Disease have emerged, and the scientists are a bit concerned about the nature of some of those emerging variants of Lumpy Skin Disease," Mr Tongue said.
".. what we have observed about some of those dodgy, I'll call them, vaccines is that they are interacting with the virus in ways we don't yet understand to create something new.
"We don't just want to be going out to the world and saying send us your live vaccines, because in our environment, I guarantee it, it will create something new and it may be something pretty bad."
It was important that local scientists were able to develop live vaccines for Australian conditions, but current domestic protocols prevent that from happening, he said.
"We can't study those diseases, we don't have that sovereign capacity right now here today to study Lumpy Skin Disease and to know what it means and to know how it is evolving therefore it is very difficult for us to fight it," Mr Tongue said.
"So there is a conversation to be had there by the industry about allowing Lumpy Skin Disease and pox viruses into Australia so they can be studied."
Improving speed of diagnosis
Improving Australia's capacity to diagnose Lumpy Skin Disease in the event of an outbreak was another reason why the disease needed to be studied here, he said.
"(We) need to detect the disease early. In order to support really fast diagnostics here in Darwin, over in Cairns, up in Broome, all the equipment that does the diagnostics needs to be calibrated against the live virus, and the ACDP in Geelong is the place that does that.
"So we can't really progress very fast with diagnostics."
Mr Tongue said there is a "big conversation to be had quickly" on the issue.
'No time to waste'
NT Agribusiness Minister Nicole Manison also told the conference in her address that Australia must get "a vaccine fast", and to do that it had to get the live virus into Australia's centre for Disepase Preparedness at Geelong.
"We must start the diplomatic and trade negotiations with our international partners to establish post-incursion protocols fast," she said.
"There is no time to waste."
Key industry groups have told Beef Central today they agree that urgent discussions are now needed to balance the risk of importing a live virus against the risk of not being prepared for a devastating disease.
Urgent discussions needed: RMAC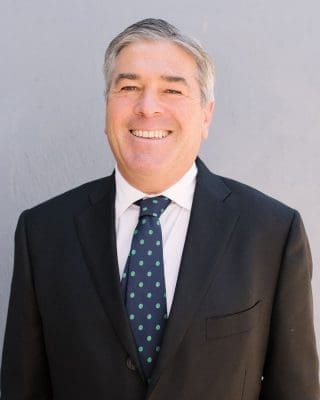 "It is critical that the Australian government and industry does everything in their power to minimise the risk of LSD entering Australia's cattle herd, in addition to ensuring an effective and immediate response if the disease were to reach our shores," RMAC independent chair, John McKillop, said.
"RMAC therefore encourages urgent discussions between government and industry so that a holistic approach can be urgently developed.
"This should include enabling the development of effective vaccines for our conditions and improving our capacity and capability for rapid diagnosis of the disease.
"We need to balance the risk of importing a live virus into Australia for research purposes against the risk of not being prepared for a disease that is now very close to Australian shores and would devastate the beef industry and the broader economy."
Australian Cattle Vets support changes to enable safe entry of virus into Australia
Australian Cattle Veterinarians president Dr Tracy Sullivan said the risk of entry of Lumpy Skin Disease (LSD) to Australia "is real".
"(This)is the most significant exotic animal disease threat to the Australian cattle industry that I have seen or am likely to see during my veterinary career," she said in a statement to Beef Central.
"Vaccination is one of the critical tools to manage both the threat and the reality of this disease incursion, within Australia and our neighbouring countries."
Dr Sullivan said Australia is extremely fortunate to have the expertise and the facilities at the Australian Centre of Disease Preparedness (ACDP).
"The high containment ACDP laboratory is amongst the best in the world which enables animal specific viruses of high industry significance and public health risk to be studied, and vaccines to be developed, tested and trialled.
"ACDP is where the vaccine against Hendra virus – a deadly disease to both humans and horses – was developed, and has subsequently been of great benefit.
"The ACV is optimistic that the ACDP can capitalise on vaccine technologies developed during COVID to develop a mRNA vaccine for LSD.
"A mRNA vaccine would ensure that the vaccine can't result in disease, and that vaccinated animals could be differentiated from diseased animals via blood testing."
She said the ACV understood "the vital importance" of  the ACDP being able to work with live LSD virus to develop a vaccine and diagnostic tests, to forge a strong biosecurity program for industry.
"We thus support any changes which may be required to enable the safe entry of virus into Australia for this purpose.
'We thus support any changes which may be required to enable the safe entry of virus into Australia for this purpose'
"A strong biosecurity program also relies on surveillance, early identification and rapid response to the disease within Australia and our close neighbours, highlighting the importance of veterinarians and producers working closely together.
"The ACV has commenced discussions with Animal Health Australia (AHA) on private vet training and calls on the government to reenergise and reinvest in the Australian Veterinary Reserve to prepare private veterinarians to mobilise the field response critical in the event of an LSD outbreak."