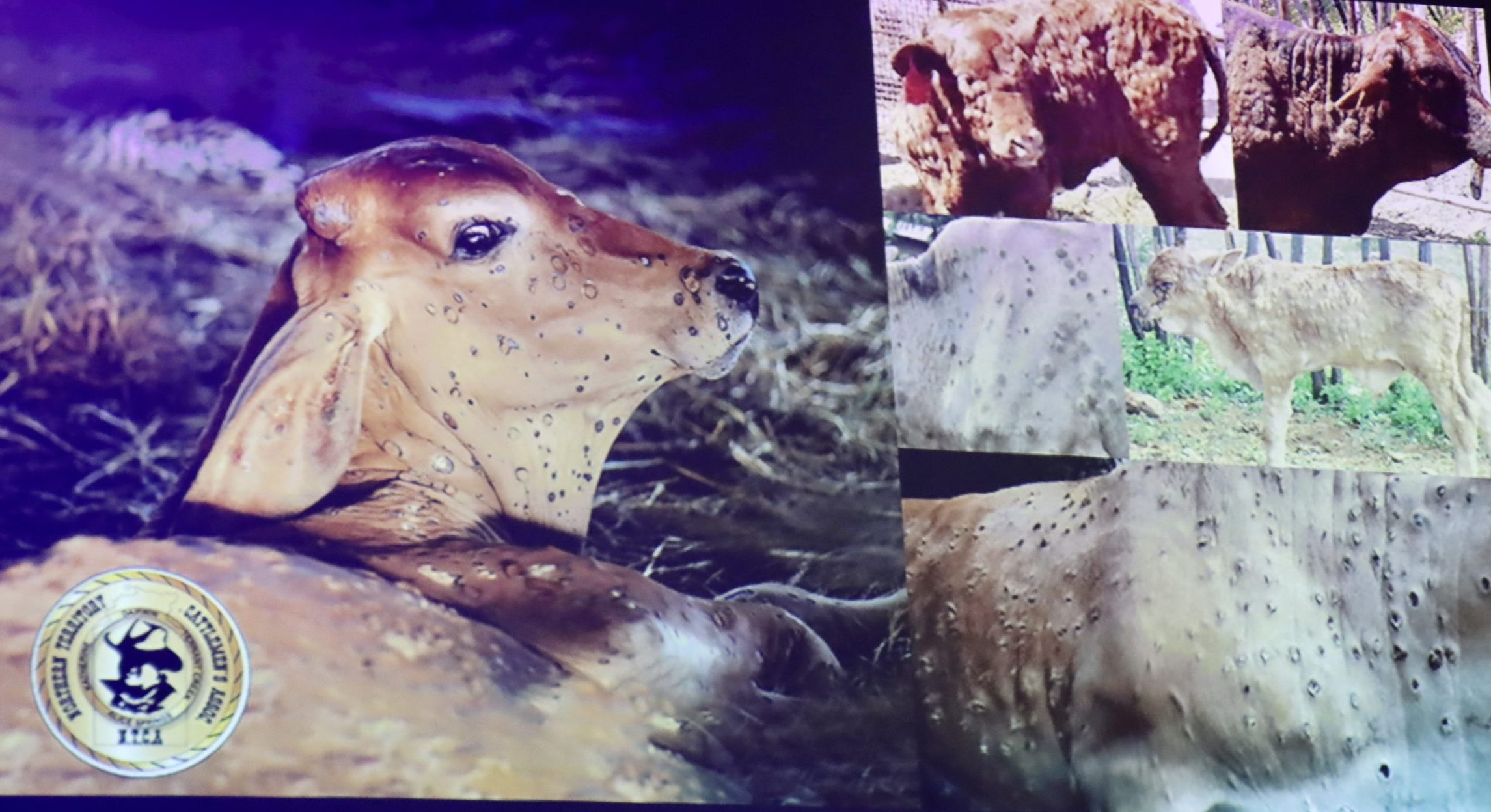 "We know how big it is, but we're not doing enough to stop it."
That was the sobering message to Government and ag sector leaders around Australia from Northern Territory Cattlemen's Association president David Connolly at the 37th annual NTCA conference in Darwin on Friday, where biosecurity, and more particularly, the urgent need to step up protections against Lumpy Skin Disease, repeatedly took centre stage.
As reported by Dr Ross Ainsworth on Beef Central on March 3, the day the Australian Government was formally notified of the outbreak, Lumpy Skin Disease has now been confirmed in Indonesia, just 3000km away, significantly heightening the risk it can now be carried by windborne vectors into Australia's cattle herd.
Beef Central first reported on the presence of lumpy skin disease in Indonesia back on 25 February.
Devastating consequences
Just one case in Australia would trigger devastating consequences, not just for the northern cattle industry but the entire export-dependent Australian economy, Friday's conference was told.
A positive detection would likely trigger the shutdown of access to major export markets for cattle, hides and dairy products, the Department of Agriculture deputy secretary Andrew Tongue said.
It may also result in other States closing borders to cattle from infected States, in a similar vein to the cross-border pain experienced during the COVID pandemic over the past two years.
The Federal Government has responded with $61.6 million in emergency additional biosecurity funding for Northern Australia announced by agriculture Minister David Littleproud in Darwin last week, and also sending chief veterinary officer Dr Mark Schipp to Indonesia to help with the country's disease suppression efforts.
"Not if, but when"
The Northern Territory Government also announced almost $2 million of permanent additional funding for more biosecurity boots on the ground at Friday's conference.
A Lumpy Skin Disease outbreak in Australia was a case of "not if, but when", Minister for Agribusiness Nicole Manison said.
But while expressing gratitude for their responses, NTCA president David Connolly said the stark reality is, even with that assistance, resourcing is still not enough given the scale of disaster that awaits for Australia if an outbreak eventuates.
'Stuff of nightmares'
Diseases such as Lumpy Skin Disease, African Swine Fever, Japanese Encephalitis and Foot and Mouth Disease meant "we have the stuff of nightmares knocking on our door".
"The reality is that a major biosecurity breach in this country is not just an issue for the beef industry or those in rural areas. It's an issue of national significance," he said.
"Our supply chains are all orientated in one direction – out."
Devasting for all of Australia
Australia already knew from well-documented Federal Government studies that even a "minor" outbreak of Foot and Mouth Disease in Northern Queensland would cost Australia more than $6 billion and cause the collapse of the rural economy nationally, not to mention the flow-on effect to those in the cities, Mr Connolly said.
The forced eradication of FMD in England in the early 2000s resulted in the UK Army being called in to destroy more than 6 million head of livestock over 32 weeks.
"I would suggest that were an outbreak to happen here, these numbers would be substantially worse," Mr Connolly said.
"And (it) would take decades for us to come back from as a country built on exporting food."
The worst part of the current issue is this, he said: "We know we have a problem. We know how big it is, but we're not doing enough to stop it."
Alarming downwards trend in biosecurity investment
He pointed to an "alarming and disturbing" downwards trend in Government investment in agriculture and biosecurity.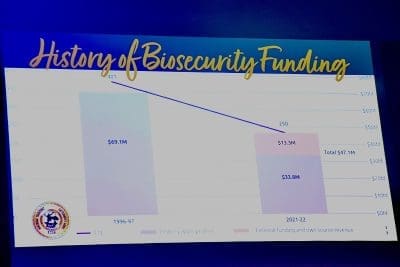 In 1996-97 the NT Department of Agriculture budget was $69.1 million dollars ($80m adjusted for inflation) with 401 staff.
Today, the budget is $47.1 million and 250 staff.
"This is a very disturbing trend. We rely on this department, not just for research and development for the industry, but for the protection and security of the industry itself."
Mr Connolly said he was very grateful for the additional funding but noted that $60 million over four years equated to five million dollars per year each for three vast states and territories.
He said the NT has only six livestock biosecurity officers (stock inspectors in the old language), but estimated that at least 20 were needed.
He urged the Federal Government to ensure the bulk of the money it has granted is spent in the NT where departmental funding and personnel were needed, and said the industry would also support biosecurity efforts.
"The pastoral sector is well placed to offer assistance to government to meet these challenges, but we must be met halfway," he said
"Biosecurity is something that can only be secured if all parties work together. Cutting funding to those we rely on the help us must stop.
"We do not want to have these diseases here and look back on what we could have done. We must act first, fund and resource the departments to allow them to meet these threats head-on."
Very difficult to eradicate
DAWE Deputy Secretary Andrew Tongue said Lumpy Skin Disease presented a real threat to Australia because it can blow into the northern part of the continent via vectors such as mosquitoes, midges and culicoides.
If it does arrive in Australia it would be very difficult to control in extensive cattle and buffalo herds.
Mr Tongue said changes in geopolitical trade patterns following the rise of China, which was increasingly connecting Africa to Europe and Asia, and increased heat, humidity and changes in wind directions due to climate change, were interacting to increase disease threats to Australia.
'Everything we thought we knew has changed'
"Something has changed in the world and everything we thought we knew about how lucky Australia is in terms of biosecurity is no longer true," Mr Tongue said.
"Everything we thought about biosecurity from the 20th century doesn't hold now, just doesn't hold.
"We're going to have to work together to make our own luck."
'We're going to have to work together to make our own luck'
The $15 million a year announced by Minister Littleproud last week was on top of around $15m a year already spent the Federal Government on Australian biosecurity, he said.
Government work in the area would be focused on greater efforts in off-shore risk reduction, reflected in Dr Schipp's visit to Indonesia, buying vaccines, strict disinfection requirements on livex vessels, work with travellers in and out of Indonesia to try to ensure they are not bringing anything back in, and surveillance across the north with state and territory counterparts.
"Frankly we need the best surveillance we can build an afford, we're going to need to support landholders and pastoralists, we're going to have to sustain that much improved surveillance effort, he said.
"We need to be prepared and have a surveillance system that supports that, if it arrives we need to respond quickly.
"Delay is death in this instance, we need to move quickly."
Calls to bring live virus into Australia
Mr Tongue and Minister Manison both independently made the case at the conference for the industry to consider supporting the import of live LSD virus into Australia to the secure Australian Centre for Disease Protection facility at Geelong so it can be studied to increased Australia's preparedness and diagnostic capacity in the event of an outbreak here.
"We must get a vaccine fast, we must get the live virus into Australia's centre for Disease Preparedness in Geelong to develop a safe vaccine fast," Minister Manison said.
"We must start the diplomatic and trade negotiations with our international partners to establish post-incursion protocols fast."
"There is no time to waste."