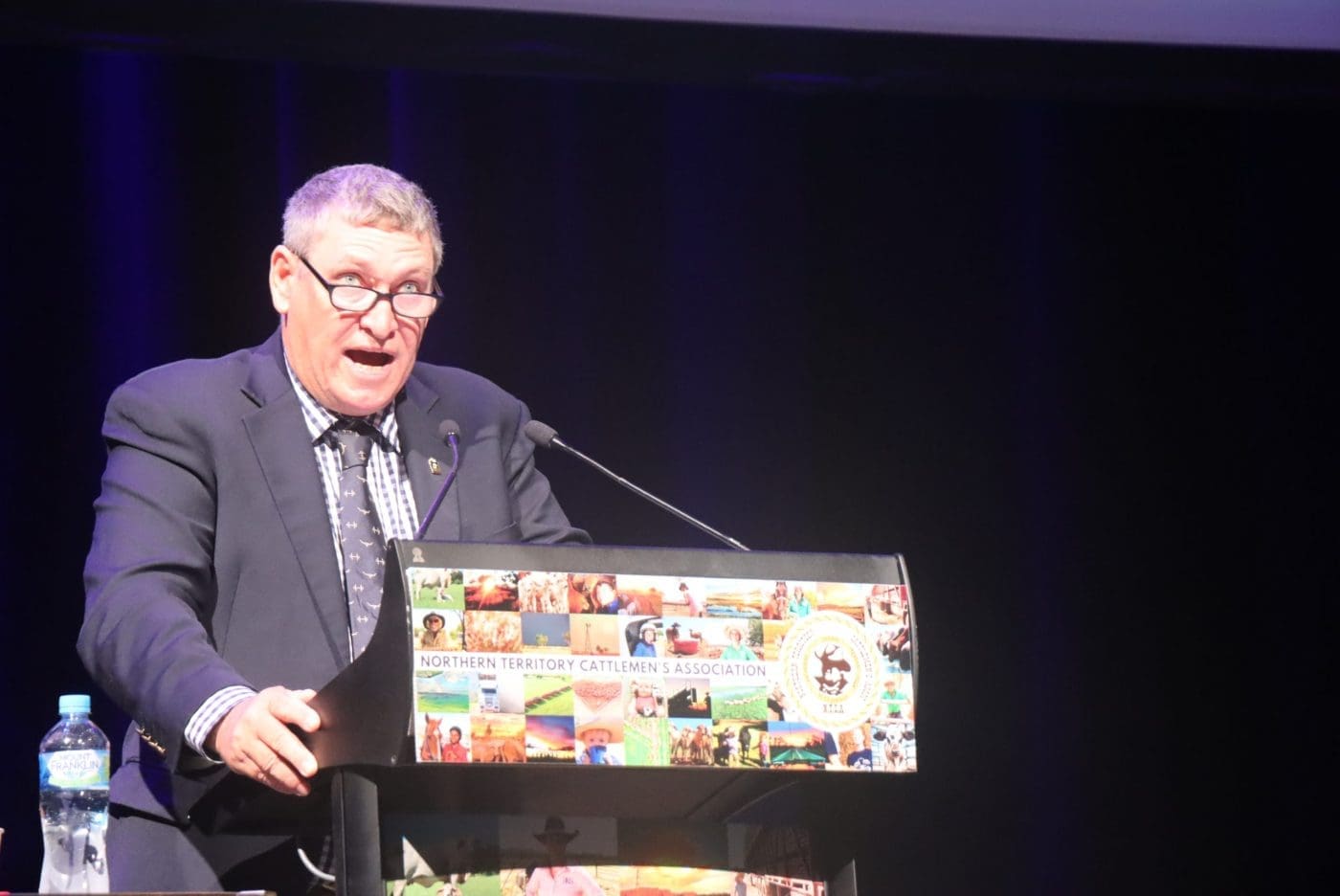 After two years of COVID shutdowns and video streamed meetings, this was one speech that couldn't be accused of "being on mute".
Tipperary Station general manager David Connolly gave a heartfelt and direct speech in his first address as president of the Northern Territory Cattlemen's Association to a record 700-strong crowd at the association's annual conference in Darwin on Friday.
The Northern Territory cattle industry officially turns 150 this year, but despite its history,  contribution and permanence, Mr Connolly communicated a palpable sense of frustration that the industry continues to be placed behind the "shiny new things" that tempt Government with fleeting "bags of silver".
He noted that on the 13th of February 1872, Edward Meade Bagot was granted Pastoral Lease One and Pastoral Lease Two in the area that is now Alice Springs.
"150 years ago this year, the pastoral industry in the Northern Territory was born."
Uniquely in Australia, pastoral leases in the NT were granted in perpetuity, unlike in other states where titles are typically limited to defined periods such as 99 years.
Some pastoralists in the room on Friday now have the seventh generation of their family on the same property their ancestors settled.
Right to protection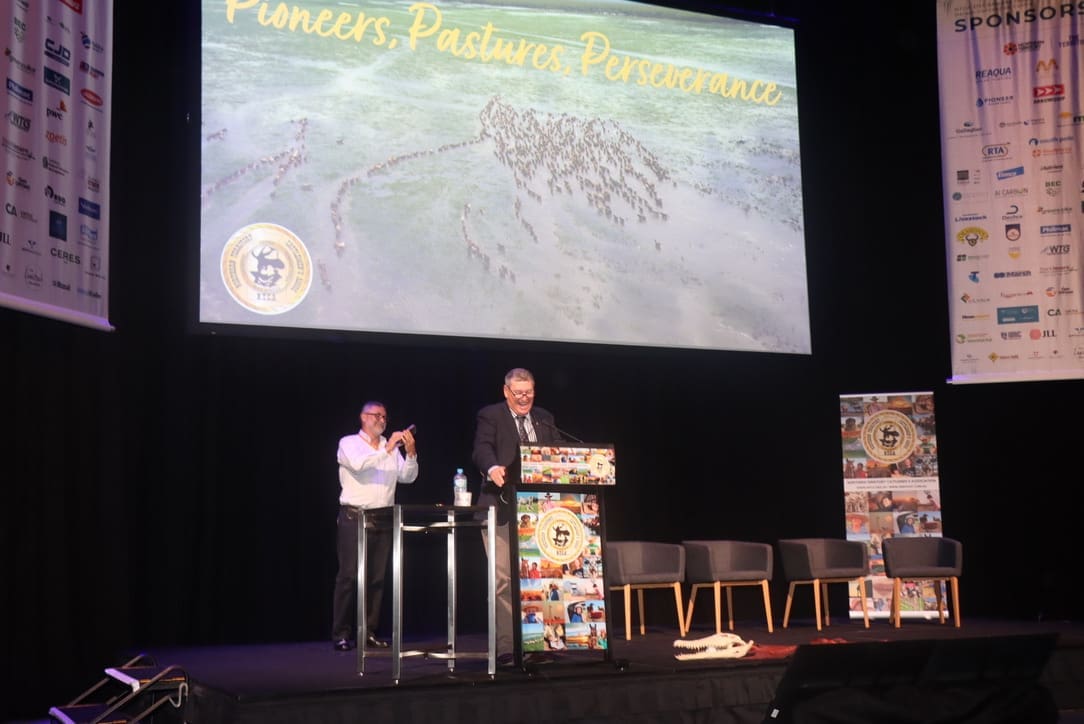 Mr Connolly said the agreement between the industry and the Government was that the pastoral industry would pay for the right to run cattle, build towns and communities and manage the land.
In return, the Government would provide protection of what had been built and nurtured on its behalf, and would also protect the land from unintentional consequences of other industries, including mining and gas, and protect the pastoral estate against an environmental accident.
Today, a distinct sense of imbalance appears evident from the perspective of pastoralists.
"Their laws make it clear what is expected of us," Mr Connolly said.
"And yet, so often the expectations of us are far higher than what is expected of them and others who would offer them a bag of silver pieces.
"Somehow, we seem to always get the stick, and others the carrot."
Pepper Inquiry recommendations
One example he cited of the NTCA's frustrations was that only 64 of 135 recommendations from the 2018 Pepper Inquiry, which recommended standard minimum protections of land and landowners' rights in relation to energy developments, have been completed four years later.
"Is this due to incompetence? Or is it that the government just don't want the recommendations completed?," Mr Connolly asked.
"Pastoralists cannot have faith in a government that says it will do something, and then just doesn't."
Permanent versus fleeting tenures
The NTCA was not against oil and gas development, he said, and understood the importance of the pastoral and mining industries mutually respecting each other's operations.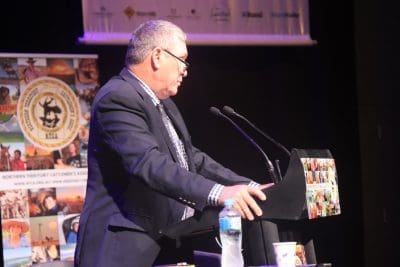 But in instances where this did not happen, the Government must be able to be relied upon to show leadership and provide an equitable pathway to resolve conflict, he said.
"Today's legislation does not provide this, it basically says that if a miner wants to come on and do as they please they can, and there's bugger all we can do to stop them."
Mr Connolly said the NTCA did not believe gas and mining companies were "bad people" or "meant us harm".
"But our relationship with the land is different," he said.
"Ours is permanent, theirs is fleeting.
"This must be respected not just industry but by Government and enshrined in the law. Government officials, miners and gas companies are just visitors to our land.
"Our land is our home, it is where our family lives.
"It is where we raise our children and look after our animals.
"Where will the next seven generations live if we get this wrong?"
A fundamental force to protect pastoral land
Over 150 years landholders had met their end of the bargain of protecting the environment within their means and safeguarding the land. It was "a fundamental force" in the industry that landholders gave to their children and the next generation something greater than they themselves received.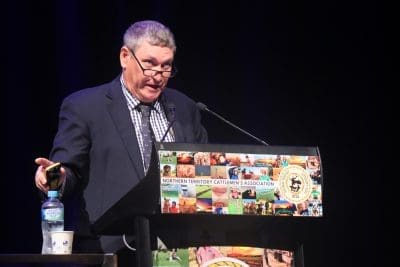 Yet, he noted, NT Department of Environment messaging talked of a need to force the pastoral sector to adopt a "culture of compliance", while at the same time encouraging the onshore petroleum sector to build an improved "voluntary" compliance culture.
"Apparently, we don't deserve the same treatment, and need to foster a culture of compliance," he said.
Mr Connolly said he was further shocked to learn that the NT Department of Environment does not require its own rangelands inspectors to have any knowledge or experience in the pastoral industry at all, as per the messaging of a recent advertisement for such a position.
"I say to the Department of Environment and the Pastoral Lands Board, we are not your enemy.  We are not the environment's enemy.
"We are a force to be used and not one to be opposed. We can help. But we will not be spoken to as a child or treated like one."
"The Pastoral Lands Board must reconsider this Compliance and Enforcement Framework and ask themselves, does this show the respect to the industry and acknowledge their experience, expertise, knowledge, and hard work built over 150 years working this land.
"If it does not, then it must be amended to include us as part of the solution, and not the problem."
Roads, health, police shortfalls
In a wide-ranging speech Mr Connolly also singled issues including the poor state of many roads, internet connectivity, health services and rural policing services as things the tax paying public expected but the pastoral sector was failing to see meaningful improvement in, despite years of lobbying.
"The Government tell us they haven't got the funds, the cupboard is bare.
"Well, pastoralists know about tight times, try operating a business when your supply chain has been cut in an act of ministerial malfeasance.
"I suggest you take a leaf out of our book, sit down, and work out what the real priorities are, no it isn't a new boat ramp at some creek in Darwin."
Time to undeclare COVID health emergency
He also lamented the erosion of rights that have occurred during the COVID pandemic, through the additional powers granted to health officials in the NT.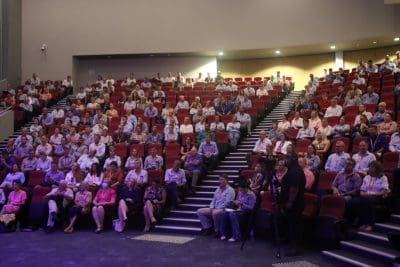 These now exceeded even those powers granted to police, he said: "The power to enter your home, the power to make you turn over private information, the power to detain you, the power to prevent you going to a place at a time of your choosing, the power to throw you out of those places, the power to prevent you from working."
He said he believed the NT Government had done "a pretty reasonable" job of managing the pandemic and he believed everyone should be vaccinated.
"I am and I am glad to be. I am also vaccinated for measles, chicken pox, polio, Q-fever, tick fever, buffalo fly, fly strike, five in one, God knows what else.
"But the time for government intrusion in our lives is over.
"Our elected officials handing this obscene power to unelected public servants must stop.
"This health emergency must be undeclared."
While pulling no punches in his assessment of the NT Government's approach to managing the pastoral sector, he commended NT Deputy Chief Minister Nicole Manison (also Minister for Agribusiness, Mining and Industry, Police, Fire and Emergency Services, Northern Australia, Defence Industries and International Education in the NT); and Eva Lawler (Minister for Environment and Infrastructure, Planning and Logistics, Water Security, Climate Change and Essential Services) as "standouts in their Government" for their "accessibility and forthright and honest approach".
'Not as sexy as a space station'
In closing Mr Connolly urged the NT Government to recognise that while the cattle industry may not be "as sexy as a space station", its collective investment far surpassed that of new start-ups in the NT.
"I urge the Ministers to not get distracted by the shiny things but understand what you have already – a fantastic investor, a wonderful supply chain, a resilient and purposeful tenant and an economic powerhouse for the NT."
NT Ag Minister: 'Territory does back cattle industry'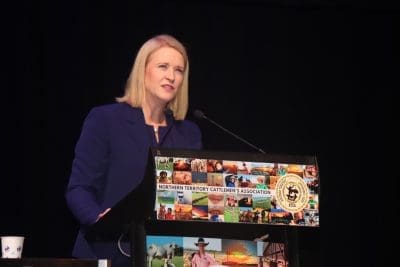 Taking the stage following his speech, Minister Manison said she felt like she "might have been taken to with a bit of a blow torch" in Mr Connolly's address, but said she appreciated his honesty, integrity and passion.
"I want to be clear, this Territory Government does back the cattle industry and the live export trade and we will do everything we can to keep backing you and the vital work that you do here in the NT," she said.
"As David said, you are one of the oldest and greatest industries that we have here in the NT, Territorians are incredibly proud of you and we all know the great work that you do.
"You have been a stayer and we need to keep doing more to support you and your aspirations, so we see you here for generations to come."
Pepper recommendations 'will be implemented'
Minister Manison, who is minister for agribusiness and minister for mining in the NT, said she firmly believed both could co-exist together.
"I have listened very closely to the comments that David has made with regards to the concerns around the development of gas.
"But I want to reassure everybody here today that those 135 recommendations are getting implemented.
"We will have world class regulations, the best in the world, when it comes to the development of on-shore gas."
"…David is right, you are here for the long term, and nobody wins if you don't get it right environmentally, everybody gets that.
"But I just want to assure you that work is absolutely happening and those 135 recommendations are getting implemented and put in place."
She said the NT Government has put in place a code of conduct for mineral exploration.
"I do make my views to the mining industries very clear that relationships with pastoralists must be a win-win and must be respectful and must have strong communication and I will continue these discussions with mining and pastoralists."
She said hundreds of millions had been invested into NT roads but the Territory still had "such a big game of catch up to play with the rest of the country" when it came to road infrastructure.
Streamlined land clearing process
The NT Government last year announced a simplified land clearing process which enabled pastoral land clearing applications for up to 1000 ha of native vegetation for non-irrigated purposes to be assessed and approved in just six weeks – previously six months – where the criteria were met.
She urged more landholders to take advantage of the streamlined process.
"I am glad we have seen five applications but come on guys, I want to see more, I want to see more development."