NATIONAL supermarket group Coles and its long-term northern beef supply chain partner Australian Country Choice are further decoupling their businesses, as both explore opportunities in export and brand development.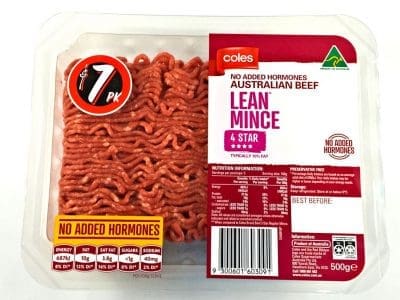 After a close relationship stretching over 40 years, the ACC beef supply chain and Coles Supermarkets are moving rapidly away from their exclusive 'single customer' arrangement to focus on separate alternative business opportunities.
Part of this will include a temporary closure of ACC's case-ready factory (steaks and mince packed in retail-ready form) at its Cannon Hill facility in Brisbane, following Coles' decision to relocate its case-ready operations to its Sydney base. That will take place from early February.
ACC will now pursue new customers and markets for its retail-ready products, planning to re-open its modern, large-scale facility in 2021. But for the meantime, around 120 retail ready factory staff have been put off.
The Coles/ACC business relationship has become increasing strained in recent years, culminating in legal challenges two years ago over rights to export beef products coming out of the ACC plant. For the previous 20 years, ACC itself held the rights to market Coles product globally.
A dispute settlement was reached before the issue reached the Supreme Court, where both agreed to go their separate ways, but what appeared to many to be irreparable damage had been done to the Coles/ACC business relationship.
Last year, Coles started to shift some of its northern beef kill out of the ACC plant, to new small trial sites at Teys Beenleigh and Oakey. From its peak around 6100 head per week, ACC currently kills around 4300 per week for Coles, supplemented by about 1800 each week for Woolworths under a deal struck last year, following the sudden closure of the Churchill abattoir.
Most of the Coles kill now removed from ACC appears to have been relocated south to Coles' southern contractors, JBS Scone and JBS Brooklyn, where seasonal conditions are better.
Under current contractual arrangements, Coles will kill some beef at ACC until July 2021, but it is clearly evident the company has plans elsewhere.
While the retail-ready facility at ACC is expected to stay closed for the next 12 months, ACC is confident new customers will be found to re-launch the facility, which produces a range of VSP and MAP-packed cuts ready for stacking directly from the box onto supermarket shelves. ACC's separate value-added manufacturing business (sausages, corned silverside, rissoles, crumbed product etc) will continue to operate as normal, but will now be sold to other customers.
The current fragmentation of retailing that's occurring in Australia, with new players like German giant Kaufland, plus rapidly growing entrants like Aldi and IGA, suggests there are good prospects to utilise retail-ready facilities like ACC's. Other growth sectors for red meat, like the home meal replacement market, also utilise retail-ready packaging.
With the exclusivity conditions lifted, ACC said it now "had the opportunity and every intention" to rebuild its further processing business, and was well progressed in discussions with a number of high profile brand owners and customers, both in Australia and internationally.
The long term
As part of the decoupling between ACC and Coles, ACC is now developing its own beef brand and its place in producing, processing and packaging animal protein for new customers in Australia and overseas. The range will extend from fresh cuts, both vacuum-packed primals and retail-ready items, and value-added items like corned meat and sausages. More details on these developments on Beef Central in coming weeks.
"With these exciting opportunities comes the determination that the business will increase its market share to the point where its further processing division is operating at built capacity," the company said.
The transitions happening over the next few months would not affect any other part of the business, it said. Primary processing, ACC Properties and Feedlots and the Australian Cattle and Beef Holdings cattle division would continue to operate as they are.
"All are well-equipped to meet the new opportunities associated with our vertically integrated businesses," ACC said.
As reported on Monday, Anthony Lee has been promoted to the position of executive director of operations for ACC.
Coles pushes into China export
As national retail giant Coles moves apart from its northern beef supply chain partner ACC, which sold beef on Coles' behalf into international markets for the past 20 years, Coles last week launched its own branded beef program targeting China, at the China International Import Expo in Shanghai.
Coles plans to open an office in China next year as it becomes the latest Australian corporate giant to attempt to sell premium beef cuts into China's rapidly expanding middle classes.
Observers say that while a market like China will be invaluable to Coles in shifting lines that are less popular on the Australian domestic retail market, it now appeared that Coles was also moving to produce beef specifically targeted at export customers.
Not owning any feedlots, meatworks or cattle, it is yet to be proven how well Coles can pitch its 'brand story' in a market like China.
Currently Coles sells some retail-ready product into export markets – principally Taiwan – but future export sales into China are likely to be primarily boxed beef.
"There is a huge demand with a growing middle class in China; a very fragmented industry; pork consumption is declining and beef consumption is growing; and the demand for premium quality Australian food is there," Coles export chief Thinus Keeve told the Australian Financial Review during last week's enormous Shanghai CIIE trade fair last week.
While Coles' China push has been an open secret in Shanghai business circles for some time, it was the first time that the supermarket group has talked publicly about the strategy.
Coles said it already exports $400 million in meat each year to 40 countries and is expanding into new product areas under chief executive Steven Cain's export strategy. China is at the centre of the plan, likely to account for around half of that revenue.
"We will start small and grow it into a sizeable business. It is a serious commitment from the Coles business to open an office in Shanghai," Mr Keeve said.
He told the AFR that Coles was aware of the risks, and rapid expansion into China was not the priority. Instead, Coles would be dealing with some of the same customers it had used (indirectly, through ACC) for 20 years, which would reduce the risk.
The company did not plan to open supermarkets in China, a strategy that has failed for other western retail chains, but Mr Keeve said Coles could look at selling other products to China if the beef strategy was successful.
"Our primary focus will be beef and lamb, but over time you will see us selling other products. The way to build this is to build our fresh credentials with beef and then look at whether there are other opportunities to grow," he said.
Mr Keeve said the China plan would help Australian farmers, as Coles would sell fullsets to Chinese customers, meant there was a commitment to buy the whole carcase rather than specific cuts. Coles previously only sold unwanted parts of its domestic beef production, such as offal to Chinese consumers.