100 percent Holstein steak? It's better than you might think. Especially after 450 days on corn-based rations.
That's how long it takes to feed male dairy calves to local slaughter market weights in a modern Chinese feedlot established by Indonesian-listed agribusiness Japfa three years ago.
The 10,000 head feedlot has been built adjacent to several dairy farms operated near the Yellow River in China's Shandong Province by AustAsia, a majority-owned subsidiary of Japfa.
The Dongying Japfa Beef Co feedlot is geared to value-add male dairy calves bred in the nearby dairy operations to a range of saleable weights for China's domestic market.
Target weights
Young calves are raised firstly in hutches on milk replacement for around 60 days and then on weaner pellets to a target weight of 164 kilograms at 120 days of age (the average daily gain during this period is 1.02kg/day). Some bulls/steers are sold at this age as weaners to other local farming operations for fattening.
Most bulls and steers then move into the feedlot for growing for another 120 days to a target weight of 334kg at 240 days of age (the ADG for this phase is 1.41kg and Feed Conversion Ratio is 4.7). Some are sold as feeders to other small local farmer-owned feedlots at 240 days.
The cattle are then fed for another 210 days to a target weight of 585 kilograms at 450 days of age (ADG 1.2kg/day and an FCR of 5.8).
The Dongying Japfa Beef Co sells slaughter weight cattle to about 10 domestic abattoirs in China. The price received for slaughter weight cattle has increased from 12.5 RMB/kg liveweight (A$2.50/kg) in 2012 to around 22.5 RMB/kg ($A4.50/kg) today.
From birthweight to market weight over the course of 450 days the overall ADG is 1.21kg and FCR 5.5.
The feedlot also feeds culled cows from the dairying operations, which can be up to seven years of age, for three months for the local slaughter market.
The facility is based on the design of similar intensive dairy bull calf feeding operations in California, some of which feed more than one million male dairy calves in the course of each year.
Holstein beef
If consumers take the time to think about the breeds from which their beef may have originated, it's unlikely that the black and white dairy breed would enter into their thoughts.
However, in countries like the US, there is always a fair chance their burgers may in fact be Holstein beef, as about 15 percent of all beef consumed in the US is said to originate from the dairy breed.
Beef in China is mostly consumed in the form of 'hot pot' cooking, which involves immersing thinly sliced meats in a pot of simmering stock at the centre of a dining table.
Lean bull beef is preferred for this type of cooking, where tenderness and marbling is less important.
However, as more young consumers in China develop a taste for western style food, steak is rapidly growing in popularity, Dongying Japfa Beef Co general manager Guntur Pribadi explained.
'the market is growing fast for steak in China'
"Young people in China are looking for beef rather than pork because they believe it is better in their diet, less fat, and they like to eat steak rather than only hot pot," Mr Pribadi said.
"It is now becoming a trend, going to a steak house – the market is growing fast for steak in China."
On a tour of Japfa's Dongying feedlot organised by Wellard Rural Exports last month, a group of Australian rural journalists sampled thickly-sliced steak from a Spencer Roll (similar to a cube roll) from a 785kg Holstein steer fed for 580 days.
The verdict? The flavour and tenderness was not conspicuously different from a steak you would find on the barbecue in Australia. The marble score of the long-fed Holstein beef is typically in the 4-7 range. In fact if you slipped the same piece of meat onto a pub diner's plate here, it is hard to imagine they would guess it was Holstein.
Growth plans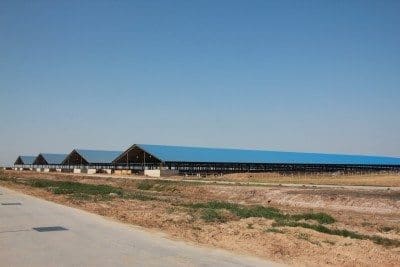 The first stage of the feedlot has cost US $20 million to develop, and includes 210 hectares of feedlot barns, and calf raising hutches, Temple Grandin designed cattle handling facilities, and 470 hectares of cropping land growing corn, sorghum and alfalfa irrigated from the Yellow River. Like the nearby AustAsia dairies, all of the corn for the rations is grown within China, but the majority of hay is imported from Australia and the US.
Stage 2, yet to be constructed, will add another 10,000 head capacity, and will cost about US$15.2m to develop.
Japfa's longer term development plan is to build more calf ranches near other large dairy farms in northern China and to raise bull calves to four months of age before transporting them to the Dongying Japfa Beef facility for further growing out.
The feedlot is located near the city of Dongying (population 2 million) in a 750mm per year rainfall zone where temperatures range from -15 degrees Celcius in winter (with four to five snow falls per year) to 39 degrees in summer and 60pc humidity in summer. The high summer temperatures are moderated by cool breezes from the Yellow Sea just a few kilometres away.
Mr Pribadi said it is hoped the facility may soon start receiving Australian feeder cattle (the preference will be for Angus steers weighing 350-380kg) under the new protocol for feeding for around 90 days.
Move towards steers
About 80 percent of calves fed at the Dongying feedlot are currently retained as bulls, but increasingly more are being castrated using elastrator rings.
The push towards steers is designed to target the growing consumer preference for western style steaks in China, a high-end market for which steers are better suited, and also because from a production point of view steers are less prone to riding and fighting and easier to manage.
A trial is exploring if castration at three days or 240 days is the most effective.
"Criminal pens"
The feedlot managers explained that while Holstein bulls are known for temperament issues, the socialisation aspects of raising bull calves in groups was effective in reducing the tendency toward aggressive behaviour.
The use of "criminal pens", as advised by Temple Grandin, had also proven a useful strategy.
"Put aggressive ones with aggressive ones and they behave," Mr Pribadi said, citing the advice of Ms Grandin.
A small trial is also underway assessing the performance of first cross Wagyu-Holstein cross calves bred through an AI program. Mr Pribadi said so far the Wagyu-Holstein F1 animals were performing very well, with better growth rate and temperament than the Holsteins.
Japfa operates three feedlots in Indonesia with a combined capacity of 55,000 head and an annual throughput of around 165,000 cattle per year. It's beef operation in Indonesia operates under the Santosa Agrindo and Santori brands. It's experience in feeding cattle in Indonesia, a more humid and challenging environment for feedlots, has equipped the company with considerable expertise which has contributed to the success of its venture into China.
Earlier articles:
6 May 2016
9 July 2014
28 March 2014
14 May 2014
12 Dec 2012
Beef Central travelled to China recently as a guest Wellard Rural Exports