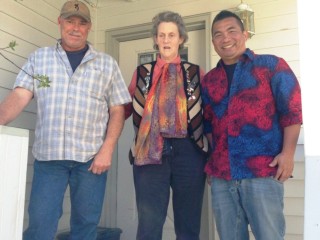 One of Indonesia's largest cattle importers, lot feeders and processors will mark next month's second anniversary of the 2011 suspension of Australian cattle exports by inviting humane livestock handling experts Grandin Livestock Handling Systems (GHLS) to conduct a full and independent audit of its supply chains.
Santori will also invite GHLS, headed by internationally renowned animal welfare expert Temple Grandin, to provide input into the design of its soon to be constructed feedlot in China.
Santori is the beef cattle division of publicly-listed Indonesian agrifood giant Japfa and has grown to become the largest feedlot operator in South East Asia.
Through a supply chain incorporating modern feedlots and abattoirs, it supplies beef to the full spectrum of end users in Indonesia from traditional wet markets to the high-end supermarket trade.
When the Australian Government introduced the Exporter Supply Chain Assurance System as a mandatory requirement for Indonesian importers to receive Australian cattle in August 2011, the modern nature of Santori's existing supply chain meant the company was already well equipped to meet the traceability, auditing, reporting and welfare requirements of the new policy.
In a move designed to highlight the Indonesian cattle industry's commitment to high welfare standards, Santori's head of feedlot and commercial Guntur Pribadi, and Japfa beef's China Country head, Samuel Wibisono, visited GLHS's Colorado headquarters recently to engage the company's expertise to provide input into its Indonesian and Chinese operations.
Under this collaboration Japfa Beef has incorporated Temple Grandin's signature corral design in the development of its planned feedlot in Shandong, China, which will be the largest feedlot in China.
The company has also invited GLHS vice-president Mark Deesing to visit Indonesia in June to audit Santori's feedlots and affiliate abattoirs in accordance with the Grandin welfare guidelines (which are incorporated in a number of ESCAS guidelines).
This audit will be done in addition to the ongoing independent performance audit conducted in Santori supply chains by SAI Global to meet ESCAS requirements.
Mr Deesing will also provide accreditation of Santori Animal Welfare Officers (AWO) and certify the leading officers to become Animal Welfare Trainers (AWT).
"The certification process for welfare trainers is critical in delivering humane cattle practices in large developing countries like Indonesia and China," Mr Deesing said.
After spending several days with Temple Grandin and Mr Deesing, Mr Pribadi said he was impressed with their generosity to share know-how and technology.
Mr Wibisono said Ms Grandin had single-handedly changed livestock handling practices in US feedlots and meatplants and her knowledge of animal behaviour will now play a role in helping to improve animal handling in the Chinese livestock industry. "She is a remarkable person and we are very privileged to be working with her and her team," Mr Wibisono said.
Ms Grandin has also given permission to Santori/Japfa to publish her books and DVDs in Indonesian and Chinese languages.
The training materials will be used on conjunction with an animal welfare workshop that Ms Grandin will conduct on November 2013 in China at Santori/Japfa's invitation.
Mr Deesing said Ms Grandin was looking forward to working with Japfa Beef in developing cattle handling facilities in cattle saleyards and to increase awareness of animal behaviours in China.
"And judging by the numerous number of large saleyards, hopefully it will not be Temple's last visit to China," he said.
Ms Grandin said interest in animal welfare assessment and societal concern about animal welfare was growing globally.
"Animal welfare is now an important component of all major retailer's long term strategies, and is becoming a bigger element of the decision-making process when consumers by products."
The collaboration will also facilitate the development of humane/religious slaughter practices for small scale abattoirs, especially for Indonesia, Mr Wibisono said.
Temple Grandin will address at two conferences in Australia later this month and in October – click here for further details