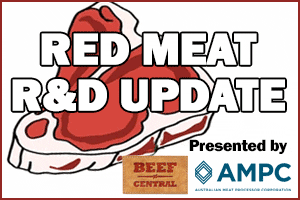 WELCOME to the regular series of articles focusing on red meat R&D, presented by Beef Central and the Australian Meat Processor Corporation. These items highlight a range of projects designed to enhance the efficiency, productivity, product quality and safety of Australian red meat sold into the domestic market and around the world.
All have the ability to help underpin Australia's unrivalled reputation as the world's premier export of quality beef, lamb and offal. Links to previous articles in the series appear at the bottom of this page.
THE Australian Meat Processor Corporation is progressing a program to test uses of automated guided vehicle (AGV) technology for the meat processing industry.
'Spot the dog,' as he is affectionately known, is an AGV which moves on four legs. As can be seen in the video below, he moves in a disconcertingly 'animal-like' fashion.
Spot is a prototype which has been sent to his first meat processing site as part of the AMPC program.
Jade Baker, IT technician from The Casino Food Co-Op in NSW, said Spot was an incredible piece of tech with unprecedented mobility, allowing fully autonomous AI driven missions on plant.
"We are currently testing the capability of Spot to deploy on autonomous missions to survey and capture 3D modeling and visual inspection data from power and refrigeration rooms," Jade said.
AMPC program manager Stuart Shaw said the project was aimed at determining industry readiness to adopt AGVs beyond current manual handling applications by encouraging the industry and providers, to evaluate processing facility uses, and to develop and use AGV technologies where applicable.
"AGV technology is progressively being successfully adopted in other industries and AMPC wants to establish how the technology applies to meat processing more extensively than what is being seen now.
"Through on-plant studies, demonstrations and trials, we will work with processors to determine potential uses by evaluating and documenting the performance of AGV technology to perform tasks such as first deployment in emergency incidents electrical thermal sensing, lairage applications, visual inspections, food safety and micro-bio swabbing in processing facility environments."
Group manager for sustainably and innovation at the Casino Food Co-Op, Trevor Moore, said, it was a surreal experience watching Spot complete a simple action like opening a door, for example.
"Most of us have never seen a robotic dog, let alone AI driven," Trevor said.
"Many restricted areas exist on-plant, with limited human entry and egress without protective equipment or entry preparation. Spot could greatly aid our emergency response and inspection times in potentially dangerous situations while data collection is gathered for decisions."
"In the short weeks Spots been onsite, initial trialing looks promising. I'm very interested to see where Spot takes us, and how we can implement this tech into our business."
David Inggs, head of ground robotics at DroneDeploy said, "One of the reasons DroneDeploy has invested so heavily in ground robotics technology is worker safety. Using tools like Spot can keep employees out of potentially harmful and dangerous situations all without ever having to shut down production."
Check out Spot the dog in action in this short youtube video
Interested?
Processors interested in getting Spot the dog at their plant, should contact Stuart Shaw by email  here.
Previous articles in this series: