AUSMeat's Language and Standards Committee has approved new traits and extension to existing ones for MEQ's growing suite of objective carcase measurement technologies.
The hot carcase marbling measurement version of the MEQ Probe (see earlier story here), is now conditionally accredited for AUSMeat marbling scores 7-9,  and fully accredited for the entire MSA marbling point range, having  received conditional accreditation for measurement in the 100-1200 point range in February.
This expanded certification has particular application for Wagyu and Angus grainfed beef processors working with higher marbling value carcases.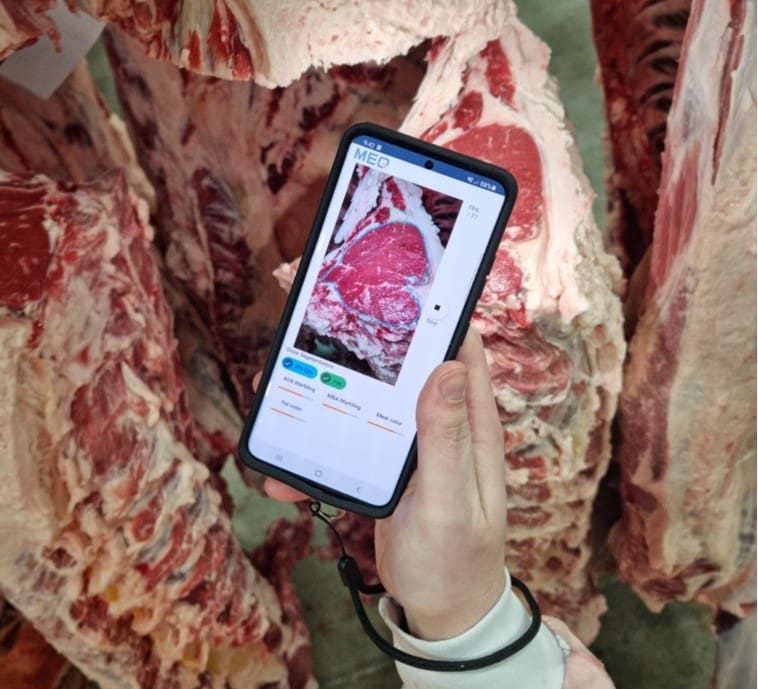 In a second development, the newly-developed MEQ Camera, which provides cold carcase yield and eating quality measurements, was also conditionally accredited for the full range of AUSMeat and MSA marbling grades, which builds on its accreditation for fat colour in recent months.
The MEQ Camera measures eye muscle area, marbling and intramuscular fat as well as several other traits and can be used on its own or in tandem with the MEQ Probe.
This is the second smart-phone based objective assessment technology, following the earlier launch of the MasterBeef camera.
Earlier this year MEQ Probe announced that beef processors Australian Country Choice and Greenhams had signed on as the first commercial customers to incorporate MEQ Probe's technology at their processing facilities to ensure accurate and consistent marbling measurements.
The probe's hot carcase assessment technology gives processors greater time to determine their cut design plan and saves on energy and chiller space. The hot measure prevents the need for extended chilling, which MEQ claims provides occupational health and safety improvements in the boning room, through not having to handle such cold meat.
Both accreditations follow the recently-launched MEQ Live device, which allows cattle breeders and backgrounders, feedlot operators and saleyards personnel to measure the meat quality and yield of a live animal.
MEQ Live uses proprietary technology to determine marbling and yield measures in cattle and provides the data needed to fine-tune feeding programs to optimise for the best eating quality, improve profit, select elite cattle for breeding programs and understand how animals' genetics drive future profitability.
The data can also be harnessed to forecast meat sales, optimise consistency and drive greater proof-points to underpin brands and help to discover new markets for existing products.
A report commissioned by MEQ Probe, and carried out by EnergyLink Services, found that the technology has sustainability implications and could result in more than 2.3m tonnes of carbon dioxide equivalent direct emissions and indirect value chain reductions across Australian feedlot operators – a 44pc overall reduction – through more efficient feeding programs based on each animal's performance.
MEQ Probe chief executive Remo Carbone said development of the cold measure camera began only a year ago.
"Along with MEQ Live, our suite of tools gives the industry a whole-of-life understanding of each individual animal and allows all involved to react immediately to the circumstances of each animal," he said.
"We are particularly excited about the sustainability implications of our technologies as well. Agriculture has long been labelled a challenging industry in terms of emissions reductions, but our solutions have the capacity to make inroads through the entire management of an animal and at the processing plant."
Source: MEQ