RAPID advances in smart-phone camera technology is one of the drivers behind the development of a unique objective carcase measurement tool that has been pioneered by a Central Queensland cattleman.
The feature that sets the new MasterBeef prototype apart from other objective carcase measurement technologies is that it does not rely on specialised or custom-built cameras, mounts and lighting systems, but uses an 'everyday' smartphone like that found in anybody's back-pocket to accurately capture carcase images.
The key feature that defines the technology is the use of sophisticated algorithms, loaded onto the phone using an 'app', that allow images to be processed into reliable, useful information. Easy transfer and integration of collected data across platforms is another feature.
Developer, Central Queensland Wagyu cattle breeder and mechanical engineer, Darren Hamblin was searching for a method to accurately, reliably and conveniently record carcase data to drive selection in breeding programs in his own herd, including his pioneering work in developing Poll Wagyu.
Mr Hamblin, described by some as a 'data evangelist' in his Wagyu performance recording and breeding endeavours, already has about 9000 carcases assessed using the system.
"Good, accurate data equates to sound and informed business decisions.  From producers to feedlot operators, abattoirs, meat sales and final customer feedback, everyone has a pivotal data role to play in the livestock supply chain," he said.
Working in collaboration with Mackay software developer and information technology company iScape, which has a strong background in the agtech and mining sectors, and Gympie app developer Peter Hobbs,  Mr Hamblin's livestock industry expertise and iScape's cloud-based software capabilities has resulted in the development of the MasterBeef platform.
Mr Hamblin said the MasterBeef project had been a 'massive' time and financial commitment to get to its current state. The project has been at least five years in development, and has been used in an operational sense within Mr Hamblin's own business since 2018.
"The original version of the technology was pretty crude, but it is now refined and getting into some sophisticated technology, including AI facial recognition technology," he said.
In addition to the camera technology itself, the MasterBeef project includes data interfaces, all integrated for ease of use and management.
Rapid developments in phone camera technology had prompted the focus on using simple phone cameras to capture carcase images.
"When we first started, some of the other camera grading technologies about were using 12 megapixel cameras, which were considered advanced at the time. But the latest version of the Samsung phone we prefer to use to capture our images now has a 64 mega pixel camera.
"Not only can it take the images in high resolution now, but you have it in your pocket, and it has a good enough processor to process the image, and talk back to databases through APIs. Everything is there, together, so why go out and build a high-performance camera, when somebody else (smartphone manufacturers) have already done it?"
The MasterBeef technology is now well-advanced, and because of its portability and cheap access cost, is being used in a 'check measure' role in the Beef Australia 2021 National Beef Carcase Competition, which got underway last month.
Previously a single AusMeat grader travelled to all 15 participating abattoirs across Australia to assess competition entries several times over a nine-month period. But COVID travel restrictions this year have made that impossible. Instead, local Ausmeat plant graders will carry out the grading this year, but will use images captured by four MasterBeef-equipped smartphones to provide comparative images for monitoring purposes.
COVID-19 has also delayed any move to present the technology before the AusMeat Language and Standards committee for formal commercial grading approval, but that process will get underway as soon as circumstances allow.
Early adoption
Mr Hamblin stressed that the MasterBeef OCM technology was designed more as an aid for a physical grader, rather than to replace the grader's role.
Already, the technology is being used by about 40 stakeholders, including significant uptake among South African Wagyu breeders, who use it for mandatory grading under the country's Certified Wagyu beef program. Mr Hamblin believes it can eventually find application in all beef production systems, worldwide.
While South African Wagyu breeders also have access to the Meat Industry Japan (MIJ) grading camera like those seen in Australia, they face the challenge of small numbers of Wagyu kills in widely-dispersed abattoirs across South Africa, making it difficult to provide MIJ at each site when needed. Similar challenges were seen with the MIJ camera in Australia, being needed at NCMC Casino one day, and O'Connors at Packenham the next, for example.
Already, major Australian Wagyu processors have accessed the MasterBeef technology, but will wait for AusMeat accreditation before moving into commercial use.
Asked how the technology manages consistency in terms of image brightness, angles of image against the cut rub-eye surface etc, Mr Hamblin has trialled a range of technologies including keystone correction and gyro-stabilisation.
The team ended up going back to developing a food-grade, 3D printed supporting frame to hold the phone-camera and position it at a standard length and angle above the cut surface.
For each assessment, the camera takes several images of the cut surface, pulls them apart electronically, and puts them back together as a single RGB image, correcting for distortions, glare etc. An automated calibration is used to correct for any differences from image to image, or the way the camera is positioned.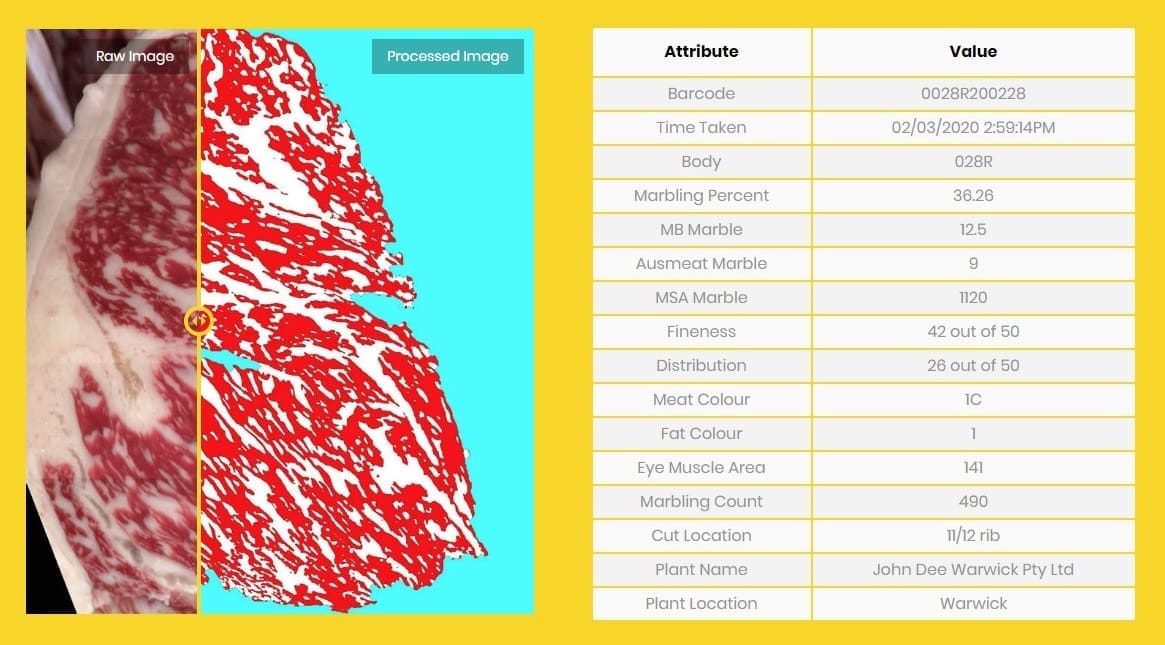 Range of criteria analysed
The technology assesses meat colour, fat colour, eye muscle area and marbling – both the abundance, as well as the fineness and distribution. The app looks for the rib-eye area using artificial intelligence (AI), assessing intra-muscular fat using a series of algorithms, to produce a second, analysed image, for comparison.
The technology can also break down the rib eye image into 5mm square grids, and does an IMF analysis on each. This is important when determining fat distribution and fineness in the muscle – particularly critical in Wagyu carcases, but less so in other breeds. The system will also grade to Japanese Wagyu marbling scores above the 9 limit currently applied under Ausmeat.
All images are stored in digital form, allowing users to come back and 're-analyse' them at a future time for breeding selection decisions, for a desired trait like marking fineness or distribution, for example.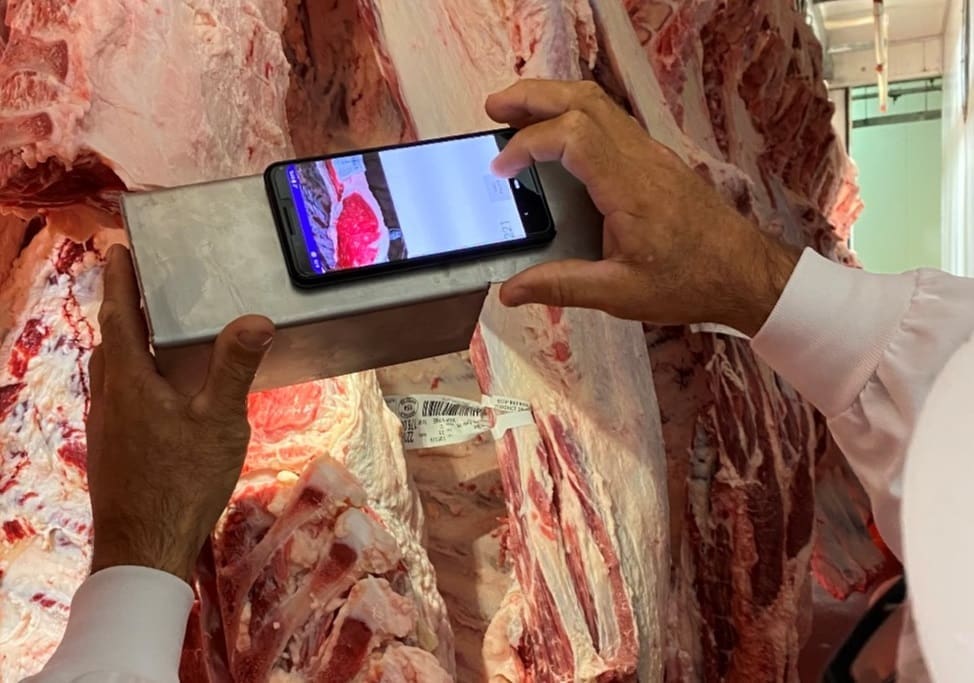 The smartphone's own flash is used to provide consistent lighting for each carcase image relying on the shroud to hold the camera at consistent distance and angle from the cut surface.
"Every phone camera make and model has a different flash capacity, but the technology within the MasterBeef App can detect each, and make corrections to calibrate them," Mr Hamblin said.
Currently, the App is specifically set-up for Android phones, but could be extended to include iPhones at some point, with further development. While most people are iphone users, the location of the camera on the back of the phone to this point has been a limiting factor, in capturing the carcase image from the highest point possible on the frame.
Currently most MasterBeef technology users are buying the preferred Samsung phone, and leaving it permanently mounted on the frame, rather than using it to make calls, Mr Hamblin said.  Total set-up cost is about $1000, compared with many tens of thousands for other camera-based carcase grading systems.
Another advantage is that any upgrades are done on the app store and downloaded – there is no need to send the camera in to get upgrades installed.
A clear link is provided between the carcase image and the individual animal by firstly taking an image of the body number bar-code, and then the quartered carcase image. The body number can also be added manually, together with plant ID and time-stamp.
The MasterBeef app is free to download among approved users who hold a MasterBeef account, with a small charge made per image captured.
Saleable meat yield assessment, meat texture and other traits will be looked at for possible inclusion in the system over time.
Click here to view the MasterBeef website.