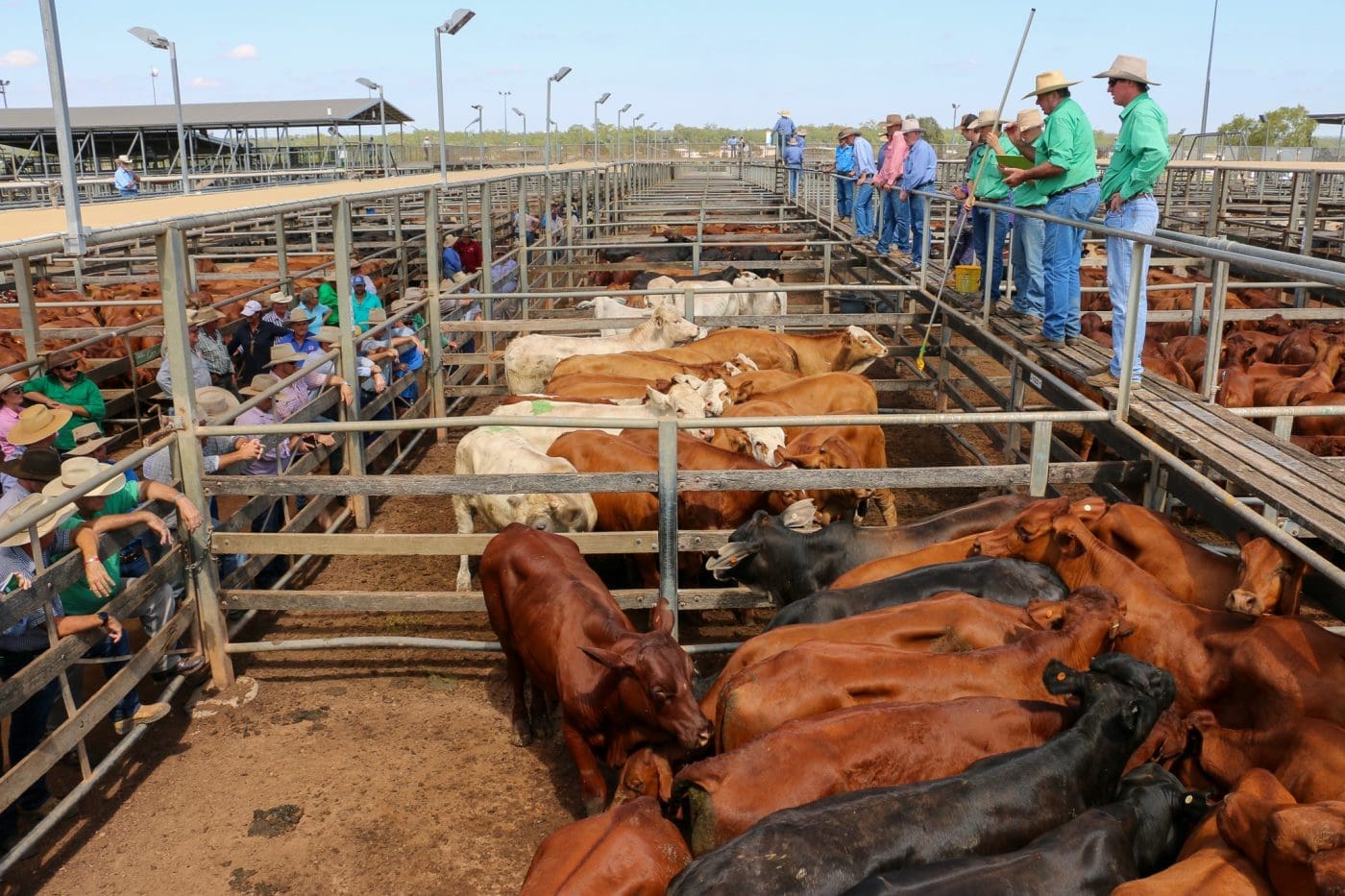 Australia's cattle transaction levy was last increased from $3.50 to $5 per head in 2006 and last reviewed three years later in 2009, when levy payers voted in favour of a recommendation to maintain it at the $5 per head rate.
Discussions around levies are divisive at the best of times, as three senate inquiries into meat and ag sector levies over the past 10 years can demonstrate, but the issue of levy rates is regaining attention as high cattle prices, better seasons and low interest rates return the industry to what could reasonaably be argued are again the "best of times" for many.
Compared to when levies were last raised 15 years ago, the Australian beef industry is facing some additional challenges today, over and above the  competition it continues to face from other large beef producing nations in export markets and lower-priced animal proteins domestically.
While that challenge has intensified, the industry now also faces an increasing imperative to demonstrate it is meeting higher societal expectations around animal welfare and environmental sustainability, and, aligned with that, direct competition from a rapidly growing array of new synthetic protein alternatives.
The topic of levies came up recently at the Australian Global Food Forum when NSW Angus breeder and former MLA director Lucinda Corrigan  commented that the industry should be looking to increase investment in productivity and improvements.
"If it was me… we would be doubling the levy and increasing the public private partnerships that actually help us to solve some of the big constraints we have," she told the forum.
A few years ago then NTCA president Chris Nott proposed increasing the $5 per head transaction levy to $5.50 head, arguing the additional proceeds were needed to "empower national industry leadership and fund advertising to sell the message of what we do and how well we do it".
At the same conference large-scale northern producer Dan Lynch advocated lifting the levy from $5 to $8 per head, suggesting that level was needed to support the multi-billion dollar industry.
Others however have argued that growers have not seen sufficient value for money from levy dollars invested to date. In his weekly Tic Tacs article the Australian Beef Association's David Byard this week said the levy increase agreed to 15 years ago was intended to increase spending on domestic beef marketing to help arrest the slide in consumption of beef, yet despite the additional spend domestic beef consumption has continued to decline in relation to other proteins including poultry and pork.
Successive industry inquiries over the past decade have also highlighted plenty of levy payer discontent with the current system, from concerns that growers do not have adequate oversight over how their levies are spent under the current Red Meat Memorandum of Understanding, and the lack of certainty over who pays levies and how much they pay – concerns which led to the introduction of the red meat industry levy payer register last month.
It is not only the size of the current levy that garners attention but also the mechanics of it.
The case for switching from a flat-rate levy to an 'ad valorem' or percentage of value based levy has been raised in recent years  – for example by Simon Quilty here and Justin Toohey here – based on the premise that a percentage rate would provide a more equitable payment model and better reflect an animal's true value at the time.
Percentage based levies are in use in some other agricultural sectors including the coarse grains and wool industries. The wool levy for example is based on a percentage of wool sale proceeds and is set via a vote of levy payers every three years – an event that is about to take place again from September to November.
Feedback on this topic to an inquiry into agricultural levies held in 2014  indicated that some preferred the current flat rate system for its simplicity while others felt a percentage rate would disadvantage those with higher value cattle – studs and premium-end Wagyu cattle for example. Capping the levy at a maximum rate per head was proposed by Mr Quilty as one way to ameliorate this concern.
What are your thoughs on cattle levies? Share your view in the comment box below
A brief history of the Cattle Transaction Levy rate
The Cattle Transaction levy is designed to cover four main requirements: marketing and market development; research and development; National Residue Survey Monitoring, and Animal Health Australia.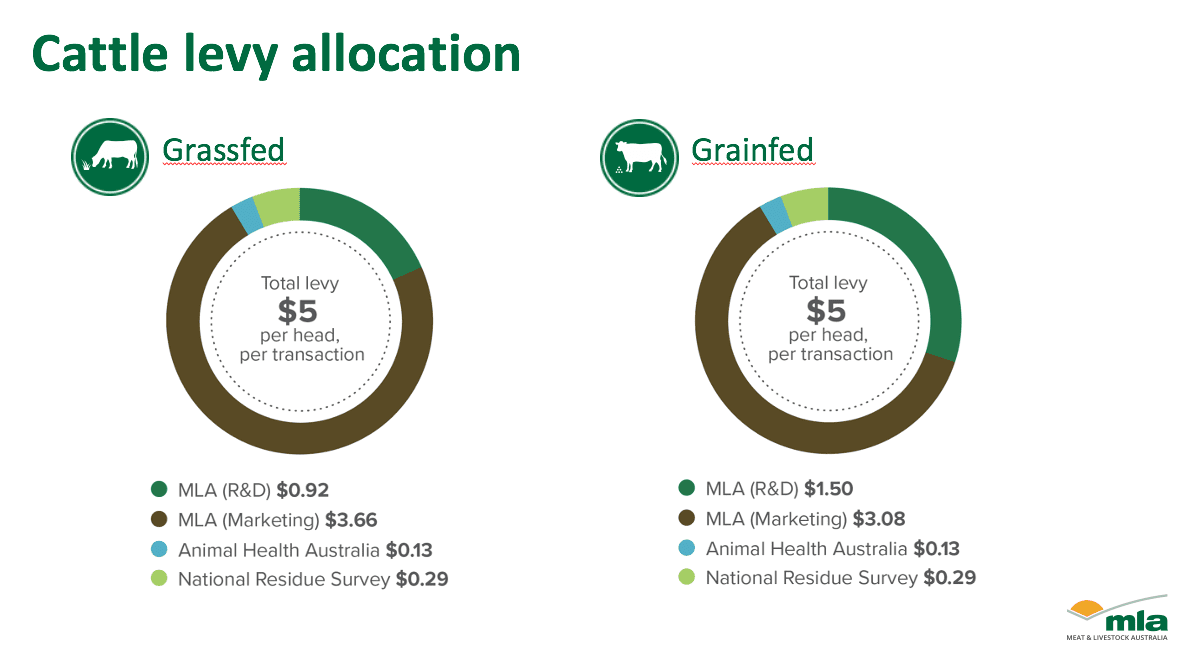 In 1998 the Cattle Transaction Levy was set at $3.50 a head.
In January 2006 the levy was increased following a vote of levy payers by $1.50 to $5 per head, with the additional funds to be channelled into marketing.
The argument for increasing the levy centred around the view that greater marketing efforts were needed in Australia's domestic and export markets to help sell an expected increase of 335,000 tonnes of beef production in Australia from 3006 through to 2009.
Proponents argued it was imperative the Australian industry build a competitive position in key export markets while North America was precluded because of BSE, and to combat a perceived threat from South American beef exporters including Brail and Uruguay.
The decision to increase the levy followed a vote in 2005 which 9800 levy payers from an estimated population of 80,000 at the time took the opportunity to respond. 58 percent of those who did respond voted in favour of increasing the levy.
The levy was subsequently increased to $5/head from January 1, 2006.
At the time, then-Agriculture Minister Peter McGauran placed a sunset clause on the levy increase, stating that before the end of 2010, industry would need to present the Government with a new proposal for a revised levy rate, otherwise it will return to $3.50/head.
In 2009 a review of the levy by Beef Marketing Funding Committee concluded that having created a competitive position, particularly in markets such as South Korea, it made little sense to reduce marketing expenditure in those markets "given the current and expected ongoing volatility in a highly competitive global meat marketing environment".
The committee also noted that as marketing levy funds were not CPI adjusted (as they were subject to a flat rate levy), therefore real marketing expenditure was declining over time.
Additionally, projects including NLIS had lost their funding status and were now drawing on marketing funds.
A subsequent ballot by levy payers at the 2009 MLA AGM resulted in 72.5 percent of eligible levy payers who voted supporting the case for no change, meaning the levy remained at $5 per head.
In the year the levy was increased, 2006, the primary price indicator for Australian cattle, the Eastern Young Cattle Indicator (EYCI) averaged 317c/kg.
In recent years it has risen to double that level and now stands three times higher than 15 years ago, after pushing above 1000c/kg late last month. After pushing to a record of 1031.52c/kg last week, the EYCI lost some of its recent momentum yesterday to close at 994.69c/kg.
The $5 per head grassfed cattle transaction levy generated $63 million in total revenue for MLA in 2019-20, as part of total overall revenue for the organisation of $270 million, which included levy income from grainfed cattle, sheep and goat levies, matching Government funding for research and private funding from partnerships through the MLA Donor Corporation – more information can be found on MLA's annual reports page here.