AS anti-meat activists find they can trespass onto private property and harass family farmers with virtual legal impunity, the question of what the livestock sector can do to protect itself in response dominated discussions at the Northern Territory Cattleman's Association conference in Darwin on Friday.
Nearly every speech touched on the issue in way or another.
When distilled down, messages from presenters fell under two linked, but slightly contrasting, themes.
Several speakers warned the industry must do more to counter misinformation from vegan campaigners.
Others suggested the issue is perhaps not as bad as the industry thinks: farmers still enjoy high levels of public trust; people in the red meat sector tend to focus more on what vegans say about their industry than the average consumer does; and those vocally rallying against animal agriculture still boil down to a tiny minority of the community.
However, as National Farmers Federation president Fiona Simson pointed out, complacency is a luxury the industry can ill-afford – after all, no one knows better than northern cattle producers what can happen when a minority movement whips up enough social media support to convince a Government to make sudden, knee-jerk decisions.
"Whilst they are a small minority they are making a lot of noise, and when they make a lot of noise then we see the moderate section of the community start to listen to what they say, and not question what they're hearing," Ms Simson said.
"And the worst thing then is that the politicians tend to actually believe them and start making laws to go with this very small percentage of the population.
"When you reflect on what happened in the Indonesian live export case, that is the sort of decision that politicians make if we do nothing."
NTCA president Chris Nott said NTCA members have uniformly supported a resolution to increase the $5/head compulsory cattle transaction levy to $5.50/ head, and to use the additional proceeds to empower national industry leadership and to fund advertising and advertorial campaigns through Meat & Livestock Australia to "sell the message of what we do and how well we do it".
In a later panel session NT and NQ cattle producer Dan Lynch proposed going even further and lifting the levy to $8/head, noting the current levy had not lifted for many years and a raise was justified and needed to support an now industry producing in excess of $10 billion worth of production a year.
Deputy Prime Minister Michael McCormack said the rise of militant activists and their use of underhanded tactics and 'activities that have nothing to do with the best interests of animals' represented a clear and present danger for the industry.
"This activism must be resisted", he said.
Mr McCormack wants the controversial Aussie Farms website, which implies that all Australian farms treat animals cruelly and encourages trespass and vigilantism, stripped of its charitable status, but the Federal Government says it has little direct power to increase fines or penalties for trespassers, as they are covered by State laws.
Vegan activists are deft at using social media and public protests to create an impression of mass and growing support for their agenda.
But in encouraging findings for the livestock industry, the just-released results of an independent randomised survey of 3000 Australians indicate that rather than being 'out to get farmers', the vast majority of Australians continue to have high levels of trust in the job that farmers do.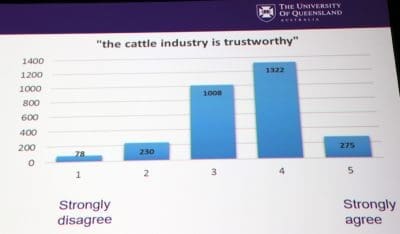 However, the University of Queensland's Dr Bradd Witt also warned that while groups such as those behind the Aussie Farms website were likely to reflect less than 0.5 percent of the population, a larger proportion of the wider public would resonate with some of their values and their concern.
"So it is really important that you understand what those concerns are so you can talk to them before that other group talks to them, because they will align with the identity that they feel most comfortable with," Dr Witt told the conference.
"And if they look at the beef industry and the cattle industry and see a set of values and identity that they don't belong to, they will turn away."
NFF president Fiona Simson said farmers are still held in high esteem by the community, reflected by how many dollars had been poured into drought assistance funds by urban people.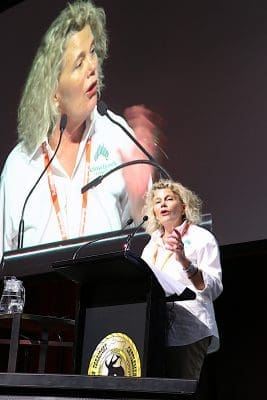 However, campaigns from groups such as Aussie Farms and the 100 extremists who illegally entered a feedlot near Millmerran in late March to undermine that trust were only set to escalate, particularly when activists face insignificant penalties for their actions.
The activists who recently stole NLIS tagged goats from a Gippsland café, describing their actions as an 'animal rescue', received a court-imposed fine of just $1.
"You know what sort of fine you will get (as a livestock producer) if you're caught not changing over your NLIS tags, or for an NLIS offence, sometimes it is thousands of dollars," Ms Simpson said.
She said the NFF has written to Ministers in every government, polices forces in every state, the privacy commission and many others asking for State trespass laws to be tightened and privacy laws to be amended. It has also written to Google and Facebook asking them to take responsibility for publishing material from animal activists and the consequences of their actions and to take such content down.
"We've notified the police to the potential illegal means in which the imagery has been obtained on the Aussie farms websites, but unbelievably Aussie farms still enjoys charitable status, and of course, we've asked that this be repealed."
A petition launched by NFF urging Governments at all levels to take urgent action to prevent farm trespass has received almost 9000 signatures since being launched mid-last week.
Ultimately, the best way for agriculture to defend itself was to ensure it is upholding community expectations.
"Whilst we're doing all these things to try to stop the activists and to do anything legal that we possibly can, we also have to be aware that we absolutely have to make sure that we align with community's expectations of us," she said.
She also urged all sectors of agriculture to support and stand up for each other.
"There is a tendency in our industry to deal only with what is in our own back yard and to keep our heads down when we're not in the firing line.
"So cattle producers tend to look the other way when pork producers are under fire about sow stalls, and wool growers are pleased mulesing is not in the headlines when we're talking about cotton producers and the Murray Darling basin.
"Maybe it is human nature but we have to change that and that is what the NFF is about.
"It is about Australian agriculture, we come fearlessly to the table representing the whole of Australian agriculture, and that is why we think it is our job to start the campaign off, to start talking about trust, to start putting deposits back in that trust bank, to start telling our story and to do it in a way that is going to be sustainable.
"Everybody is under fire here at the moment but we badly need to start talking back to the community, to be building our story.
"Chris (Nott) mentioned it might be bill boards, it might be signs on buses, signs on airports as you come down, it will be that and much, much more, it will be education around building on the success of programs like the Primary Industries Education Foundation which is already preparing resources for teachers in schools to teach them about where their food and fibre comes from.
"It will be about television programs showing people behind the farm gate.
"…When we're talking to people in the city who have got no concept, it may be two to three generations since they have had anything to do with farmers if at all, then it is quite a herculean task to start talking again about farming and building that trust and matching our values with their values.
"But is a really important task that we do and NFF is proud to be leading this, we will certainly be seeking industry support."
Scroll down to see more faces from the 2019 NTCA Conference:
(click on images to enlarge)