SUSPICIONS have been held for some time among some MSA stakeholders about apparent disparity between meat colour and pH results, and that meat colours recorded at grading might change over time.
That's led to the research project which has changed conventional thinking about the domestic Australian consumer's views about acceptable meat colour.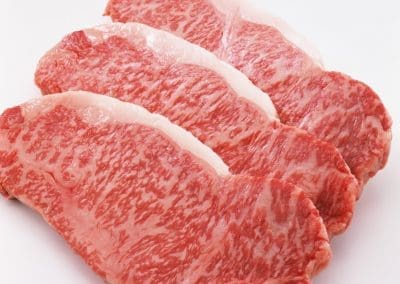 Several years ago Teys Australia identified recurring problems with carcases that were being graded as acceptable for pH, but with meat colour above the acceptable range.
In other cases, Teys was finding that the dark meat colour problem sometimes almost disappeared in cattle killed on a Friday, before being kept in the chillers over the weekend for boning on Monday – i.e. darker meat tended to lighten in colour the longer it was held.
So concerned was the company over the colour issues that last year it brought US meat science expert Melvin Hunt to Australia for a forum on the topic, discussed in detail in this earlier Beef Central article.
These investigations drove Teys to establish a Processor Initiated Research Project (PIP) underpinned by the MLA Donor Company and AMPC, to examine various meat colour issues (see today's separate story on the removal of meat colour from MSA requirements).
"While dark meat colour is often associated with unacceptably high pH in carcases, for some time there has been a disparity, with some carcases showing acceptable pH, but dark meat colour at grading," Teys general manager corporate services Tom Maguire told Beef Central.
"We were unable to determine why – hence the need for this work," he said.
"We were primarily interested in what was happening at the grading stage, versus what the consumer saw when they pick the pack up at retail. More broadly, we wanted to make sure the MSA grading being applied was a true reflection of consumer value, in the meat colour area," Mr Maguire said.
"The key is that the broader industry is keen to see MSA grading line-up more accurately with consumer outcomes, and this is part of that process."
Project outline
The multi-phase R&D project based out of Charles Sturt Uni at Wagga Wagga looked at a matrix of variables and relationships surrounding meat colour. Some of this was designed to compare what was happening with meat colour at grading, versus what the consumer saw at retail, while other parts looked at colour stability issues and effect of different forms of packaging on meat colour.
Some of the many variables included:
Samples exhibiting meat colours ranging from 1C to 5, with (where possible) pH above and below 5.7, taken from cattle with 0-6 teeth
Three different steak cuts – rump, striploin, tenderloin
Different aging times and retail storage times
Three different packaging types
Colour stability from grading stage, to boning stage, to retail
Chilled cabinet layout.
Almost  2280 consumers were engaged to take part in the sensory and visual parts of the project, scoring the products based on either sensory or visual 'retail setting' appearance for meat colour.
The experiment provided 'very strong' agreement on what consumers liked, and what they did not, project managers said.
Knowledge grows about consumers understanding of packaging
Valuable knowledge has also been gained from the meat colour research about how consumers view different retail meat packaging methods, and how that impacts on what they perceive as 'acceptable' meat colour in a retail setting.
Under this part of the project, consumers viewed different cuts prepared under different packaging methods widely used in retail applications in Australia. The display was set up in a modern, well-lit retail chilled cabinet supplied by Woolworths, using temperatures and humidity identical to store conditions. Consumers in this portion of the trial rated packaged beef specifically on meat colour and how that related to their willingness to purchase.
Three steak muscles were involved: striploin, tenderloin and rump, each displayed in three different popular packaging options used in retail settings – Vacuum Skin Pack (VSP), Modified Atmosphere Packaging (MAP) and conventional supermarket over-wrap tray (OWP).
Beef presented in VSP form tends to be darker, because of the absence of oxygen, but while the research showed that while consumers marked the colour of VSP-packed products harder than either MAP or over-wrap tray, they were not as 'hard' on VSP's darker meat colour as might have been expected.
As illustrated in the graph below, beef packed in  VSP rated slightly lower for consumer appeal than overwrap tray or MAP, although all were 'acceptable' to consumers. The result was consistent across all three cuts.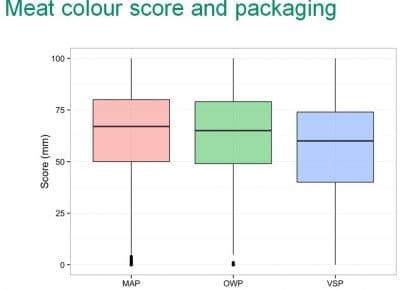 In essence what the consumer is saying is that while VSP-packed product does not look as good for meat colour, they are not that concerned about it – and were happy to purchase under that understanding.
One conclusion offered to Beef Central was that the typical consumer is perhaps becoming more sophisticated in their perception of meat colour, in the context of different packaging forms used. Certainly there is more VSP-packed beef evident in Australian supermarket shelves, and it tends to be used for premium, higher-value products, where shelf-life is important to the retailer.
Typically, the meat colour appearance improves once a beef item is removed from VSP packaging in the presence of oxygen, and perhaps more consumers now realise this.
The fact that VSP-packed beef products tend to be priced higher than everyday beef in the same cabinet, and are often displayed in an appealing manner with a cardboard-wrap containing product information, perhaps also delivers a cue to consumers that despite it's apparent darker colour in-pack, it's a premium product.
"Colour is important to consumers and butchers, retailers and global consumer research will attest to that," MLA's Michael Crowley said. "But what the visual part of the trial showed was that consumers did not discriminate on colour as hard as we had expected."
MAP-packaging tenderness issue
On other packaging matters stemming from the meat colour research, Beef Central readers may recall our recent article highlighting the negative tenderness issue that was exposed in the project for beef packed in Modified Atmosphere Packaging (click here to access earlier story).
MLA is now engaging with packaging companies to develop a second R&D project to understand the issue in more detail, given that the preliminary results in the previous study quantified the impact on eating quality for the first time and size of the impact "took everyone by surprise," an MLA spokesman said.
"Certainly further work is required in that space. The research has to be funded by the private sector, not MSA, so we are working with packaging companies to establish a process. It's probably going to be six months, by the time it is peer reviewed, before any results are available from that research," he said.