AN extensive consumer-based research project has led to the removal of meat colour from Meat Standards Australia requirements this week.
The move has been endorsed by the industry through the Meat Standards Australia Beef Taskforce, and subsequently approved by the Australian Meat Industry Language & Standards Committee at a meeting on Tuesday.
While the removal of meat colour is one of the more significant changes to MSA in recent times, it does not mean that there is any risk of a flood of MSA meat carrying dark meat colour now hitting the market, program managers stress. Ultimate pH will remain a key requirement with MSA bodies required to be below pH of 5.71 and there is a strong relationship between meat colour and pH.
Industry stakeholders engaged with the MSA program were briefed on the development on Wednesday, as there is a clear concern held within MSA ranks that misinterpretation of the decision and its potential impact is possible. The fact that meat colour has been such a strong focal-point surrounding MSA compliance has only compounded that risk.
The research work backgrounding this week's decision (details below, and in this morning's separate article) has raised a number of important points about consumer perceptions of meat colour in beef:
Going against the perception that the industry has had for a long time, consumers involved in the research did not discriminate between meat colours 2,3, 4 and 5. In fact there was some discrimination shown against meat colour 1C, at the lighter-end of the spectrum, which is counter-intuitive to earlier thinking (see graph below).
While in the majority of cases, carcases with dark meat colour (above meat colour 3) also have high pH levels, in some cases that does not apply . That is, a carcase may have acceptable pH, but fails meat colour – it is these bodies that will be now MSA eligible and represent approx. 1% of all MSA cattle graded.
The meat colour in the muscle measured at grading does not reflect the colour in other muscles consistently Positive changes sometimes occur in meat colour in carcases/beef in the period after grading (meat colour can get lighter by the time it reaches retail)
There were some important findings about consumers' views about meat colour, as it is expressed in different forms of packaging.
Consumers do not discriminate between meat colours 2-5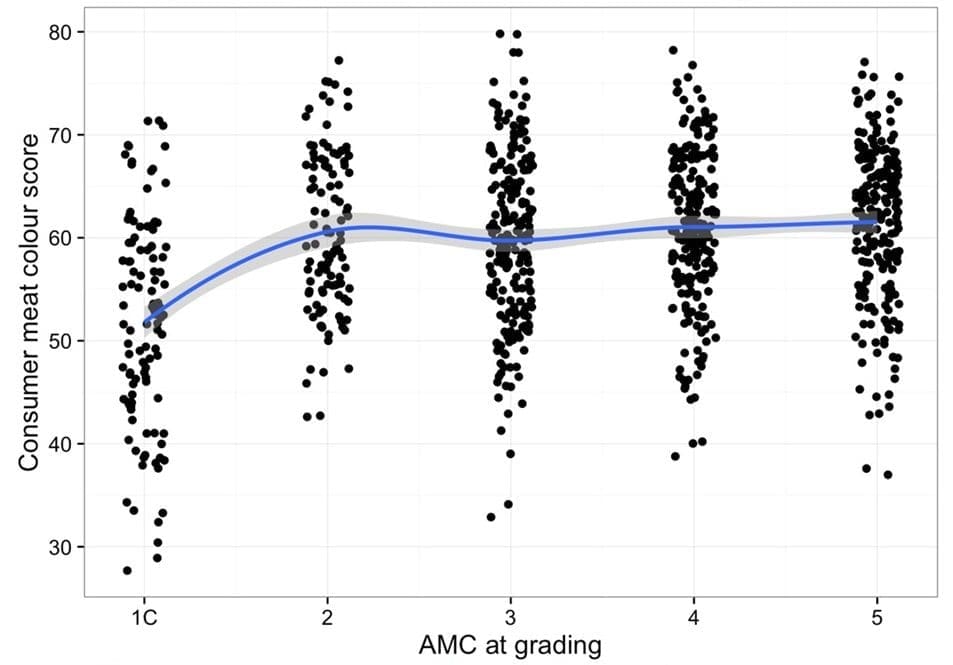 While meat colour has never been a part of the MSA grading model that predicts eating quality outcomes, it has always been a 'pass/fail' component of the MSA program as an eligibility requirement, with the acceptable range limited to MC scores 1b to 3.
That decision was made during the program's launch in 1998 in line with industry standards that reflected understanding of consumer acceptance of meat colour at the time. Meat colour (1b-3) was already a part of the grainfed industry standards prior to MSA's arrival, so to align with other industry programs, MSA adopted a similar standard. At that time, the overwhelming majority of MSA grading was being done on grainfed cattle.
"Meat colour is often the number one driver of purchase at retail according to consumer insights research," MLA general manager for producer consultation and adoption Michael Crowley told Beef Central, following this week's decisions to remove meat colour from the program.
"But this change to the MSA program is not compromising the consumer at all, because the trial clearly showed that there is no relationship between meat colour at grading, and consumer eating quality  and consumer acceptance relies on pH being below 5.71," he said.
"We're using science to help drive improvements through the program. The main reason meat colour is being removed as an MSA requirement is that it does not impact on consumer eating quality. The science has proven that regardless of packaging type, consumer acceptance at retail is not impacted – provided pH is below 5.71," Mr Crowley said.
What's now happening is that brand owners and supply chains which use MSA to underpin their branded beef programs are being given the responsibility to make decisions over acceptable meat colour ranges, within their own programs.
"It's part of MSA's continued transition away from being perceived as a 'brand', to being a quality system that underpins brands," Mr Crowley said.
"Brands and supply chains will in future make the call on colour, while MSA focusses solely on what impacts consumer eating quality."
Meat colour will, however, continue to be a field that MSA graders measure and record, and the industry will continue to work towards development of tools and technology to measure meat colour more objectively – as it remains an important commercial criteria for quality assessment.
Meat colour will also continue to be a part of the broader AusMeat language, and will remain a parameter necessary to achieve grainfed cipher compliance. As a general rule, meat colour compliance issues tend to be higher with grassfed than grainfed animals, because of nutritional management.
Meat colour may change over time
Another important finding from the meat colour R&D project has been that in some cases, the colour of meat as judged at point of MSA grading can improve over time.
Where this has particular significance is in examples where a carcase might be MSA-graded as an MC 4 (just outside the program's acceptable 1b-3 MSA range), only for the colour to lighten-up to within the acceptable range, by the time it reaches retail. If that same carcase has an acceptable pH (less than 5.71), then under these changes it would be MSA eligible.
Equally importantly, meat colour currently is measured at just one point in the carcase (at the quartering site) yet the relationship between colour at the quartering site and other muscles can differ, research showed. For example meat colour measurement at grading is good for the striploin, but is not necessarily representative of other muscles. In some examples, striploins that were meat colour score 4s came from the same carcase where tenderloins and rumps were score 3s. Different muscles also have different colour stability.
pH remains the critical measurement
Critical to the decision to remove meat colour from MSA criteria is the fact that the pH measurement remains a fundamental part of MSA grading of each carcase.
Most carcases with dark meat colour also have pH levels above of 5.7, making them immediately ineligible for the MSA program. But in about one percent of carcases graded, acceptable pH (in the 5.3-5.7 range) is displayed, while being above the current acceptable meat colour range (1b-3).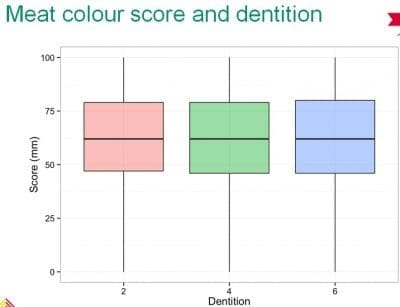 It is these carcases that will now not be rejected from the MSA system, on colour alone. Importantly, as described above, those carcases are typically 'borderline' between meat colours 3 and 4, which may 'lighten' in colour by the time they reach retail.
"Colour is important to consumers, butchers and retailers and global consumer research will attest to that," Mr Crowley said. "But what we now know from this research is that the relationship between meat colour as assessed at point of grading and retail can change, and different muscles have different colour stability."
The project also illustrated that no relationship exists between meat colour score and dentition, between 2, 4 and 6-tooth cattle, as illustrated in the graph above.
What does it mean for brand owners/managers?
For practical purposes, what does the meat colour decision mean for a typical beef brand owner/manager whose program is backed by MSA?
Firstly they can now set their own boundaries on meat colour requirements, provided other criteria like pH are within acceptable ranges. But as described above, the amount of darker meat colours coming through the system is likely to be fairly insignificant, representing only about 1pc of carcases. And importantly, beyond MC 4-5, researchers involved in the trial were unable to find any bodies with acceptable pH levels.
Some MSA-backed brands may now allow some meat colour 4s into their program (provided they pass pH requirements), in the expectation that they are likely to 'lighten-up' by the time they reach the end customer, however. Some domestic brand programs already segment their product by meat colour, with the lighter 1b's to 2's in one carton, and the 3s in another. Nolan Meats' Private Selection and Vale programs are an example.
A little more of that may occur, a large domestic processor who has been involved in the MSA program since day-one told Beef Central.
Click here to access a second story discussing the research in more detail, and some other important outcomes