Beef Central publishes an occasional summary of appointments, departures and achievements occurring across the red meat and livestock supply chain. Send details for entries to admin@beefcentral.com
MLA's Michael Finucan to leave service delivery company
New role for Woolworths 'Mr Meat', Pat McEntee
New Australian MD for Sandalwood feedlot owners, Korea's Lotte
Search begins for CCA executive
KG2 appoints livestock executive
Greensill sets sights on agribusiness growth, appoints new MD
New ARCBA president has strong livestock connections
MLA appointment boosts strategic comms and corporate affairs capacity
Stronger team at recruiters, Agricultural Appointments
Mort's new trainee livestock logistics and cattle buyer
Big future for Brisbane young judge
Young farmer steps up to help lead Business Program
Meat judging inspires next generation
MLA's Michael Finucan to leave service delivery company
One of Meat & Livestock Australia's senior executive team, international markets general manager Michael Finucan will leave the industry service delivery company at the end of the year.
During his 12-year term with MLA, he has held a number of key roles, including managing the live exports program, managing the Korean and Japanese regional offices and since 2015, leading MLA's International Markets business unit. At different stages he has worked out of offices in Sydney, Seoul, Beijing and Singapore, where he established MLA's office in 2017.
During this time, Mr Finucan has lead major changes in MLA's international market operations, including the adoption of market intelligence, data and insights to underpin the development and execution of strategic market, channel, segment, customer and consumer programs.
He also oversaw the targeted roll-out of the True Aussie campaign in key markets – somewhat controversial at the time, given that it replaced the broadly-respected and widely-known Aussie Beef symbol. MLA claims True Aussie generated an estimated $61 million in incremental brand value in Japan, Korea and the Middle East North Africa region in 2017/18.
Mr Finucan has also worked closely with other RDC's, including leadership of joint programs with LiveCorp, market access initiatives with AMPC and AMIC and led the establishment of a joint MLA, Dairy Australia and Wine Australia marketing program to amplify the features, attributes and benefits of 'Brand Australia' produce within the fiercely competitive China market.
His work has seen him travel the length and breadth of Australia – and also the world – attending hundreds of events, meeting countless producers, exporters, importers, distributors and customers all in pursuit of the best opportunities for the Australian red meat industry.
Mr Finucan will take up a new role in the commercial sector in December. Beef Central can confirm he will remain within the red meat industry. MLA will launch a recruitment process to fill the role later this week. to ensure a smooth leadership transition over the coming months.
New role for Woolworths career 'meat man', Pat McEntee
Long-serving Woolworths senior meat executive, Pat McEntee has moved to a new challenge, becoming managing director of Hilton Foods Australia some months ago.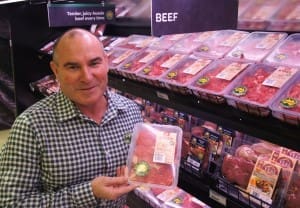 UK-based Hilton Foods has a long-term partnership with national retailer Woolworths, supplying around 1000 supermarkets nationally with retail-ready packaged and value-added meat products.
The company is currently commissioning its third Australian manufacturing facility, on a massive greenfield site at Heathwood, south of Brisbane. Hilton already operates similar facilities near Melbourne, and Perth (click here to view earlier articles).
Pat McEntee started his career with Woolworths in 1987 as an apprentice butcher. Progressing through the ranks of store operations, he became store meat manager, group meat manager, and NSW state meat merchandise manager. He then joined the buying and marketing side of the Woolworths business as senior business manager meat. In 2007, Mr McEntee was chosen to head up the development of the Thomas Dux concept. He was appointed Woolworths fresh foods general manager in 2009 and then director of supermarket operations.
Around 2013 he also became a director of Woolworths Meat Co, the joint venture established by Woolworths and Hilton Foods to establish and grow the portion-cutting, packaged and value-added meat products business. Hilton subsequently bought-out Woolworths' share of the business, however the dedicated supply business relationship continues.
Hilton has recently advertised for a range of positions for its new Heathwood processing site south of Brisbane, including ads on Beef Central's recruitment portal, Jobs Central (click here). Current job ads for positions at the site number 14 in total.
In a typical 'soft' launch, the new Heathwood facility has been doing small runs of certain lines, but is still some way from being fully operational. Click here to view a brief promo video.
New Australian MD for Sandalwood feedlot owners, Korea's Lotte
Sandalwood feedlot owners, Korean meat and retail giant Lotte, have appointed experienced feedlot operations and agribusiness manager Geoff Cornford as the company's Australian operations managing director.
Mr Cornford spent 15 years with the North Australian Pastoral Co, firstly managing its Wainui feedlot near Bowenville on Queensland's Darling Downs, and latterly as general manager and chief operating officer. He left the business in 2018.
As Beef Central reported in February, Korean retail supermarket giant Lotte bought Sandalwood from long-term owner/operators, the Roberts/Salter families.
Mr Cornford joined the business about three months ago, and ownership and management transition is now complete, with the Roberts and Salter families no longer involved.
In addition to his broader supply chain development work, Mr Cornford is also operating in an interim fashion as Sandalwood feedlot operations manager, until a full-time appointment is made in coming months. Lotte gets a service kill done at the export-licensed John Dee processing facility near Warwick.
Based on Beef Central's earlier Top 25 Lotfeeders report, Sandalwood is ranked the fifteenth largest feedlot business in Australia, with 15,290 standard cattle units. In practical terms when lighter cattle are factored-in, that means the one-time operating capacity is between 17,000 and 18,000 head.
New ARCBA president has strong livestock connections
Well known former NSW stock agent and politician Thomas George has been appointed president and independent chairman of the Australian Registered Cattle Breeders Association.
ARCBA is the peak industry body for the Australian beef cattle seedstock industry, providing leadership, direction and education to its members, the individual breed associations. It also works to improve the Australian seedstock industry environment and Australia's international cattle seedstock image.
Mr George has strong links to the beef industry, having established the well-known George & Fuhrmann stock and station agency in 1976, growing into five offices in northern NSW and southern Queensland. He also spent 19 years as a director and deputy chairman of the Northern Co-operative Meat Company in Casino, and spent periods as president of the Stock & Station Agents Association of NSW and vice-president of the Australian Council of Livestock Agents.
Mr George served as the member for Lismore in the NSW Government lower house for 20 years until earlier this year, representing the National Party.
Mr George's appointment follows the death of foundation ARCBA president Arthur Rickards earlier this year.
Search begins for CCA executive
Cattle Council of Australia has started moves to fill the peak grassfed producer organisation's chief executive officer vacancy, following the recent departure of Margot Andre to an equivalent role working for the Australian pork industry. Ads appearing this month are looking for a "highly commercial and communicative CEO to continue the organisation's strong momentum, and ensure it is well navigated through the pending industry discussions and changes."
Reporting to the CCA board, this role is based in Canberra and requires considerable travel.
The CEO will take the lead for overall management of CCA, the delivery of the company's operational and strategic plans and critically, spearheading key stakeholder engagement within the Industry to be the face of CCA. The new chief executive will drive and lead CCA over issues such as animal health and welfare, food safety and product integrity, trade and market access, environment and live exports.
CCA hopes to make an appointment during the next four months. Click this link to view the job description prospectus.
KG2 appoints livestock executive
Agrimarketing services provider, KG2, has appointed Andrew Negline as the company's commercial director for livestock and animal health.
KG2 provides a range of data-based marketing services, including market research and lead generation to agribusiness organisations, grower associations and government organisations.
Over the past 25 years, the company has completed hundreds of projects within the animal health, crop protection, seed, fertiliser, machinery, finance, insurance and grain marketing sectors. It claims its database, compiled from government records and proprietary data sources, maintains the operating details, purchasing decisions and opinions of more than 90 percent of Australian farmers.
KG2 managing director Adam McNeill said Mr Negline's appointment strengthened the company's leadership in technology-based marketing services.
Mr Negline has 30 years' experience in the red meat industry via executive or senior managerial roles with WA Department of Agriculture and Food, Cargill Beef Australia, Hereford Prime, Meat & Livestock Australia, Franklins and Uncle Ben's.
He played key roles in the launch of Cargill's flagship brands, Riverine Premium grainfed beef in 2006 and Grasslands grassfed beef in 2009 (both continue to this day under the Teys Cargill joint venture), and the development of Hoju Chung Jung Woo, Australia's successful beef brand in the Korean market in 2001. He also drove the introduction of boxed lamb and pork into Australian supermarkets in 1996.
For the past five years, Mr Negline has provided consultancy services to the red meat industry, specialising in product innovation, market development and supply chain management.
Greensill sets sights on agribusiness growth, appoints new MD
Global working capital finance provider, Greensill, has hired experienced agribusiness banker Justin Harrison as the company's managing director for agribusiness in Australia.
It's a newly-created role for Greensill, as the company sets out a "clear focus on agribusiness, aiming to bring capital to the farmer" (see Beef Central's earlier profile on principal, Lex Greensill).
Mr Harrison joins Greensill from Rabobank, where he worked for 16 years in senior management positions, most recently as a regional manager looking after major agri clients in Queensland and the Northern Territory. He has been working in agriculture for the last 30 years, having started his career working as a lecturer at the Australian College for Tropical Agriculture in the Burdekin.
"My passions are farming and finance, and the opportunity to help Australian farmers unlock capital is very exciting," he said. "I look forward to providing meaningful opportunities for agricultural companies, both small and large."
Mr Harrison will report to Greensill's Australia head of origination Matt Costello.
"Justin is a tremendous addition to the Greensill team. We can't wait to grow our focus on agribusiness, providing much-needed capital to farmers in ways that previously were not possible," Mr Costello said.
MLA appointment boosts strategic comms and corporate affairs capacity
Meat & Livestock Australia has appointed former Australian Wool Innovation staffer Peta Slack-Smith as the industry service delivery company's general manager for strategic communications and corporate affairs.
The appointment largely fills the role left last year by Brad Henderson, with some adjustments of tasks and responsibilities.
Ms Slack-Smith, who takes up her new position on Monday,  has good experience in strategic corporate communications, stakeholder engagement, government relations and issues and media management.
MLA managing director Jason Strong said the appointment reinforced MLA's commitment to continued effective and professional communications to all stakeholders across the red meat supply chain, including producers, processors, industry bodies, research partners, government and consumers.
"While MLA delivers a broad range of marketing, research and development programs for the future prosperity of Australia's red meat sector, we need to ensure we continue to communicate the outcomes and value of this work, ensuring greater participation and adoption. Communication and engagement activities are a crucial area of delivery for MLA. Our ability to continue to share targeted information about our work programs, in what is a constantly changing operating environment, is more important than ever.
Ms Slack-Smith was previously GM for corporate affairs & international market access with AWI. She has also held management and leadership positions at The Woolmark Company and Australian Wheat Board, worked in the not for profit sector, with ASX listed corporates, industry associations, and state and federal government departments.
She grew up on a mixed farm in central west NSW and has worked in a range of agricultural industries including cotton, dairy, grains and wool. Her previous work with international customers would also be valuable, especially as the red meat and livestock sector continues address growing consumer trends around sustainability, animal welfare and health and nutrition, Mr Strong said.
QAAFI head calls it a day
After heading the Queensland Alliance for Agriculture and Food Innovation through the University of Queensland for the past eight years, Professor Stephen Moore retired last month, passing on the mantle to Prof Ben Hayes.
Prof Moore has been heavily involved in the world of bovine genomics for more than 20 years.
"Prof Moore has made great contributions to QAAFI and the establishment and growth of the Animal Science Centre since he joined QAAFI in September 2011," QAAFI director Prof Robert Henry said. "The centre's capacity to deliver research of real benefit to Australian and international livestock industries continues to grow," Prof Henry said.
Prior to taking up the appointment at QAAFI, Prof Moore spent 12 years in animal genetics research in Canada as chair in Bovine Genomics at the University of Alberta, and prior to that worked with CSIRO's animal division. While in Canada he set up Livestock Gentec, the University of Alberta's specialist livestock genomics department, of which he was chief executive officer.
QAAFI is the research institute arm of The University of Queensland, one of the world's leading research providers in tropical and sub-tropical agriculture and food production. It works across animal production, nutrition and food sciences, cropping and horticulture, supported by industry and the Queensland Government.
Stronger team at recruiters, Agricultural Appointments
Specialist agricultural recruiter Agricultural Appointments has appointed David Compton to its team.
Mr Compton has an extensive background in both recruitment and agriculture, and has successfully brought the two together to specialise in agribusiness recruitment. He has always been engaged with the agricultural industry and demonstrates a passion and affinity for the sector.
He comes from a farming background, having grown up on properties in the NSW Southern Highlands and South-West Slopes, where his family ran mixed enterprises across stud and commercial cattle, broadacre cropping, hay production and fine wool.
He spent his early career working concurrently on the family farms and running a property development business in Sydney building residential units. During this time, he expanded the family's farming interests into the New England and Northern Tablelands of NSW with a focus on livestock.
Since 2010 he has worked extensively on senior appointments and executive search assignments across most sectors of the industry, with a particular focus on corporate farming/funds management, commodity marketing, R&D Corporations, life sciences, and industry groups/bodies. He has unique expertise in recruiting finance roles across the agribusiness sector having previously specialised in finance recruitment for several years.
Mort's new trainee livestock logistics and cattle buyer
Caitlyn Barton has joined Toowoomba-based grainfed beef supply chain Mort & Co as a trainee livestock logistics and cattle buyer.
Following a stint at a breeding property in the Northern Territory, Caitlyn undertook a Bachelor of Agriculture majoring in animal production at UNE, Armidale. Through this period Caitlyn undertook work for leading seedstock Charolais and Ultrablack operation Palgrove, in the process developing strong networks within the stud beef and commercial cattle industries.
In 2018, Caitlyn joined Mort & Co as a graduate trainee manager, working across all operational departments at the Grassdale feedlot before progressing to the feeding & milling team where she was focused on feed allocation and nutrition.
Since June 2019, Caitlyn has been part of the Mort & Co livestock team and will be based out of the Toowoomba office. Her role will include livestock buying, trucking and logistics.
Big future for Brisbane young judge
For the second year in a row, fifteen year old Angus Haynes, from St George has been the most successful young judging competitor in the cattle section at the Brisbane Royal Show.
This year he accumulated points as the School Steer Judge Champion, winning the RNA Open Prime Judging and then taking out the Runner Up in the State Final and finally placing third in the RNA Open Stud Cattle Judging. He also made the final of the 14/15 years Paraders Competition and placed third in the Open Stud Judging.
Angus has a passion for judging cattle. "I like all of the Junior events but I really enjoy the judging competitions. I try to go in as many as I can at the local shows," he said.
While going to school in Toowoomba, he tries to spend as many weekends and school holidays as possible at his grandparents property at Linville in the Brisbane Valley where they run a Charolais stud and a commercial beef operation.
He has always been interested in Prime cattle and carcase competitions and has even put his own cattle in local shows. "I really like the feedback that you can get from those types of competitions and next year I am hoping to have one of my own steers in the Ekka prime cattle," he said.
Young farmer steps up to help lead Business Program
A young farmer from Mudgee with a background in law and business has stepped up to help lead the NSW Department of Primary Industries Young Farmer Business Program (YFBP).
Tim Flynn, whose family runs a sheep and cattle property at Mudgee and who has a double degree in law and business, has been appointed as YFBP Program Coordinator, based in Dubbo. During his time as president at Robb College at the University of New England in Armidale, Tim helped coordinate many events for the rural students and had been closely following the Young Farmer Business Program.
"I went to one of the workshops in Dubbo and I thought what a great idea, this is exactly what young farmers need," he said.
"It's a big career change to step away from Law, but I am really excited to be joining a program that is genuinely having an impact and helping young people. I'm 26 years old and have connections right across NSW that form part of the target market. "I am keen to bring new ideas to the program and get on the road and hear the feedback from young farmers and fishers."
YFBP Manager, Alexandra Hicks said Tim had a great background working in a complex legal environment with lots of stakeholders. "He also understands the agricultural sector and he is a people person. I think he will bring a lot of value to this role," she said. Mr Flynn will help organise and manage the events of the program across NSW, bringing feedback to the program as part of continuous improvement, ensuring that the program meets their young audience's needs.
Since the Young Farmer Business Program started in 2017, it has delivered 58 events held for young farmers across NSW, attracting 1471 attendees.
Meat judging inspires next generation
Two Murdoch University students from WA have made the cut from nearly 200 competitors at the Australian Intercollegiate Meat Judging competition to participate in an industry tour in Brisbane later this year. Second-year animal science students Claudia Nielsen and Renae Piggott were selected in the top ten students after an outstanding performance at the annual competition hosted by Charles Sturt University and Teys Australia in Wagga last month.
The five-day event attracted participants from 12 universities around Australia and four international teams from Japan, Pakistan, USA and Indonesia. The Murdoch team performed well with Claudia Nielsen, Renae Piggott, Jamie Nykiel and Holly Carter being awarded the champion team in lamb carcase judging. Renae Piggott came third overall in pork judging, Claudia Nielsen came fourth overall in lamb judging, Holly Carter took out fifth place for beef judging.
Following on from her performance, Renae was chosen as the coaches' pick to attend the Brisbane training week for her dedication and passion for the Australian red meat industry. "ICMJ has to be one of the best experiences, it never failed to inspire me about my future in the red meat industry," Ms Piggott said. "Being able to network with industry professionals and like-minded students as well as learn about relevant up to date information has opened up my mind to the challenges and all the future possibilities it holds."
Murdoch team coach Keely McGregor said she was proud of how well the students performed this year.
The Murdoch University team was sponsored by Harvey Beef, Linley Valley Pork, the Royal Agricultural Society of Western Australia and the Murdoch University Veterinary Trust.