Location: Dalby, Qld
Operating capacity: 15,290 SCU.
Turnover 2014: 50,000 head.
2003 Top 25 ranking: 14
ONE OF Australia's larger and better known custom-feeders, Sandalwood feedlot near Dalby started operations in a drought year in 1986 with 180 head of Hereford steers behind wire.
The Sandalwood property had been used by its owners, Carey Brothers to finish steers on pasture or crop from their western breeding properties for some years prior, but the 1986 drought stimulated new farm manager, Kev Roberts, to lobby his owners to build a small feedlot to get the cattle through the year.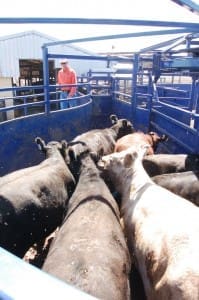 Kev had originally been appointed in 1983 as farm manager, and one day when bouncing around in a Toyota during a preliminary property inspection with the Carey brothers, he pointed to a nearby pebbly ridge and said, "That would make a great site for a feedlot."
"The brothers' response was, 'We're not interested in feedlots – now or ever'," Kev recalls.
His perseverance, and the onset of the 1986 drought, saw his bosses relent, investing in a little hammer-mill/roller mill mixer. Kev fabricated some home-made steel troughs, and rolled out some steel posts and barbed wire. The first 180 Hereford steers from Carey holdings at Charleville were fed at Sandalwood in July that year. Three months later word got around, and Sandalwood was approached to take on its first custom-feeding project, a couple of hundred Droughtmaster steers.
The move proved to be both popular and financially rewarding, and from July 1986 to September 1992, Sandalwood grew from 180 head behind barbed wire to a modern facility with a one-time operating capacity of up to 16,000 head (depending on live weights), undergoing a series of expansions and refinements in grain processing and milling along the way. One large custom feeding client has had cattle in the pens, virtually continuously, since 1989.
In 2005, the extended Roberts family – Kev and wife, Jan, their daughter Megan, a vet, and her husband, Warren Salter (by then general manager of Sandalwood) – bought a 30 percent stake in the feedlot business from the Carey family. The family expanded their share to 60pc in 2010, with the introduction of daughter Jilly, an occupational therapist, and her husband Kelvin Tyler. The balance of equity in Sandalwood is now held by two other local partners, each holding 20pc.
In contrast with five years ago, during a difficult period for lotfeeding generally across the industry when numbers on feed at Sandalwood got down to 4000 head, the past two years have been at operating capacity.
Last year, about 20pc of the cattle on feeder were Sandalwood owned, with 80pc of space used for custom feeding. About 70pc of that is either longfed (Wagyu or Angus) or 100-day cattle, with the remainder domestic.
Along with Aronui, Sandalwood is one of only a handful of feedlots in Australia to use the reconstitution process as part of its sorghum and barley grain processing system. This required the installation of distinctive blue Harvestore high-moisture silos in which the grain was sprouted, enhancing its digestibility, before rolling.
The provision of shade is an ongoing project at the feedlot, and ultimately the plan is to have shade access in 100pc of pens.
Sandalwood was also one of the earliest innovators and pioneers in the use of NLIS electronic ID as a management tool in the feedlot environment. Devices were being used in incoming cattle from the mid-1990s, well prior to regulations being implemented in July, 2005. Both reading equipment and software were developed from scratch to fully exploit the opportunity to use NLIS for management efficiency and food safety reasons, and Sandalwood later became something of an industry showcase for NLIS management technology.
Kev Roberts' recollections of the early days of lotfeeding in Australia are included in the recently published book, "Grainfed: The history of the Australian feedlot industry" published by the Australian Lot Feeders Association. Click here to view an earlier article on the book, and to access details for purchase.
This feature is brought to you by Lallemand Animal Nutrition.
Click here to return to Top 25 Lotfeeders table.
Click here to return to Top 25 Lotfeeders introductory article.