THE Eastern Young Cattle Indicator has fallen into the 600s for the first time since early 2020, when the industry was still in the depths of continental-scale drought.
The benchmark indicator reached 699.95c/kg (dressed weight equivalent) on Friday, falling to levels not seen since 23 February 2020.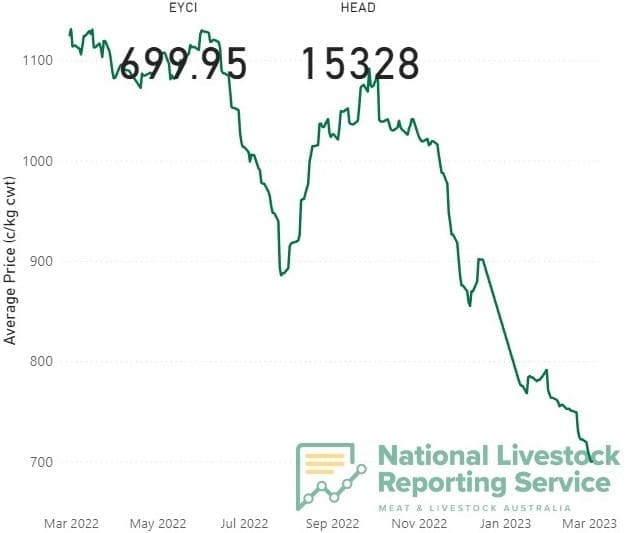 As Beef Central's home-page Industry Dashboard indicators show, the EYCI has fallen dramatically since mid-November last year, dropping 64c/kg over the past month, and 415c/kg lower than where it sat this time last year.
Caution should be shown in year-on-year comparisons, however, as the late February period in 2022 saw large parts of eastern Australia under floodwater, dramatically limiting access to young cattle and saleyards for a period.
While several of the largest contributor saleyards to the EYCI including Dalby and Roma last week remained above 700c/kg in contribution value, others, like Dubbo (677c) and Dubbo (678c) were last week well below that level, with other smaller contributors in the 660s.
Volume, quality contributing to trend
While the longer-term downwards trend continues, recent EYCI performance is also being impacted by supply volume, and quality.
Last week, EYCI-eligible yards accounted for 15,328 head of young cattle – 71pc higher than this time last year (flood affected), but also 28pc and 26pc higher than the same weeks in 2021 and 2020, respectively.
For all saleyards cattle (not just EYCI), Queensland cattle yardings last week were up 21pc on the week before, NSW +13pc and Victoria +3pc.
Market observers also suggest quality is coming into play, with extensive dry areas and hot weather in southern states and parts of Queensland now being reflected in plainer types among young cattle offerings.
Meat & Livestock Australia analyst Ripley Atkinson said with momentum in herd rebuilding, yardings were now well up on last year, even accounting for 2022 late February floods.
"Equally, plainer cattle seen recently clearly just aren't attracting the same demand," he said.
As the description below explains, the EYCI does not take quality or condition into account, provided eligible steers and heifers meet the weight and age criteria.
In a buyer breakdown for last week, lotfeeders are now taking almost 60pc of all EYCI eligible cattle, with restockers now only 34pc, and processors the remainder.
This time last year, restockers were dominating EYCI purchasing patterns, due to restocking still in full-swing.
A month ago, six leading independent analysts were asked by MLA to forecast the EYCI price level for mid-year, arriving at an average figure of 811c/kg (yellow line in graph below).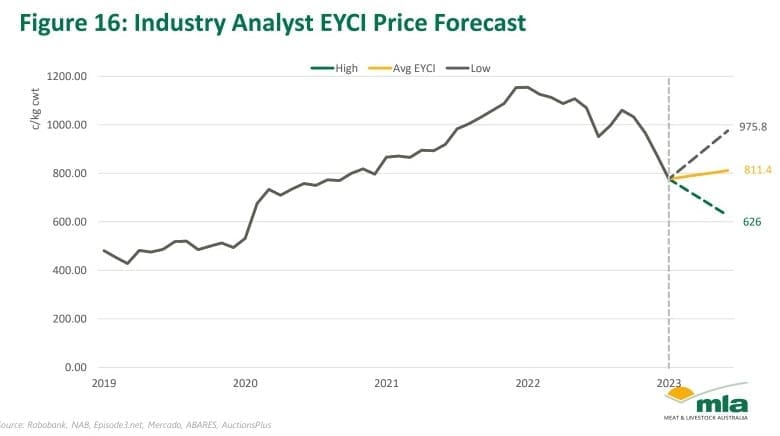 "That's obviously a lot higher than where it sits at the minute, but there's still four months to run, and the autumn-winter transition is always interesting for the young cattle market," Mr Atkinson said.
Another demand-side factor is that restocking in southern parts of Australia is now close to, or at an end.
The pent-up demand from southern restockers for young cattle had now dissipated, and was contributing to the current EYCI performance, Mr Atkinson said.
"There's also likely an element of price fatigue. Looking at the young cattle market performance for the last two years, buyers' resilience to cope with those prices, continuously, is being stress-tested," he said.
"Alongside that, their own calf drops are larger after two or three good years, and they are not needing to chase those young cattle as much."
"Add to that a patchy summer rainfall season at best, apart from regions in far north Queensland, and it has slowed demand."
Mr Atkinson said in parallel with the decline in restocker buying activity had been some re-emergence of cattle trader buyers, who have not been competitive for the past couple of years in the red-hot market.
Some larger numbers have come out of February slaughter and beef export data released on Friday (see separate report today).
What is the EYCI?
The Eastern Young Cattle Indicator (EYCI) is a seven-day rolling average of young cattle prices (vealer and yearling heifers and steers 200-400kg liveweight, scores C2 and C3) from 23 saleyards across Queensland, NSW and Victoria. It is expressed in c/kg carcase weight, rounded to two decimal points.
At any point in time, a seven-day rolling average includes data from the past seven calendar days. In the case of the EYCI, the dataset takes the average ¢/kg cwt of an animal matching the specifications of the indicator per day for the past week, adds them up and divides the figure by seven. The indicator is updated daily to create a rolling average value for this specification of animal.