A PANEL of six independent meat and livestock industry analysts have predicted that Australian young cattle and feeder steer values will rise about 6pc from current levels by mid-year.
As part of its 2023 Industry Projections briefing held on Thursday, Meat & Livestock Australia presented a series of forecasts for feeder steers and young cattle made by a group of analysts and economists. MLA said it was not its role to predict livestock prices, deferring the work to independent analysts.
Contributors to the project included Matt Dalgleish from Episode 3, ABARES, Mercado, NAB Agribusiness, Rabobank and AuctionsPlus.
Each of the panellists provides their own view on price, with the published figure representing the average of the six. The panelist were also asked for their upper limit and lower limit estimates.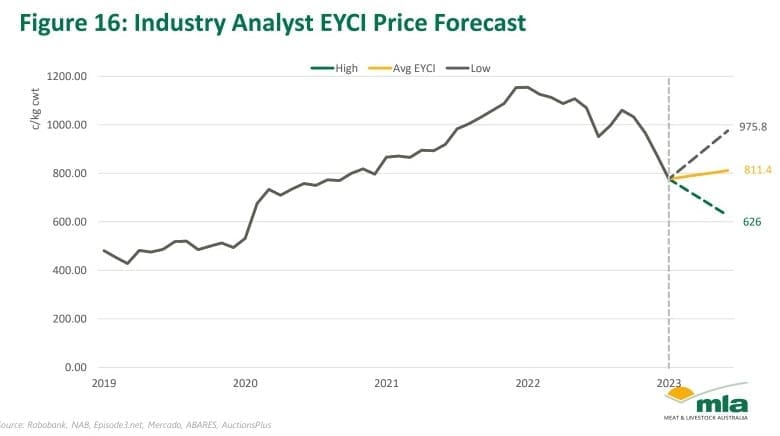 As the graph here shows, the aggregated group opinion (yellow line) suggests the Eastern Young Cattle Indicator will rise to 811c/kg by the end of June, a 47c/kg or six percent rise from where the indicator sat the close of business on Friday (764c/kg.) Worth noting, however, the difference between the combined group's upper limit (black line, 975.8c/kg) and lower limit estimate (green line, 626c/kg) was very wide, at almost 350c/kg. This suggests a fair degree of uncertainty in their forecast.
The EYCI indicator has fallen substantially during January, finishing 2022 at 911c/kg, after falling below 1000c in mid-November.
Longer-term, the group forecast that the young cattle indicator will remain about 8.5pc or 60c/kg above the five-year average – even accounting for the record years of 2020-22.
"The demand for young cattle clearly is anticipated by these analysts to improve, to an extent, by mid-year," MLA analyst Ripley Atkinson told Thursday's briefing.
Feeder steer trend
While MLA has enlisted the input of a 'forecast panel' approach to project EYCI performance for the past 12 months, for the first time the analyst group has also been asked to predict feeder steer prices to mid-year and beyond.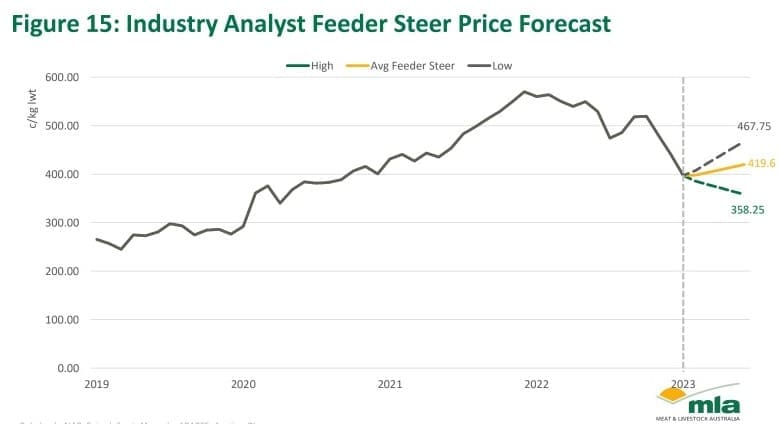 As this graph shows, the group consensus anticipates feeder steers to reach almost 420c/kg by the end of June, an uptick of around 25c/kg liveweight on current rates. However the difference between the upper limit prediction (467.75c/kg) and lower limit (358.25c) was more than 109c/kg. Similar to the EYCI, there is also a forecast that price will remain about 8pc higher than five-year average, longer term.
"This price improvement reflects the expectation from MLA that the industry will see improvement in feedlot buying demand – that increase in feedlot operators active in the market, competing with other buyers, reflected in the forecast improvement in price," Mr Atkinson said.
MLA said the reason it had initiated the feeder steer price forecast was that unlike the EYCI indicator (a combination of saleyard results for vealer and yearling cattle across a range of weights) the feeder steer was an "actual transactable animal in the market."
"We wanted to provide that to users, to understand where a transactable animal is expected to perform," participants were told.
A third price forecast graph presented during Thursday's 2023 Industry Projections briefing looked at the Stonex/Argus feeder steer swaps forward price performance out to September.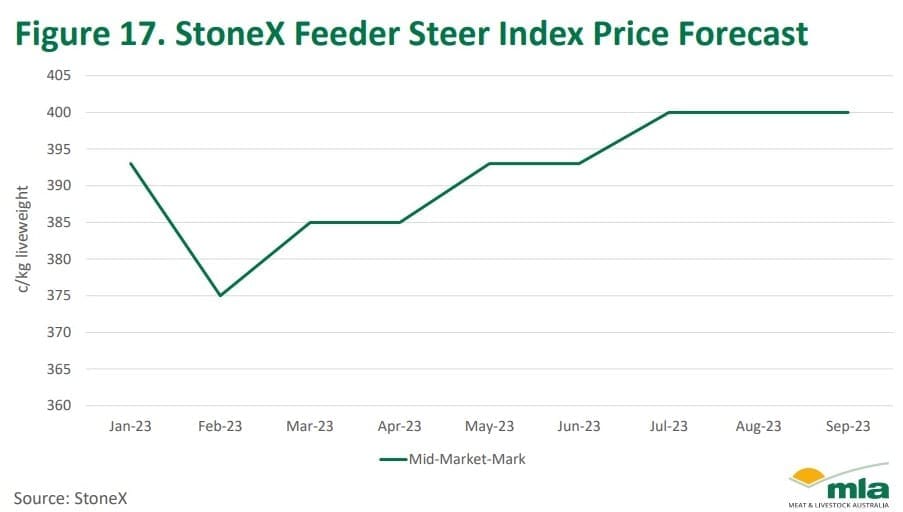 The graph shows the mid-point between bids and offers currently in play on the feeder steer swaps market.
"The reason we have included this is again to show a financial offering that's being used in industry as a tool to manage risk," Mr Atkinson said. "What it tells us is similar to the industry analysts' forecasts, with improvement in price out to 400c/kg liveweight by July 2023, but not before a softening in price in February this year before gradual improvement."
"Again, this aligns with the expectation that we should see improved feedlot buying demand to fill that pen space and the feedlot capacity that's available due to lower utilisation rates."
The analysts' price forecast for feeders and EYCI will be included as part of each MLA Industry Projections update in future – typically three or four times each year.