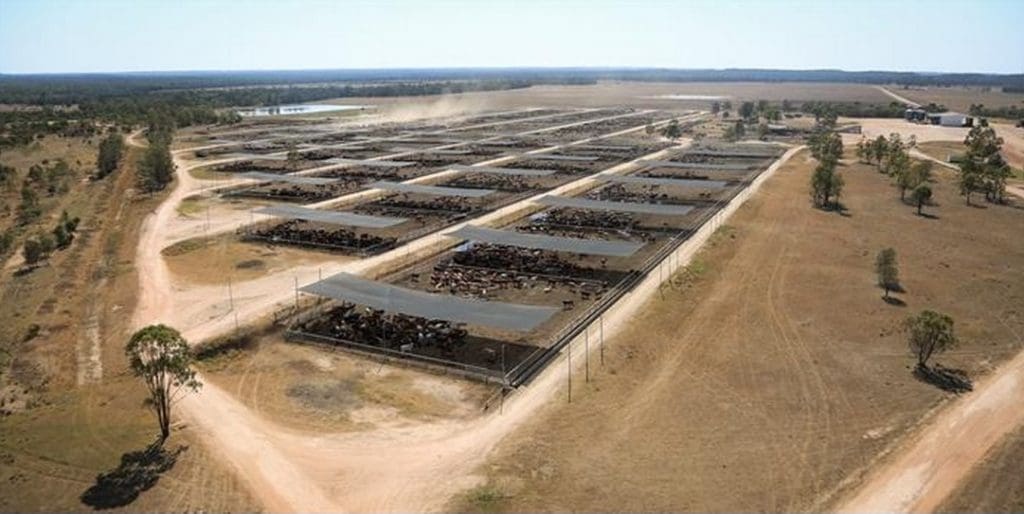 COLES' northern beef supply chain partner Australian Country Choice will more than double its current lotfeeding capacity following the completion of negotiations to purchase the Opal Creek feedlot near Cecil Plains on the Darling Downs this week.
A deal believed to have been for around $6 million was finalised on Monday through agents, Colliers International, representing the first significant feedlot sale in Queensland since the 'bargain basement' sale of Rodgers Creek feedlot near Warwick two years ago.
ACC chief executive David Foote told Beef Central that the current 5800 head capacity Opal Creek yard will undergo a major expansion over the next six months, taking operations out to the site's licensed capacity of 30,000 head.
The initial target, on full completion around April next year, will be to add another 120,000 Coles-type yearling cattle each year to ACC's northern supply chain.
The investment suggests that ACC will ultimately be responsible for a significantly larger proportion of Coles' overall Eastern Australian beef requirements. The two companies recently signed-off on a lengthy extension to their long-term supply agreement.
Based on Beef Central's authoritative Top 25 Lotfeeders report published earlier this year, the development project will push Opal Creek to equal fourth position in size among individual feedyards in Australia, alongside Teys Australia's Charlton site.
It will also take ACC's company-wide lotfeeding capacity from 27,100 head to above 57,000 head, shifting ACC from position seven among Australia's largest lotfeeders to position three, between Teys Australia and Whyalla Beef.
Click here to access Beef Central's full Top 25 Lotfeeders listings.
Beef Central has been aware of ACC's move on Opal Creek for some months, but agreed with management to delay any discussion about the deal until contracts were finalised this week.
Mr Foote said the investment in the purchase and upgrade of Opal Creek reflected the increasing demand for beef through the expanding Coles retail supermarket network across Australia, together with 'export growth.'
ACC is the exclusive supplier to Coles Northern supply chain, processing about 300.000 cattle each year through its Cannon Hill abattoir facility. Grainfed slaughter cattle for the program are supplied through ACC's own feedlot network at Brindley Park and Brisbane Valley (click here to learn more) or its feedlot supply contract holders across southern Queensland and northern NSW.
Mr Foote stressed that the Opal Creek project would not impact on existing supply chain feedlot alliance partners in any way, but represented 'all new business.'
It is widely known that the Lane family, which built Opal Creek as a greenfield site west of Cecil Plains back in 2003, have had the facility on the market for at least the past three years. ACC is known to have first visited the site for an inspection two and a half years ago.
In recent times the yard has been used as a dedicated custom-feeding operation for grainfed supply chain managers, Mort & Co and others. It different times it has been dormant.
Mr Foote said a key attraction to Opal Creek wad that it already held a feedlot license for 30,000 head, and had water licenses attached to the land for intensive agriculture purposes totalling 580Ml already granted, large enough to accommodate a built facility of that size.
As discussed earlier on Beef Central, the issuing of water licenses for intensive livestock use in Queensland has been an incredibly arduous process, since the water moratorium of 2000.
"The Opal Creek business has features that make it well-suited for construction out to its 30,000 head license capacity," Mr Foote said.
ACC is already well-advanced with development planning, and will start the construction process soon after delivery is taken in early September. The existing facility will operate alongside the construction work, where possible.
Asked where it sat geographically, in relation to ACC's other company owned lotfeeding operations at Brindley Park, near Roma and Brisbane Valley feedlot, Mr Foote said the Cecil Plains site represented a 'good gateway' for southern feeder cattle (i.e. northern NSW), and was well-located near growing areas for grains, cottonseed and other feedstuffs. The Cecil Plains gin is only 20km up the road.
ACC has already started dialogue with local farmers over long-term supply arrangements for grain and roughages.
The expansion will pave the way for a modern facility utilising advanced grain handling, processing and milling technology, greatly expanded commodity storage as well as construction of new pens, drainage and management infrastructure.
Mr Foote said in order to meet the additional demand for throughput through the Opal Creek site, the company would be looking to 'grow and reinforce' its back-end in feeder cattle supply relationships, rather than being reliant on the spot market for feeders.
Discussion over value
So at a purchase price of $6 million or thereabouts, did Opal Creek represent good buying?
Certainly other recent feedlot sales of significance, such as Elders Charlton, sold last year to Teys Australia, reflected a strong 'buyer's market,' given the number of yards currently on the market in eastern Australia.
The complicating factor with value at Opal Creek is that there may have been considerable value attached to its 'potential' through the operating and water licenses, rather than just existing infrastructure, Beef Central has been told.
At a suggested purchase price around $6 million, a simplistic calculation based on its current operating capacity of 5800SCU would suggest a 'beast area' figure of almost $970/SCU, which would be considered high, by current market standards. That does not take into account the value of the surrounding country, totalling about 3100ha, mostly light forest country but including 400ha previously cultivated. One estimate suggested that alone was worth $1 million.
But with some basic reconfiguration (the yard is currently being run on a generous 15sq m/beast, instead of closer to 11.5sq m, which is more commonplace), the yard could easily be 're-rated' to about 8900 feeders, contacts suggest. That would quickly adjust the 'beast area' figure, with farmland removed, to about $625/SCU.
"Given that establishment costs for a greenfield site today would range from anywhere from $800 to above $1000 a head, to purchase an existing facility, with considerable expansion potential, for under replacement cost, represents a reasonable investment," a source said.