David and Prue Bondfield's Palgrove, Russell Pastoral Company, Hamish and Mary McIntyre's McIntyre Agriculture and Australian Agricultural Company were among the major winners of the 2020 JBS RNA Paddock to Palate competition, announced in Toowoomba on Friday night.
The annual Brisbane Show Paddock to Palate cattle competition provides a unique three-phased opportunity for cattle producers to benchmark their cattle against the best of the best in commercially relevant environment.
Cattle are measured on their performance in the feedlot, in the abattoir and in eating quality.
To win one overall championship in the premier competition is something many leading producers aspire to but never achieve.
To win three in consecutive years is a special feat indeed.
David and Prue Bondfield last night secured a rare consecutive trifecta in the Paddock to Palate competition, winning the 100 day export class championship, the Sturrock Trophy, for the third year in a row with their Charolais and Charolais/Angus cross entries.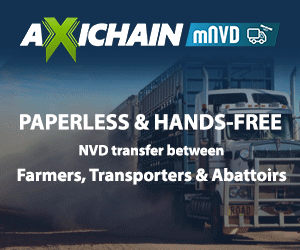 In addition Palgrove Charolais entries also won the overall HGP-free class in its second year of competition, to claim two of the four major trophies on offer.
Demonstrating equally strong performance across the hoof and hook categories Palgrove entries recorded the highest individual weight gain in the 100 day export class (class 37) with an average daily gain (ADG) of 3.27kg and won the most points in the chiller to claim both the champion and reserve champion carcase titles in the same class.
In the short time since the Bondfields shifted their focus to competing in the Paddock to Palate competition they have progressed from placing second in the overall 100 day class in 2017 to winning it in 2018, 2019 and now 2020. (See earlier article outlining David Bondfield's comments on the unique place Charolais cattle now occupy in Australia's cattle industry here)
Palgrove entries also last night secured the highest points in the HGP-free class to take first place in the pen of six carcases and overall champion carcase in the new section.
Second overall in the 100 day export class was Hamish and Mary McIntyre, McIntyre Agriculture, St George, with Angus entries while Godfrey Morgan from Condamine was third overall with Shorthorns.
Rosedale Livestock Partnership, Blayney, NSW placed second in the HGP-free class with Charolais cross cattle while Shorthorn entries from G Morgan and Co, Condamine placed third.
The overall 70 day trade championship was won by Angus cross cattle from the Russell Pastoral Company, building on its strong performance in the 100 day export class last year.
Angus cross steers produced on Champion Station have consistently performed well in the years they have been entered into the competition, and have now added an overall championship to their achievements.
Read more about the Russell Pastoral Company's high performance cattle program on Jimbour Station and Champion Station in this article.
Second in the overall 70 day trade championship was NSW DPI Wollongbar with Santa Gertrudis cross and third was John and Estelle Drynan from Esk with Charbray exhibits.
For the first time this year all cattle in the 100 day, 70 day and non-HGP 120 sections were fed at JBS' Beef City feedlot near Toowoomba.
The Fourth major section of the competition is the Wagyu challenge, a four-phased competition which includes an additional taste off category, which this year was judged by a team of executive chefs led by David Pugh. The Wagyu entries were fed at Smithfield Cattle Co's Sapphire Feedlot at Goondiwindi.
Entries from Australian Agricultural Company's extensive Wagyu program claimed the overall honours in the Wagyu section this year. AA Co took first place in the pen of six carcases and won the award for highest overall carcase value across a pen of six, with an average carcase index value of $5141.
Second overall in the Wagyu Challenge was Alan Hoey from Allora and third was Darren and Leonard Henschell from Moola.
One of the most remarkable performances by an individual exhibitor this year belonged to Hamish and Mary McIntyre of McIntyre Agriculture Pty Ltd of St George.
The McIntyre's Angus and Angus cross entries not only performed strongly in all three facets of the competition – weight gain, carcase performance and eating quality – they also won across the entire four classes of the competition.
In the 100 day export section McIntyre Agriculture entries won ribbons for first placed pen of six carcases, first and second place for eating quality and highest individual carcase index score. That performance ranked McIntyre Agriculture second only to Palgrove in the overall 100 day export championship.
In the 70 day trade class McIntyre Agriculture cattle placed second in the pen of six for weight gain, with an ADG of 3.108kg/day; highest individual weight gain, with an ADG of 3.61kg/day, highest eating quality and highest individual index score (61.96).
In the non-HGP 120 day class McIntyre cattle took second place in the pen of six carcases and second and third for eating quality.
Their Angus F1 exhibits also placed second and third in pen of six weight gain in Wagyu challenge (1.1166/kg and 1.101/kg), behind Austpec Pastoral Company (1.239kg/day).
RNA beef cattle councillor Gary Noller paid tribute to all of the producers who exhibited cattle after a year of extraordinary challenges including drought, bushfires and the coronavirus pandemic.
He said exhibitors had gone to great lengths to hold cattle for the competition in one of the worst drought periods we have had.
He also made special mention of Rob and Lorraine Sinnamon from Yulgilbar Santa Gertrudis at Baryulgil in NSW, passionate supporters of the benchmarking competition since its inception, whose operation was severely affected by drought and bushfires last summer, but who still made cattle available for the Paddock to Palate and Ekka Prime cattle competition this year.
He also singled out for praise the continued support of the Bassingthwaighte family from Yarrawonga at Wallumbilla who sent no less than 108 head to support the various commercial cattle competitions including the led steer, prime cattle and paddock to palate in 2020.
Overall winners
(click on tables to enlarge)