EXACTLY 50 years after his family first started breeding Charolais cattle, southern Queensland seedstock producer David Bondfield looks back with immense satisfaction at the progress the breed has made in Australia.
Through generation-on-generation of selective breeding based on consumer signals and local production challenges, Mr Bondfield says Australian Charolais have evolved into a Charolais animal like no other in the world.
His claim was well supported in results in Brisbane Show's carcase competitions announced on Wednesday night, where the Bondfields' Palgrove Charolais entries claimed the 100-day grainfed overall championship, as well as the runners-up, with purebred Charolais entries – adding to first and second placings in the same class in Brisbane over the previous two years.
Another pen of Ultrablack x Charolais steers from Palgrove produced the 120-day non-HGP 100 day grainfed class champion carcase, coming from a team of seven steers placed third in the class's eating quality component. Click here to view yesterday's report on the event's major winners, plus photos.
While the results were not intended to signal in any way that Charolais cattle should be considered for straightbred beef production in Australia, the modern-day animal's ability to lay down adequate levels of finish in the feedlot means they have largely cancelled-out one of the breed's historical perceived 'flaws.'
Palgrove's overall champions and runners-up in the 100-day competition produced near-perfect P8 and rib fat depth and distribution, with one of the pens of six claiming the carcase quality division, and the other the feedlot weightgain title with ADG of 3.095kg/day.
And proving their consistency across all three components of the competition, their MSA index scores (averaged per pen) were 55.8 and 54 points. Eye muscle area and lean meat yield points, recorded within the carcase assessment section, were among the highest in the class with EMA entries ranging from 101-131sq cm across the 14 steers, and lean meat yield from 58.2pc to 62.7pc.
"When used as a terminal cross or to inject some hybrid vigour in crossbreeding programs, it's important that Charolais genetics do not detract from a feeder or slaughter animal's ability to finish, and successive wins in a competition like this with straightbred Charolais cattle serve to illustrate this," Mr Bondfield told Beef Central.
"It's happened not just this year, but three in a row, and is measured across carcase traits, feedlot performance and MSA eating quality index."
"Results like this verify and validate what we are trying to do with our modern Charolais genetics," Mr Bondfield said.
Modern day cattle 'far removed'
"I don't think any of us in the industry would recognise modern-day Charolais cattle from the parent breed that first came out to Australia in the 1960s."
"There's no doubt that in the world of Charolais cattle, Australia has developed a unique sub-type to suit our own market requirements and conditions," he said.
"As part of my job I travel the world looking at Charolais genetics, and I think we now have the best Charolais cattle on earth, in terms of adaptability to the environment (slicker coat), carcase performance and meat quality, and feedlot performance."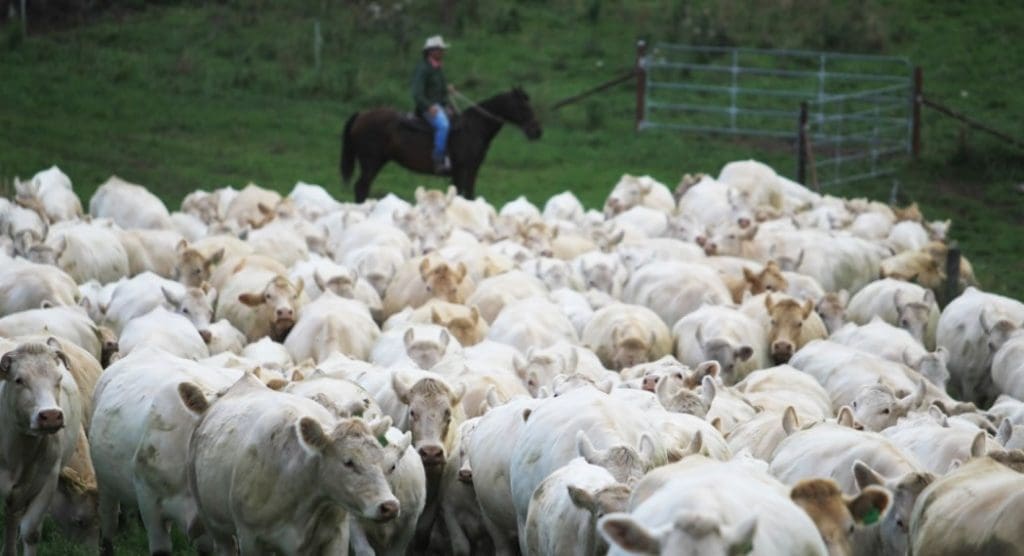 Advances in polledness
The extent of polledness in Australian Charolais was another area of massive advance over the past 50 years, Mr Bondfield said.
"It was a no brainer for seedstock producers and the broader industry employing Charolais genetics to select more heavily for polledness," he said.
"Anything we can do 'genetically dehorn' to lift animal welfare standards, as well as removing production setbacks from the practise of dehorning, and deliver better workplace health and safety and animal bruising outcomes in the yards has to be pursued."
Mr Bondfield estimated that 80-90 percent of Charolais cattle on the early stages of the breed's history in this country were horned cattle.
"At home, our herd is now between 90 and 95 percent polled – and the breed average is not that far behind that," he said.
Another of the challenges in selection over the years had been in trying to maintain eye muscle and yield in Charolais cattle, while adding fat cover and doing-ability, and reducing birth weight to improve calving ease.
"It's hard to crystal ball gaze, but I don't think we could have contemplated just how far the typical Australian Charolais animal has come in the last half-century. The early changes were big ones – moderating frame-score and extreme growth, for example – but also reducing birthweight and adding fat cover and doing ability (thereby increasing fertility). But we've now got to a stage where it is smaller adjustments, in areas like eating quality, feeding efficiency and consistency. It's like sporting records, over time they get hard to eclipse."
"Go back 40 or 50 years and Charolais were very large, lean, heavily-muscled cattle. In contrast, the maternal breeds like Angus and Hereford at the same time were smaller, carried a lot of fat and not much eye muscle.
"What's tended to happen through selection is that everybody has met in the middle. It means that the industry no longer needs that more extreme Charolais animal to compensate for lack of growth carcase size and excessive fatness in the maternal breeds."
Mr Bondfield recollects 'lots' of Charolais bulls in earlier decades being frame scores 9 and 10.
"Today a lot more bulls are frame score 6.5, and a score 7 is consider to be getting big. They're more middle-ground, but still not losing that fast early weightgain that the breed is prized for, changing the maturity pattern.
Asked whether the evolution of an Australian breed 'sub-type' had restricted Palgrove's and the industry's ability to tap into the broader global Charolais gene pool, Mr Bondield said he now found it hard, when overseas, to find genetics that were going to 'raise the bar,' back in Australia.
"I don't want to be looking at it like that, but I do find it tougher to find those impact-type animals outside of this country."
"It could mean that Australia isolates itself somewhat from the broader Charolais world, but we have to be careful of that, because of the risk of becoming a little 'barn blind'. To keep a large genetic pool remains really important for any beef breed."
Mr Bondfield said one of the breed's distinct advantages in its early stages was the ability to upgrade from other breeds. It was a tough call in the breed's formative years, but had proven to be the right call, in the spectrum of time.
"Even today, Charolais allows upgrading from other breeds, meaning if need be, seedstock producers can go through the process, to bring in some other desirable traits from outside."
Red factor impact
Asked what impact the red-factor cattle had today, compared with earlier times, Mr Bondfield said about 20pc of the Palgrove herd carried red genetics.
"The more we scan, the less the difference is between the two sub-types, we find," he said.
"Phenotypically, to look at them, the red cattle look softer and easier-doing. Burt when you start ultrasound scanning a lot of bulls, there's little to no difference."
Mr Bondfield said there was probably no more red-factor Charolais in the industry now than there was 20 years ago.
"It's more about individual bull buyer tastes, but it is good for the breed that we have that diversity," he said.
David Bondfield's late father, Peter, bred the family's first Charolais cattle in 1969. Click here to view earlier story.