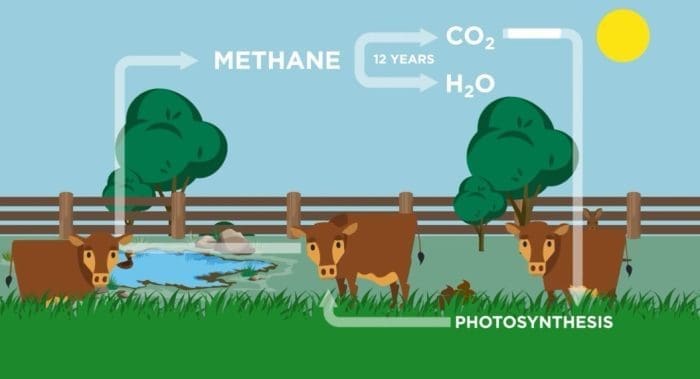 AUSTRALIAN agriculture now has a common framework for greenhouse gas accounting, helping support sector-level baselines, reporting and communication of a united Australian narrative around emissions.
Launched today, the Common Approach to GHG Accounting for Australian Agriculture framework provides best practice guidance for sector-level accounting and can be used to steer improvements in data collection and reporting over time.
One of the biggest debates in the accounting of livestock-related emissions has been about the GWP 100 (global warming potential) metric, with many arguing it does not correctly account for the short-lived nature of ruminant methane. (more articles at the bottom)
The framework says it recognises GWP 100 as the prescribed metric in international frameworks and agreements.
"Climate metrics other than GWP100 may be used for sensitivity assessment, selected based on their relevance for specific sector objectives," its methods and data guidance section says.
"This shall be accompanied by transparent discussion regarding the interpretation and application of any of the alternative metrics used."
Development of the framework was facilitated by Agricultural Innovation Australia (AIA) and was produced by a research consortium led by CSIRO, Australia's national science agency.
AIA CEO Sam Brown said that prior to the commencement of this project, no national guidance for agricultural sector-level GHG accounting within Australia existed.
"Through this project, we now have an agreed standard protocol for GHG emissions accounting and a shared understanding of terminology. This provides agriculture with a strong foundation to enhance consistency, transparency and confidence in its GHG reporting and communications," Mr Brown said.
The project brought together technical experts, Australia's rural Research and Development Corporations (RDCs)*, and several state government departments, to achieve consensus on general principles that could be broadly applied across agriculture, fisheries and forestry.
CSIRO Life Cycle Assessment expert, Dr Maartje Sevenster, led a project team consisting of experienced GHG emissions researchers across various agricultural sectors.
"It was a highly collaborative project, involving participants across many organisations. Working together with the RDCs, we developed an approach for quantifying sector-level GHG emissions from agricultural industries, as well as a common language document to define many commonly used GHG emissions terms," Dr Sevenster said.
"Importantly, whilst the framework is based on shared key principles, it also allows for a modular approach that acknowledges potential differences between certain agricultural industries."
The framework describes how accounting can be undertaken to generate a transparent and trusted inventory of emissions based on a consistent set of principles, that aligns as much as possible with widely accepted, international frameworks and standards and general guidance on data collection and quality.
Mr Brown said that this was a 'missing piece', which can help Australian agriculture demonstrate its contributions to national climate commitments and sustainability goals.
"This project enables a sector-wide baseline for agriculture to be set and methods for commodity-specific GHG baselines to be defined, against which progress can be monitored.
"It will also help Australia have a united voice in international market access discussions on approaches and tools that adequately reflect Australian conditions."
Several RDCs are already positioning their commodity-specific projects to align with the Common Approach or cross-checking existing methods with the guidance that has been developed.
Wine Australia's R&D Program Manager, Dr Sharon Harvey said that the project outputs are already being incorporated into the RDC's initiatives.
"Our upcoming Emissions Reduction Roadmap was in development at the same time this project was underway. We were so pleased with the standard of the outputs coming out of the Common Approach work, that we made sure they were incorporated into the roadmap project for the grape and wine sector."
For 'methods and data guidance' click here and for 'project overview and non-technical summary' click here
More articles on emissions accounting