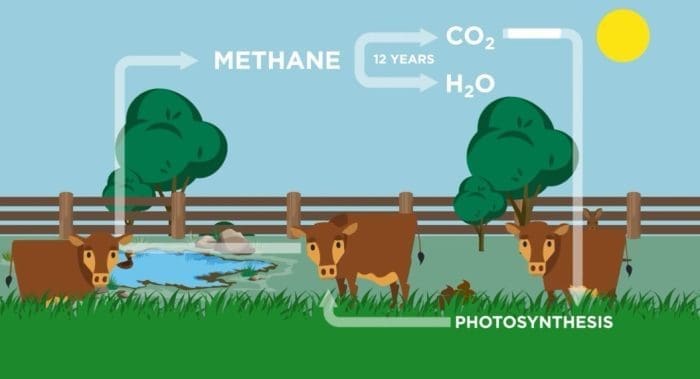 THE GWP star metric of measuring livestock-related methane emissions has been gaining plenty of attention recently, with one of its biggest proponents touring Australia.
Well-known scientist, from University of California Davis, Frank Mitloehner recently visited the southern states and Western Australia and took time to speak to Beef Central. (Articles linked at the bottom)
Prof Mitloehner is one of several scientists across the world who believe international organisations and governments should be using measurements that better represent livestock emissions – alongside GWP 100, which is designed to measure carbon emissions over 100 years.
However, the push towards metrics like GWP star also has its critics.
Australian National University professor Mark Howden, who is a vice chair on working group II of the United Nations' Intergovernmental Panel on Climate Change (IPCC), said it was becoming a distraction in the overall goal of limiting climate change.
"The challenge ahead is to reduce our greenhouse gas emissions significantly by 2030 and more by 2050 and the metric used to calculate that does not matter – it is simply a reduction," Prof Howden said.
"Very rigorous science assesses the emission reductions needed by different gases to stick to the 1.5 of 2 percent goal of the Paris agreement.
"GWP star takes our eye off the ball, which essentially reducing our emissions in a sustainable and financially sensible way."
Not recognising historical emissions
During his visit to Australia, Prof Mitloehner told Beef Central that using GWP star was not a "free pass" for the industry in-terms of methane reduction.
One of the main criticisms of GWP star has been a notion that it does not recognise historical emissions – only representing a warming impact when methane emissions increase and a cooling effect when they decrease.
"The idea that you are cooling the earth if you reduce methane emissions is fundamentally not true, every emission warms the earth more than it otherwise would if it is not there," Prof Howden said.
"GWP star advantages those who already have big herds and disadvantages those who are looking to build up numbers. For example, developing countries looking to build up numbers would be disadvantaged by GWP star."
Hard to implement on industry and regulatory level
With GWP 100 the recognised reporting metric on the Paris Agreement, scientists like Oxford University professor Myles Allen have been encouraging countries add GWP star as additional information to show the real impact of livestock-related methane.
But Prof Howden said the metric was hard to comprehend for people working on an industry or regulatory level.
"If you are putting in a feedlot and you want to assess the trade-offs between nitrous oxide emissions and methane emissions, than GWP star does not allow you to do that," he said.
"Also, the Paris Agreement says we will use GWP 100 and if other countries want to muck around with other metrics like GWP star than they can, but it has no bearing in the international policy space."
Prof Howden said agriculture risked falling behind other sectors if it was caught up in a debate about measurement.
"Emissions associated with our food system are about a third of the total at the moment and as we move to more renewables for our electricity and transport that slice of the pie will grow," he said.
"While we might be able to plead a special case for livestock at the moment, when its slice of the emissions pie grows it will not be able to do that and other industries will be saying we are doing the hard yards. I can't see the politics of this working."
GWP star an interesting concept
University of Melbourne scientists Malte Meinshausen and Zebedee Nicholls recently assessed the practical implications of using GWP star.
The study argues that GWP star is an interesting model of methane emissions, but would be hard to apply in a regulatory environment. It used a 20-year rolling average of New Zealand's emissions using GWP star.
"New Zealand would have reported a 38pc or 29pc decline in the three years from 1986 to 1989 for total GWP star-weighted emissions (at a time when GWP-weighted emissions rose 1.5%)," the study says.
"Similarly, New Zealand would have reported strong emission increases in the beginning of the 1990s and a 20–26pc decline over the four years from 2012–2016 – simply because of small variations in CH4 emissions."
The study concludes that GWP star does have a place in emissions reporting, just not as an official metric.
"Let us take GWP star for what it is: A new class of 'micro climate models' (MCMs) that should be welcomed in the hierarchy of climate models," it says.
"There are now GWP star and the combined global temperature change potential formulas, which open the door for educational tools and various applications, if quick temperature projections are required from time series of emissions.
"And let us also be clear what GWP star and other so-called step-pulse metrics are not: metrics."
Red meat reducing emissions
Meat & Livestock Australia appears happy to use both models to present the industry's emissions reductions.
Managing director Jason Strong said the industry was still on the way to achieving carbon neutrality by 2030, which is based off GWP 100. However, he said reaching climate neutrality, which GWP star can calculate, was part of the goal.
"We know that our industry will achieve climate neutrality as a milestone on the way to achieving carbon neutrality, and MLA will soon be communicating some further details about that," Mr Strong said.
"Reaching a carbon neutral goal does not mean industry emissions have to be reduced to zero.
"Australian grazing industries are in a very strong position to not only reduce emissions from livestock, but also to store significant amounts of carbon in the environment. A big part of CN30 is about offsetting emissions with stored carbon and doing this in a way that maintains and enhances productivity and profitability."
Mr Strong said MLA had invested $200 million since 2017 to progress towards CN30 and planned to invest a further $150 million in the development and adoption of new technology as part of CN30.
"CN30, regardless of the scale of the challenge, has put a huge amount of momentum behind the industry in terms of continuing to improve its sustainability credentials, and will help our red meat stakeholders access new and emerging opportunities related to sustainable food production," he said.
"CN30 is globally respected and admired."
Articles with Frank Mitloehner