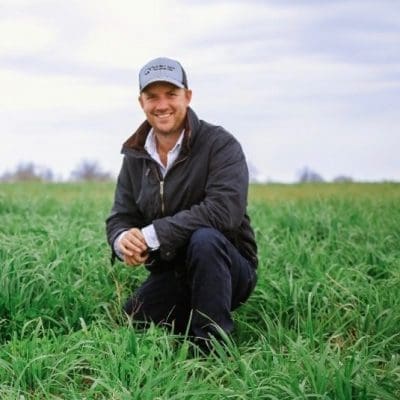 In this contributed article, Central Queensland producer Adam Coffey gives an explainer on how livestock emissions are measured and highlights some of the shortcomings he sees in how the metrics are used. Mr Coffey is also on the newly-elected Cattle Australia board and sits on the AgForce cattle board. Opinions expressed in this item are his own.
THE question of whether ruminant animal emissions should be regarded as anthropogenic (man-made) has been puzzling me for some time.
When considering country specific or global carbon emissions, ruminant emissions are accounted for under the same methodology as the energy sector; included alongside fossil fuels, electricity, transport etc.
Using a linear method to quantify GHG emissions seems obvious; measure the gas coming out of a trucks' exhaust, stick a cow in a box and see what she belches…simple.
However, there is also an argument around considering biogenic methane vs fossil sources, and even a growing criticism of global greenhouse gas (GHG) accounting methods for not presenting the true picture.
Methane exists in the atmosphere for a relatively short period before it is broken down into carbon dioxide through hydroxyl oxidation. This carbon dioxide is then absorbed by plants through photosynthesis which is utilised by the plant to build biomass, with oxygen being released back to the atmosphere.
Increasing emphasis is being placed on developing metrics to better understand this status quo, with many suggesting that ruminants in fact do not increase emissions in a net sense due to the cyclical nature of biogenic methane.
Most naturally occurring emissions are not included in national accounts such as wildfires, swamps, plant decomposition and respiration etc. These emissions are regarded as "fast carbon cycling".  Bushfires, for example, will result in large emissions in a short space of time, with vegetation then able to recapture that carbon as it recovers and grows. On the contrary, fossil fuel emissions are new or additional to the atmosphere, having been stored for millennia and utilised to supply the energy needs for our growing population.
So, why do we regard ruminant emissions as anthropogenic if they follow the same basic cyclical principals of other natural fast carbon cycles?
Land-use change for primary production is a factor for consideration.
However, determining accurate sequestration metrics of remnant vegetation to compare to developed agricultural land is complex.
The 2019 Australian Government Greenhouse Inventory Report shows that forests have expanded to a similar level as in the early 90's, and that Australian grasslands are actually in decline.
Graziers have also developed a much better general understanding of the importance of vegetation in landscapes, recognising biodiversity has benefits for both the environment and production.
The 2020 Australian summer bushfires emitted around 715 million tonnes of carbon dioxide, which is staggering when that figure is stacked against Australia's recent total emissions of between 400-500 million tonnes per annum.
Research suggests that it may take these forests some 20 years to pull that carbon back in through regrowth.
Bushfires also release methane in addition to carbon dioxide and nitrous oxide. High intensity crown fires are estimated to emit double the methane of cooler, ground level burns which again highlights ruminants' ability to mitigate fire risk and offset further potential emissions.
There have been numerous critics of international GHG accounting methods
Research has shown that globally we have merely substituted wild herbivores for domesticated animals over time, so where is the net emissions increase?
Although Australia didn't evolve with cloven hooved animals, they are here to stay.
If we remove domestic grazing animals from the Australian landscape what happens to the vast amounts of plant fibre we produce? It will either rot and/or more likely burn in the Australian landscape, leading to further atmospheric emissions and catastrophic loss of biodiversity.
There have been numerous critics of international GHG accounting methods, one being
Keith P. Shine who was the lead author on The First Assessment Report of the Intergovernmental Panel on Climate Change.  He was instrumental in developing GHG metrics some 30 years ago and is now critical of the GWP100 method which has been widely adopted across the globe. He argues that the method does not address the nature of short-lived gasses and they are being unfairly penalised.
Much emphasis within the red meat industry is being placed on improving the productivity of livestock and landscapes. In Central Queensland, emerging soil carbon sequestration data from one large grazing enterprise suggests that over a five-year period for every kilogram of beef produced and sold, 50kg of carbon has been sequestered in the soil. These five years included two of the driest years in living memory, proving that agricultural soils have huge future potential to remove and store vast amounts of CO2 from the atmosphere.
There is a recent and alarming concept of "insetting" rather than "offsetting" our carbon stocks to allow us to maintain market access further down the supply chain due to ESG investment pressure. This means that those who have the legitimate ability to sequester carbon in the landscape (really only agriculture and forestry) are faced with the cost of measurement and losing the ability to be rewarded for environmentally positive practices due to dubious claims about the negative climate impacts of their product.
The Australian beef industry has been proactive in regard to its emissions, setting the CN30 initiative in 2017 to be carbon neutral by 2030.
We should be pushing back hard on increasing government regulation
There has been some great work undertaken in this space but it's unfortunate that the main focus has been placed on developing products to attempt to directly mitigate methane emissions, such as feed additives.
In the event we bring to market product/s that show a material methane reduction, who will ultimately pay for them? Much like having to retain our ACCU's generated through soil and vegetation sequestration to maintain market access, the cost of supplements will be pushed onto the producer. In the mad scramble for a "silver bullet" we've mainly lost sight of the fact that ruminant emissions are cyclical.
We should be pushing back hard on increasing government regulation and rhetoric that we have a problem that must be solved.
The Methane Pledge recently signed by our federal government aims to specifically address anthropogenic emissions. It is an 'aspirational' target and unlike New Zealand or the Netherlands, there is currently no talk of taxing livestock emissions or reducing ruminant numbers. However this is the path we are on if we continue to account for emissions in a linear fashion.
If methane mitigation products are limited in their ability to reduce individual animal emissions then ultimately the only other solution under current GHG accounting methods is to reduce livestock numbers.
Perhaps it's time we all took a collective pause in the mad rush towards climate neutrality and asked ourselves if in fact, with fairer metrics regarding short-lived atmospheric gasses, we are already well and truly there.
We need industry leaders to advocate to government and the wider community for an emissions accounting framework that more accurately reflects the biogenic methane cycle.
We can be proud that we have a world leading red meat industry that continues to innovate to ensure we produce human edible protein in the most sustainable and ethical manner.
We will keep building on our environmental credentials and prove that we continue to be part of the climate solution.