Federal agriculture Minister Murray Watt is reporting positive progress toward the final ratification of the Australia-United Kingdom Free Trade Agreement following his return from London last week.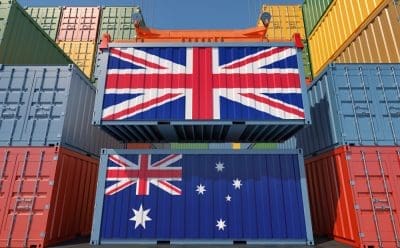 The deal was passed by the Australian Parliament in November, and is awaiting formal ratification by the UK Parliament before it takes effect.
When passed the deal will result in Australian beef and sheepmeat exports entering the UK under a tariff rate quota regime.
Initial tonnages will allow for 25,000 tonnes of Australian sheepmeat and 35,000 tonnes of beef to enter the UK tariff free, gradually increasing over a 10-year transition period.
Recent media reports have suggested the deal could be at risk after it faced criticism from several multiple British MPs, who claim Australian meat is not produced to the same standards as British meat, and the agreement will unfairly disadvantage British farmers.
Australian trade representatives have long argued that the view is unfounded and inaccurate, with leaders such as MLA MD Jason Strong pointing out  that Australia is required to comply with world leading standards of production, sustainability and welfare to maintain access to the 100-plus markets to which it exports around the world.
Minister Watt said during an ABC Radio National interview this morning there has been positive progress toward ratification of the deal in recent days.
"I met with the House of Lords committee that was considering the legislation that underpins the UK Free Trade Agreement while I was in London.
"And since I've returned that committee has actually passed and recommended the support of the legislation without amendments."
Mr Watt's visit in January followed a visit to the UK by Trade Minister Don Farrell late last year.
The Minister acknowledged that there was "some talk" while he was in London that there could be a range of amendments to that legislation, "which would have slowed things down".
"But whether it was because of the meetings we had or other factors, pleasingly, all those amendments were withdrawn.
"So it's through the committee stage. It now has to go back to the House of Lords for its third reading.
"And we're certainly working hard to make sure that the UK keeps its commitment to bring this agreement into force in the first quarter."
Asked by host Patricia Karvelas how quickly could it be signed off, Mr Watt said the hope was it would happen this quarter.
"At the end of last year both our Prime Minister and the UK Prime Minister agreed that it would come into force in the first quarter of this year.
"That's something that we're still keen to make sure happens.
"There's a lot of Aussie producers who are keen to get more product into the UK, and having met with some of the importers in London, there's lots of people in London who want to bring in our products. So the sooner we can make that happen the better."
British importer sees 'tremendous' opportunities for Aus red meat ahead
In an interview with Beef Central in the UK late last year, London meat trader Des Marshall predicted Australian meat exports to the UK under the FTA would initially be more "slow burn" than explosive growth, as importers test the water with Australian product.
But over time he sees "tremendous" growth opportunities for Australian red meat exports into the premium market.
The FTA would gradually open the door to meat of all grades of livestock from Australia to enter Britain, he said, which will enable Australia to grow its trade in both high and low value cuts in future.
Australian product had built a reputation for trusted and quality product in the UK, he said, which will help to build trade in a wider range of meat categories in the UK in coming years.
Mr Marshall predicts there will be a bigger trade for Australian grassfed, grainfed and even cow beef into the UK in future, and also for meat packed under Australia's EQG (Eating Quality Graded) cipher, which enables processors and brand owners to pack product on eating quality alone, using MSA quality standards, with no reference to dentition (more details on EQG here).
Initially, he thinks importers will continue to take what they know and trust, such as beef from two and four tooth cattle meeting High Quality Beef and Grainfed quota requirements.
But they would also look to include in containers small volumes of other products such as cow beef and EQG meat to test market demand.
"I think it will be a case of, if you bring in a 15-tonne container, you will have ten tonnes of what you do know and five tonnes of what you don't know".
Consumers, particularly those paying a lot of money for product, wanted meat that was backed by a story, he said, and Australian beef had a strong advantage in the quality of its traceability systems.
"There will be utilisation of other animals, other parts we couldn't do previously, I see tremendous opportunities," he said.
"The point I would like to get across to Australian growers is that we have got an established, viable, very lucrative market waiting for you guys to turn up."
Under the A-UKFTA Australia will have a "worthwhile quota" that will grow and enable exporters and importers to build and maintain relationships and supply a larger customer base.
This had previously been restricted by very limited quota access, which had disrupted continuity of supply.