HIGHER wholesale prices and shortage of beef supply caused by two years of drought-fuelled herd reduction has led to some significant shifts in the way beef is utilised and presented in Australia's food service sector, as well as on retail shelves.
With herd size sinking to 20-year lows, a record 74 percent of Australia's beef production last year headed into export markets. That's pushed domestic wholesale prices ever higher, and led to changes this year in the way beef is promoted and used in hotels, restaurants, pubs, clubs, institutional uses and even in the typical Australian household.
Technology also plays a role in fostering change, seen everywhere from packaging solutions to the use of different processing options, such as sous vide cooking.
Other influences have come from the 'foodie' industry's constant search for new and different items and techniques. What was a 'hot' item last year can quickly become 'yesterday's news' in the fickle foodie world.
As always, new red meat trends tend to take root in the food service restaurant/hotel sector, but thanks to TV food shows like Masterchef, can quickly filter-down to retail, if they appeal to consumers and keen home cooks.
'Natural' and 'grassfed' brand claims continue to consolidate and strengthen across the red meat industry, as they have for the previous two or three years. JBS Australia, for example, made moves to heighten the emphasis on 'grassfed' claims in its flagship Great Southern program during the year, through changes to packaging and messaging behind the brand.
Prefaced by these developments, here's Beef Central's picks for the Top 10 Australian red meat food service/retail trends for 2016:
Value-added increases presence:
Value added products, in myriad forms, continue to encroach in the typical supermarket red meat offer. Is it just us, or has the amount of chilled cabinet space devoted to fresh chilled meat shrunk, at the same time that the value-added part of the display area has grown? The typical time-poor householder is clearly responding to the attraction of convenience offered in VA red meat items, ranging from marinated/flavoured ready-to-cook items, to pre-cooked heat-and serve centre of plate proteins, and ready-to-eat items. The range and variety of such items carried by supermarkets has exploded over the past year, including everything from shortribs to brisket, cheek meat and meatloaf in a formed aluminium tray, ready-to-cook.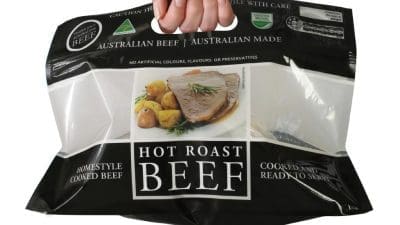 A good example of the significant 2016 developments in value-added at retail level this year was the roll-out by Woolworths of its pre-cooked 'grab-and-go' beef roasts, tackling head-on the enormous pre-cooked chicken market. New ovenable cook-in-bag technology was key to this launch. Click here to view Beef Central's original article on the topic.
Increasing use of alternate packaging at retail.
There's been strong evidence of supermarkets adopting alternate forms of packaging for red meat items, for a variety of reasons.
The traditional over-wrap styro tray has now all but disappeared in many supermarket chilled cabinets, and increasingly, Modified Atmosphere Packaged (MAP) items are also making way for single-portion steak cuts and other items in vacuum-seal pouches (VSP), Dar-fresh, thermo-form and other packaging options. Premium branded beef items, particularly, are being targeted for alternate packaging, primarily for shelf-life advantages and novel display opportunities. New, stronger plastic materials used in VSP are much more resistant to puncturing from bone-in meats and other sharp objects like skewers, extending their application.
In the US and Europe, ground beef is now frequently being sold in flexible, filled plastic tubes, called 'chubs' (see image below). Will it emerge in Australia next year?

Smoked meats on-trend:
Smoking meats in various forms have become on-trend in the Australian hotel and restaurant scene this year, and are increasingly popular also among keen home-cooks. Among the myriad foodie gadgets available for Christmas gift shoppers this year is a Breville Electric Smoking Gun for $99. A handful of mesquite chips and a hooded barbecue will produce much the same effect for the keen home cook, at a fraction of the price.
Emergence of Mexican as a more popular ethnic cuisine:
Unlike North America where it is a dominant ethnic cuisine option at the middle and lower-end of the food service spectrum, Mexican food is still finding its place in Australian food service. But the trend is growing. There's an intersection in Brisbane's Little Stanley Street restaurant precinct that now has Mexican restaurant outlets on three of its four corners. At retail, seasoned, pre-sliced ready-to-cook fajita meat made from skirt and flank is appearing in supermarket chilled cabinets. Mexican cuisine is a great fit for beef, as it is heavily-biased towards cheaper secondary cuts.
Claims over environmental sustainability, animal welfare practices:
There's been a gradual extension in beef brand claims beyond the 'provenance' and production history of the product (who produced it, where it was from, what breed it was, what it ate etc etc) to include references to environmental sustainability and animal welfare practices. The trend is evident not only at the higher-end restaurant and premium brand level, but right through to the everyday retail 'coalface' where items like this chilled fillet steak stocked in Aldi supermarkets carries a clearly defined animal welfare claim.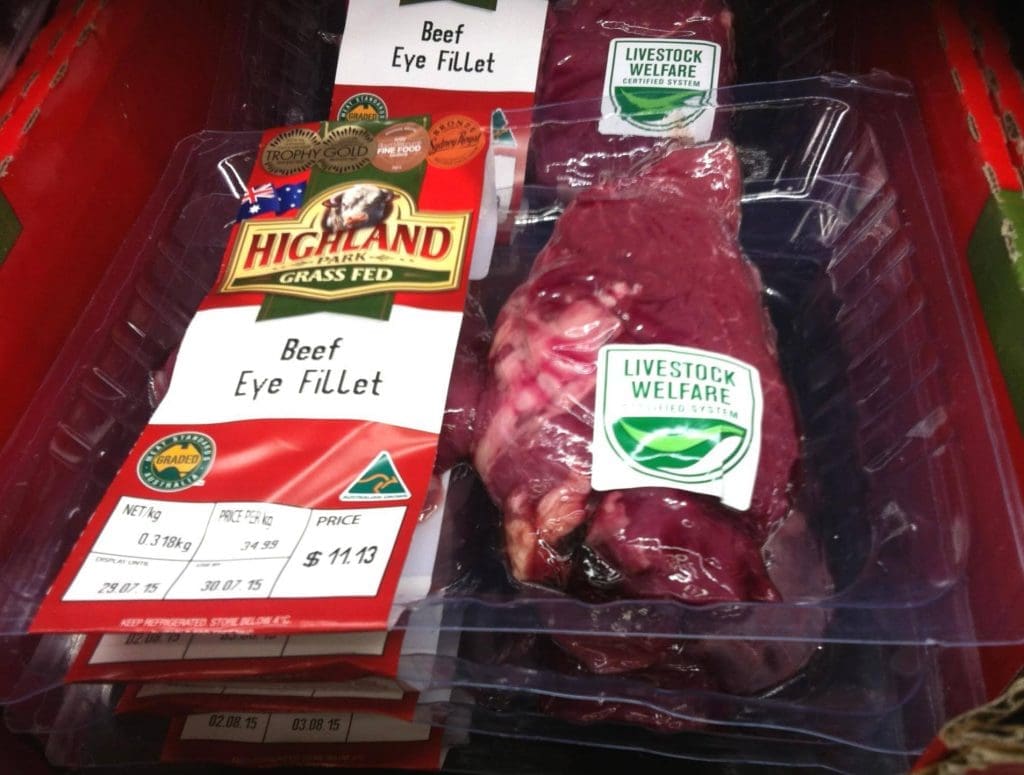 Speaking during the red meat producer forum held as part of MLA's recent AGM day near Adelaide, Red Meat Advisory Council chairman Don Mackay made references to changing consumer perceptions over brand claims. He said his former employer, Rangers Valley, had earlier taken its high quality longfed Angus and Wagyu beef products to showcase in Europe, including presentations in Monaco, and Milan.
"A gentleman told us he loved our product and its brand story, but he wanted us to be able to tick three boxes," Mr Mackay told the forum. "He wanted to understand our animal welfare policies and how they are audited; our environmental policies and how they are audited; and how we managed and treated our staff."
"He told us that if we could tick those boxes and show him the audited proof, he was in," Mr Mackay said. "It's the first time I have seen that happen. The world and consumer perceptions are changing, and we need to be mindful of that."
American barbecue takes off:
There's been a big uptake in interest among home cooks and the restaurant and catering trade in American barbecue style cooking – using items like whole briskets, rib racks and rumps seasoned with dry-rub spices and cooked at low temperatures for long periods to maximise tenderness and flavour. They're also becoming increasingly popular with dads for the Sunday home barbecue. Five years ago, nobody looked forward to dad 'bringing home a brisket.' They do now.
Greater use of alternate/seam-cut items:
New, or more specifically-defined beef cuts, such as the petite tender (see earlier Beef Central story here) and flat-iron steaks are appearing more regularly in food service menus, and particularly in the catering/conference market segment. While there is often a little additional labour involved in extracting them from the carcase, they offer ways to value-add items of superior tenderness that would otherwise be sold at a lower price as part of a larger secondary primal.
Pulled meats:
The pulled meats movement may have reached saturation-point. Pulled beef, pork, chicken and lamb shoulder burst onto the food service scene a few years ago in a big way, and has since filtered-down into retail with MAP-packed pre-cooked pulled meat for home use, as well as consumers making their own from scratch. For a period, every capital city gastro-pub and local brew-house had a pulled meat slider on the menu. But the trend might have become a victim of overkill, as there's now much less evidence of pulled meats in the Sydney-Melbourne-Brisbane food service scene.
'House-made' references:
There's been a strong trend away from 'mass-produced', 'pre-prepared'  items out of a box towards 'house made' and 'artisan' meat protein preparations. Higher-end restaurants are increasingly offering items like 'house-made' sausages, cured meats and even corned beef, at high menu mark-ups. Even in the burger restaurant category, more upscale burger joints are offering beef patties produced from topside, chuck and other cuts ground 'in-house' and in some cases ground 'fresh to order'. Prices are in sympathy with the additional labour/preparation input.
Dry-aging hangs on:
Unlike many food 'fads' which have tended to drift in, then out of popularity, dry aging of beef appears to be around for the long-term. For whatever reason, dry-aging is resisting the foodie trend towards the constant pursuit of new items and discard of yesterday's fad. Dry-age cabinets can still be be found in restaurants, delis, butcheries and even supermarkets (see image below) in all large population centres across Australia.
Food Trucks, Pop-up restaurants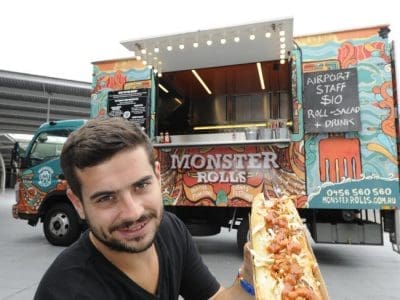 Following another US trend, food trucks and pop-up restaurants have taken off across Australia over the past year. Following another American trend, food trucks have taken off in Australia over the past 12 months, as have 'pop-up' or temporary restaurants.  Many offer street-food type options – Brazilian, Thai, Mexican, Texas barbecue – that lend themselves to easy-to-eat red meat options made from secondary cuts.  Not three minutes walk from Beef Central HQ, a dozen food trucks turn up once a month of a Friday evening for the Hawthorne markets, offering a cheap, satisfying, interesting and well-made feed for around $10.
Cuts remain affordable, says MLA's executive chef
Meat & Livestock Australia's executive chef Sam Burke suggests that with rising prices for red meat this year, food service and retail trends were about suitability for purpose, and recognition that red meat was a premium product.
On a global comparison, beef in Australia was still relatively affordable, and there are some great cuts available for reasonable prices, given the diversity of items harvested from the beef carcase, he said.
"Some cuts remain quite economical, that fit well into modern menus in food service," Mr Burke said.
"Items like rump cap have become elevated through interest in Brazilian Churisco style cooking, as has Texas-style barbecue slow and low cooking.
"All those multi-cultural influences, aided by the internet and food programs on TV, are influencing the way Australian eat. There's even a dedicated food channel now on SBS," he said.
"Consumers are more prepared than ever to try items and preparation techniques that they have not in the past."
"One of the items we are toying with is a play on the ever-popular salt-and-pepper squid, but using beef. We take a rump cap and slice it really thin across the grain, soak it in egg-white, and then toss it in rice flour with five spice, Szechwan pepper, sea-salt, cracked black pepper, and flash-fry it to crisp. Delicious, served in a little milk bun with Mizuna lettuce and a splash of Kewpie mayo."
"Look out salt and pepper squid – beef's coming your way," Mr Burke said.