THREE years on from its launch as Australia's largest farm-assured natural beef brand, JBS's Great Southern program has undergone a significant image redesign and packaging makeover, in order to more effectively 'sell the sizzle' behind the premium grassfed/natural product.
With some 150,000 cattle passing through the JBS Farm Assurance program last year, Great Southern is easily Australia's largest natural/grassfed beef brand. JBS plants packing under the brand now extend from Longford in Tasmania to Brooklyn, Victoria and north to the JBS Scone plant in NSW.
Five or six years ago, it would have been incomprehensible to be sitting in a JBS facility anywhere in Australia, talking about consumer-driven brand development.
But programs like Great Southern are now an integral part of the global JBS company's vision to transition from being a commodity beef producer, into producing a series of branded-beef items, each making distinct claims based on consumer demand.
All the company's brand programs are designed to extract greater value from the carcase, to deliver greater reward throughout the supply chain – including cattle suppliers. More on that later in this series.
JBS marketing executive Brad De Luca says the company has worked hard to build a "really strong suite of red meat brands, backed by integrity and sticking to the promises we can keep."
To JBS's advantage in its brand development is its solid production platform in Australia with 11 processing facilities (beef and lamb), a sophisticated distribution platform, and an emerging emphasis on value-added products.
With brand developments like Great Southern has come evolving flows of communication. In the old model, livestock producers had a dialogue with the processing sector, and processors had a dialogue with their customers and suppliers, but clear information rarely travelled through the chain, in either direction. The objective now being clearly executed through programs like Great Southern, is to open up dialogue through the chain, putting the brand at the 'centre' of the conversation.
Working closer with producer suppliers is about building closer working relationships, communicating the market demands back down the chain, the company says.
As will be discussed on a later instalment in this series, part of that is about working closely with producers on-farm, in determining what customers want in a brand program like Great Southern, and interpreting how that can be achieved, at farm level.
Momentum seen in demand for 'natural' products
Developed economies worldwide are displaying growing interest in natural type programs in red meat.
The annual Power of Meat study released in February by the North American Meat Institute suggests that consumer demand in the US market is changing, with the organic and natural segments continue to grow by all metrics – number of households buying, average value of sales, and volume of sales.
The report suggests the natural category will continue to grow in size, and that the spread in price between natural/organic and conventional meat will also continue to grow.
The survey found that US consumers looking for a 'natural' meat item were looking for three key things – no antibiotics, HGPs or GMOs; they wanted to have confidence that a product had been ethically-produced; and finally they were looking for long-term health benefits associated with a natural product range.
'Natural' penetration continues to grow in the US meat market, year-on-year, with statistics showing 40pc of consumers had made a natural product purchase last year, and the trend is expected to continue.
What constitutes 'natural'?
One of the challenges faced by producers of natural products is in defining what constitutes 'natural' in global beef markets.
The USDA definition, for example, is simply 'minimally processed,' with no artificial ingredients. Even HGP and grainfed can be included, under USDA regulation.
"It means the variation in what US supermarkets might offer as a 'natural' product can vary wildly, and often does," Mr De Luca said.
"At the upper end of the scale, some US retailers, like Wholefoods, for example, have a long list of requirements, from no HGP, antibiotic or GMO, certified grassfed, other raising claims and third-party-accreditations as well."
Cutting through the 'noise' in the natural segment
With such wide definitions of 'natural' being applied in the US market, and a rapidly accelerating consumer demand for such products, it has resulted in a 'very noisy' market segment, he said.
"Lots of supply chains with different claims are trying to take advantage of the growing demand and the price premiums for natural products that US consumers are prepared to pay."
"With a natural program as large as Great Southern, carrying the integrity that it does, we've realised that we need to cut-through that noise a little more. It's a matter of getting our target market to very quickly and clearly understand and recognise the attributes behind the brand," Mr De Luca said.
To that end, the program has undergone a significant shift in its marketing focus, becoming more 'overt' in pressing its natural credentials, and including some latest-technology packaging developments which carry the 'grassfed' and 'natural' messages more clearly than the original version.
The recently-relaunched version carries an eye-catching 'grassy' artwork, using a new metallic printing process on the vacuum bag, and carton lid itself – which unmistakably carries the grassfed-natural message.
The feedback from customers had been overwhelmingly positive, in better projecting Great Southern's key attributes, Mr De Luca said.
As the image below shows, the new identity also aims to clearly tick 'all of the boxes', from 100pc grassfed, to antibiotic free, to no GMO's or added hormones, farm-assured, free-range, and dietary claims including being high in protein, zinc and iron.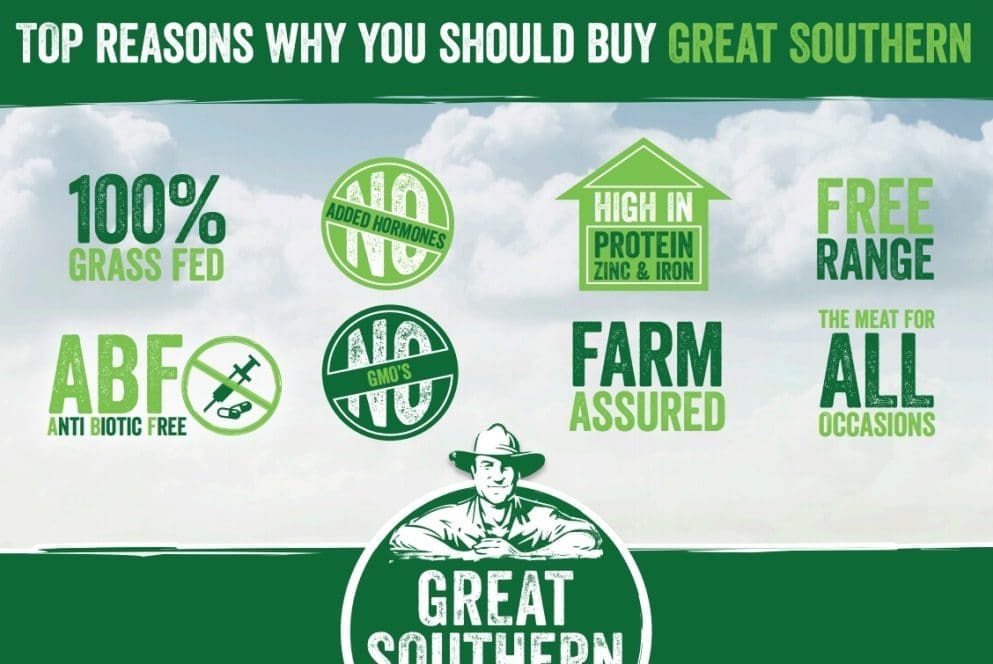 "Increasingly, it's not just about a grassfed claim: it's also about what the animal has not been exposed to; how it's been treated. It's the next layer down in brand attributes which is also becoming important," Mr De Luca said.
"Protein is the number one buzz-word in dietary circles in the US at present."
An equally important message is the systems developed as part of the Great Southern program used to back the claims.
"Consumers are becoming increasingly engaged, in wanting to know where their food comes from, and what systems are in place to back the claims the brand is making," Mr De Luca said.
"Integrity is one of the most important keys to success of the Great Southern program. In essence, 'brands' equal 'promises made', plus 'promises kept', and part of that includes the independently-verified aspect of the farm assured program."
The Great Southern program has done a lot of research to identify the key things that a US-type customer is looking for in a natural product. That includes not only the 'never-ever' claims on antibiotics, HGP and GMOs, and grassfed production history, but how those brand claims are verified, as well as the animal welfare and on-farm sustainability side.
Tapping into the producer behind the brand
Another key development in the new marketing approach is tapping into the power of the story of the 'farmer behind the product,' using a group of contributing producer profiles on packs and resource material used in export markets.
Next week: We examine the livestock supply, and meat sales process behind the Great Southern program's success.