WHILE it has built its global success on ground beef patties, burger chain McDonald's for the first time in its history launched a rump steak whole-muscle cut option recently – and the early signals are that the offer is going gangbusters.
So much so, that wholesale trade sources suggest the program is currently putting a floor in Eastern Australian market pricing for grassfed rumps suitable for the program.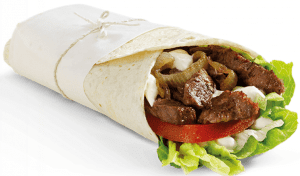 Beef Central reported on the launch of McDonald's rump steak 'McWraps' and 'steak salads'  in its Australian operations in this late October report.
Speaking to a producer audience in Biloela, Central Queensland recently, McDonald's Australia's Sustainable Supply and Quality Manager Susanne Craig said the rump steak product launch was sending out 'a real buzz' across the business.
"It is well and truly outperforming forecasts," she said.
Part of the product launch involved a 'pop-up' McDonald's restaurant, which had appeared in major capital cities recently, promoting the steak lines.
Teys Australia general manager, livestock, Geoff Teys, said when the program was first launched, his company had scheduled 60 tonnes of rumps a week for supply.
"The first week after the launch they rang us and said, we need 120 tonnes," he said.
"They are paying a very good price for rumps meeting their spec, as well, and it is putting a floor price in the rump market right across Eastern Australia. Earlier, there were some 'special' rumps seen around the market as low as $4.99/kg, but I bet you can't find a 'fair dinkum' rump around in the market below $9.99/kg at present, because of that volume demand effect from McDonald's rump menu offer," Mr Teys said.
In a prepared response to written questions about the rump steak project posed by Beef Central, McDonald's corporate communications department said the introduction of '100 percent Aussie rump steak' to the restaurant menu had been very popular with customers.
"It continues to perform above expectations," the company statement said.
"The introduction of this new steak offering further demonstrates our commitment to the Australian beef industry."
The rump steak offer is available in all McDonald's restaurants across Australia, numbering about 930 units.
McDonald's confirmed that it was the first time anywhere in the world that a whole-muscle beef cut (as opposed to ground beef) had been offered to customers.  The item is now on McDonald's Australia's permanent menu, and is not just a short-term seasonal feature item. Each wrap serve contains about 80 grams of grassfed, sliced rump. A snack-sized serve is also offered.
It's no secret that McDonald's worldwide operations have struggled recently, sales-wise, as reflected in recent Beef Central articles like this one.
The company is looking to 'refresh' its menu, and the Australian market is often chosen as a 'test-bed' for new ideas like the rump steak wraps, as well as trialling a new 'gourmet, create-your own' burgers, giving customers the choice of up to 19 ingredients.
"There are a lot of resources being thrown into this 'create-your own' concept," McDonald's Susanne Craig told the Biloela producer gathering.
"It's really about responding to what consumers are wanting, integrating touch-screen digital technology in the ordering process, allowing consumers to customise their own burger.
"The burgers taste amazing, and it will include table service. The message to the customer is that because of the customisation, this might take a little bit longer than the customary 60-second service for a Big Mac, but it's going to be worth it," she said.
"It's just another demonstration of McDonald's focus at the moment on building beef within the McDonald's brand."
McDonald's November sales performance figures for its North American, European and Asia-Pacific regions (including Australia) will be issued later today.