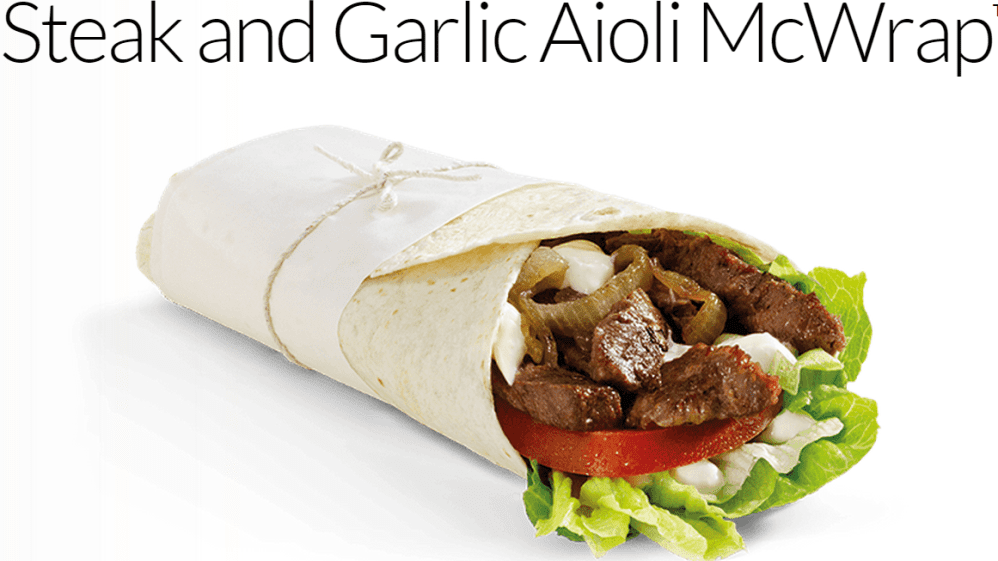 McDonald's has put several steak options on its menu in Australia for the first time, adding McWraps (Steak & Garlic Aïoli and Steak & BBQ), a Steak Salad with Thai-Style Dressing and a Steak & Egg Brekkie Wrap for mornings.
It's the first time whole-muscle cuts (in this case, rump) have appeared on the menu, alongside traditional ground beef patties.
For budget-conscious buyers or those curious to try the new item, there is a $3 Mini Steak Taster wrap that's less than half the A$7.95 price for the full-size wraps.
A lunchbox-like pop-up restaurant is dispensing free $3 Taster wraps to build awareness and trial the products.
Unlike the steak products on McDonald's US menu, which are chopped steak, the Aussie menu features marinated and slow-cooked strips of rump steak.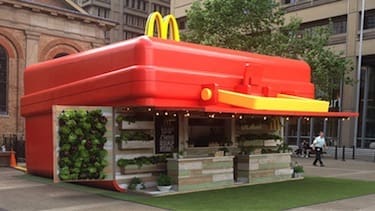 McDonald's is promoting the launch not only with electronic and online media marketing but also with a pop-up restaurant designed to look like a huge lunchbox.
Free $3 Tasters are being handed out to announce the new menu. The pop-up restaurant is currently in Melbourne but will relocate to the Gold Coast, Sydney, Adelaide and Perth later.
Australia remains one of McDonald's four identified troubled markets (along with the US, Germany and Japan).
During recent briefings on September quarter performance, president Don Thompson said Australia's September performance was its best monthly comparative sales result since August 2012.
The Loose Change 'value meal' is helping turn around results and the rollout of the 'Create Your Taste' customisation kiosks (see earlier Beef Central article here) could bring additional traffic, he said.
Here is a you tube clip of a TV advertisement for the new steak strip options: