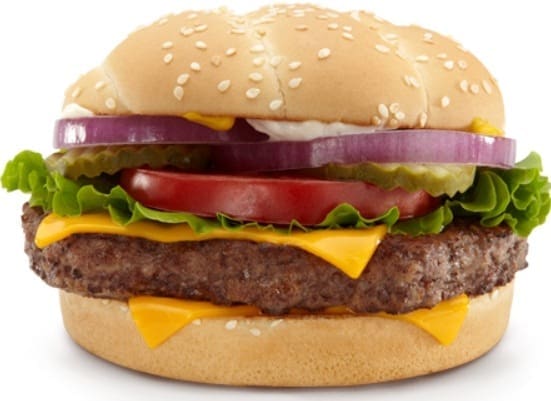 FOOD safety concerns in the company's China operations have had a significant impact on global burger restaurant chain McDonald's, contributing to a reduction in the company's July sales worldwide by 2.5 percent.
McDonald's released its monthly financials on Friday, reporting a big drop in global sales in July and cautioning that its full-year forecast is now at risk due to food quality and safety problems at a Chinese factory operated by one of its major suppliers.
Same-store sales in its Asia/Pacific, Middle East and Africa (APMEA) region, including China, Japan and Australia, plummeted 7.3 percent last month – one of the biggest year-on-year declines ever seen. The region accounts for ten percent of McDonald's global sales.
A large factory in Shanghai owned and operated by a subsidiary of OSI Group, one of McDonald's key global suppliers, closed last month after an undercover investigation by a Chinese television station revealed workers using expired meat and contaminated chicken to make products typically sold to McDonald's and KFC restaurants in China.
Beef Central first wrote about the incident in this item.
It remains unclear whether substantially lower sales performance in July in McDonald's US division was related to the Chinese food safety breach news, or whether it was entirely coincidental. However the food safety incident did attract significant international media and social media attention.
The company's US operations fell 3.2pc compared with July last year, on a same-store basis (discounting new stores built in the past 12 months).
The only bright light was the Europe division, where McDonald's comparable store sales were up by just 0.5pc.
McDonald's chief executive officer Don Thompson said although July's results were "not in line with McDonald's expectations", the company intended to "strengthen its performance by addressing the current business headwinds with the discipline and conviction that inspire our customers' trust and loyalty."
The negative 7.3pc sales result in the APMEA region reflecting the impact of food quality and safety issues at OSI's China plant, he indicated. He apparently described sales in Australia last month as 'weak.'
"As a consequence, results in China, Japan and certain other markets experienced a significant negative impact. The affected markets represent about 10pc of global systemwide sales and negatively impacted the segment's July comparable sales by over 700 basis points," Mr Thompson said.
"Going forward, McDonald's is undertaking recovery strategies to restore customers' trust and confidence."
He blamed 'broad-based challenges' on the 3.2pc decline in US restaurant sales.
Europe's comparable sales increase of 0.5pc in July was led by positive performances in France and the UK, partly offset by negative performance in Germany and Russia.
An analyst suggested the disappointing numbers may represent McDonald's worst single month for global sales in a decade.
"As best we can tell, it was the worst worldwide month for McDonald's in the last ten years, once trading-day adjustments are taken into account," analyst Mark Kalinowski wrote in a report.
McDonald's also indicated that its full-year 2014 global comparable sales were expected to be "relatively similar to year-to-date June performance" (essentially, flat compared with the same period last year) given a stagnant IEO category, sustained competitive activity, consumer price sensitivity and cost pressures.
As Beef Central has pointed out earlier (click here to read a recent example), US livestock and beef prices have exploded to unprecedented levels this year.
"However, as a result of the China supplier issue, the company's global comparable sales forecast for 2014 is now at risk," Friday's financial report said.
If that prediction holds true, it would be the first year since 2002 that McDonald's global operations have not recorded sales growth.