EVIDENCE is emerging that domestic consumers are voting with their feet – buying less beef and more chicken and pork, as this year's sharp rise in cattle prices cascades through the value chain.
As Beef Central has reported earlier, prices in some slaughter cattle categories have now risen 45 to 75 percent on this time last year, and the impact, most evident in rises seen since April-May, is now exerting a strong influence further down the chain.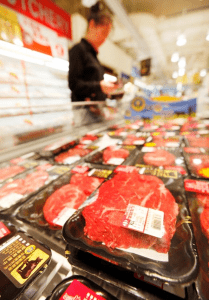 One prominent wholesale operator with large operations in multiple Australian states told Beef Central that since Easter, wholesale beef price rises of 20-30 percent and higher had been common on a range of cuts and quality levels. And those movements were off prices that were already trending upwards.
Wholesalers are now reporting signs of push-back from butchers, who are in turn copping the same from their retail customers over ticketed beef prices.
The trend is now being clearly captured in retail consumer survey work commissioned by Meat & Livestock Australia for the quarter ended June 30. Although now a little dated, it shows beef purchase volumes sharply down, and retail prices up, based on data collected from a sample panel of 10,000 households across Australia.
That trend is only likely to have accentuated since then.
For the quarter ending June, the report shows volume share of beef sales was 34.9pc, down from 37.9pc of all protein retail sales in August last year. Limiting the impact in overall gross revenue from beef was an increase in spend on beef per shopper of 6.4pc, reflecting higher retail beef prices.
Volume sales of other major proteins – chicken, lamb and pork – were all sharply higher over the same period.
A wholesale market contact told Beef Central on Friday that good tenderloins had jumped by $8-$10/kg (wholesale price) in the past three months.
"They've gone from 22's to 25's to 28's and are now trying to push into the 30's," he said.
"Percentage wise, striploins and cube rolls have gone the same way. Good strips that were $9.50/kg three months ago are now heading towards $13.50/kg. Cubes have gone up a little more, in percentage terms, partly because a portioned cube-roll delivers a better yield than any of the other three barbecue cuts."
Rumps had probably gone up $1/kg at wholesale level, but had been the least affected by cattle price rises so far.
"Smaller-sized MSA rumps are in higher demand and have certainly risen more, perhaps now at $11.50/kg, but the larger grainfed rumps, not so much. But even cow rumps now are much more expensive," our trade contact said.
Topsides in high-demand
One cut that had done very well domestically was cap-off topsides (Handbook of Australian meat code: 2000), which have typically risen +60pc in value this year, going from $5.50/kg to about $9/kg.
"It's just a funny market at present," our trade contact said. "It's hard to imagine, but good cap-off grainfed topsides are currently making more than a heavy grainfed rump – in some cases 50-80c/kg more."
"Part of the reason for that is just export pressure on certain cuts; but also it's the versatility at retail and in food service in an item like a cap-off topside, which can be used in diced beef, beef strips, and on-trend items like pulled beef."
"It's just got a lot of versatility; it's red meat with little waste and is just a cut that retailers and food service operators say, Yeah, I'll pay it, I'll pay it."
Beyond the examples listed above, prices on all popular cuts now were "absolutely unprecedented," our wholesaler contact said.
Tenderloins had already gotten to the stage where food service operators were taking them off menus, and replacing them with a cheaper beef option, or worse – another protein.
"There are steak-oriented restaurants that previously had eight or ten steak options on the menu, but which now only offer four or five, because of the price factor. They see a real alternative in chicken or pork items, that are much, much cheaper to order from the supplier," he said.
Brand programs retaining loyalty
Fortunately, there was not yet a lot of evidence of retail or food service operators moving down the beef quality spectrum in their ordering specs, in order to minimise price rises.
"Branded beef programs appear to have retained their loyalty, despite the price rises," another wholesale contact said.
"We haven't seen a lot of evidence of buyers shifting to cheaper items – say from YG or MSA to a PR cipher spec. If anything, cow, steer and PR cuts are down in the domestic market. Buyers and consumers now just aren't prepared to take the risk on cheaper meat. They've become conditioned to better-performing domestic product. "
"What is evident is that buyers realise that they need to align closely with a reliable supply chain – otherwise they may simply not be able to source beef to their requirements, 52-weeks a year, for the next year or two."
While retailers do not currently appear to be compromising on quality in their beef spec, there is some talk of adjustments being made in portion size – steaks that were once being cut at 300 or 320 grams are now 260-280 grams or less in weight, to better manage unit cost.
"All of a sudden, retailers are starting to panic about securing supply. Stakeholders are getting out of the commodity trade in wholesale beef, instead starting to align with certain brand programs and supply chains, to try to guarantee future supply," the wholesaler said.
"But good quality domestic beef is just getting harder and harder to get. Some wholesalers are doing it very tough at present, because they simply can't get a consistent supply. There's a couple I'd be very concerned about," he said.
"The ones that have not aligned with a strong supply chain, but are more commodity wholesalers, are at greatest risk."
Some wholesalers say they have sacrificed some of their margin as prices have risen, while others have tried to hold margin, and pass the added cost on directly to the retailer or food service customer.
"But it's not a business with a lot of fat in it for the wholesaler to start with. They already operate on incredibly narrow margins," the trade contact said.
"But at current prices, beef is playing into the hands of competitors like chicken and pork. Even 90CL beef trim today is worth $6.50 to $7.50/kg, wholesale.  It means trim is worth about the same or more than chicken fillets, which can be bought in the wholesale market this week for $7/kg or less."
A large wholesaler who recently added pork to his company's product range, via a service kill in Queensland, said he had gone from 250 bodies of pork a week to 500, and as of this week, 750 bodies weekly, as buyer demand for pork grows, in the face of high beef prices.
In a similar case, a Brisbane retail butcher with a large outlet on the city's northside told Beef Central a week or two ago he had put on a chicken fillet special and sold $30,000 worth in a week.
"Customers just want some relief from beef prices," he said.
No relief in carcase beef
Some butchers over the past six months have apparently tried to shelter from rising prices by reverting to buying carcase beef, and boning it themselves, instead of buying boneless beef in cartons.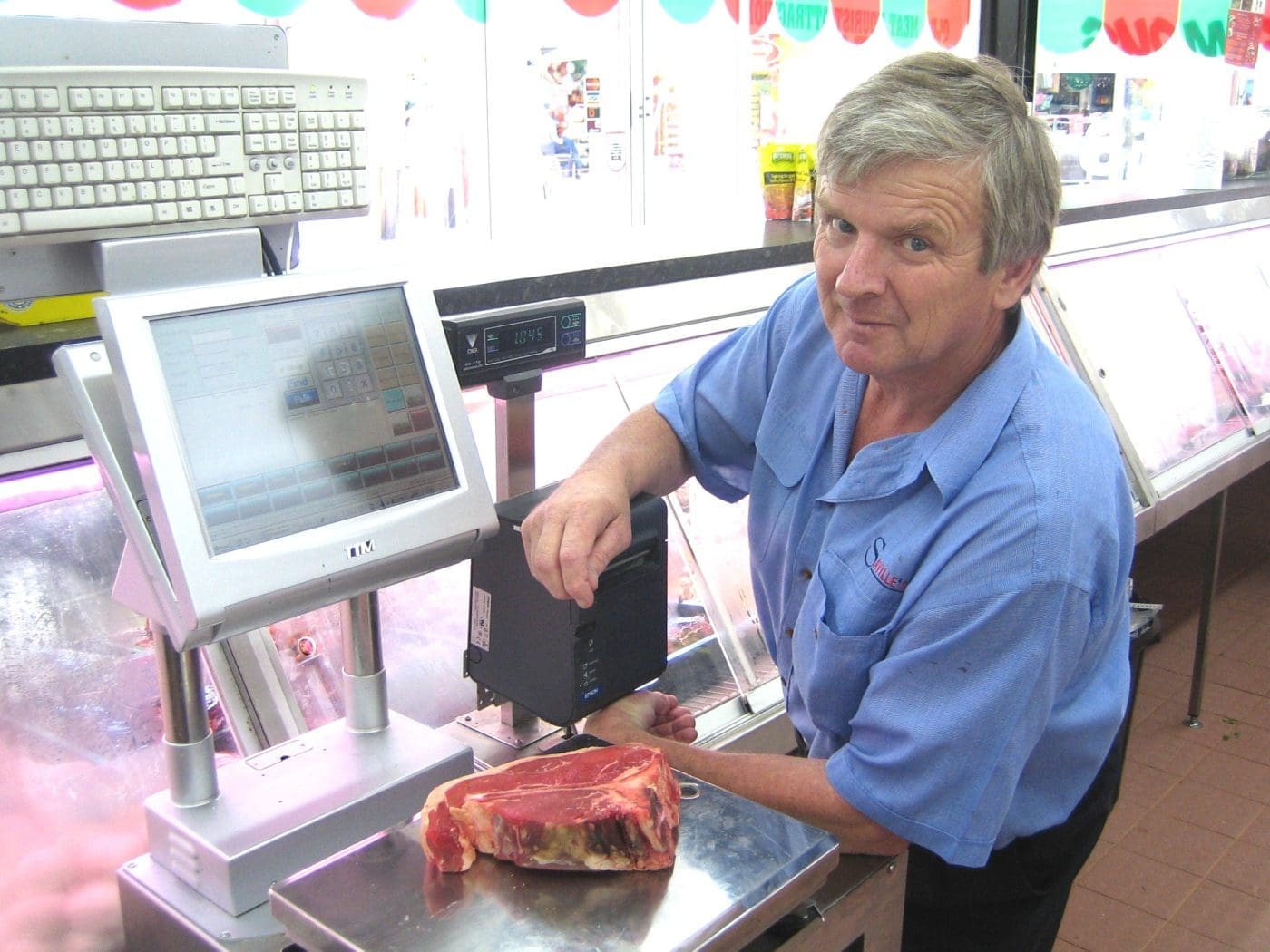 Any advantage in that is now gone, however, as carcase beef prices continue to rise in line with carton meat. One wholesale source had good quality carcase beef at $6.60/kg last week – a figure that nobody in their wildest dreams would have thought possible at the start of the year. Why so high? Because light trade steers last week in Tasmania were making the best part of $3.50/kg, liveweight basis.
"There's a sense of disquiet out there among retailers, as they watch the steady, and relentless rise in beef prices this year," a trade source said.
"But equally, there's a thirst for information – they want to know what lies ahead, and what the solutions are. They're keen to learn more, because it's their livelihood – many have been in the meat game all their life."
"At the end of the day, the domestic market just has to get used to paying more for red meat," one of Australia's largest steak portioners told Beef Central.
"To be truthful, in a global context, the price of beef in Australia has been too low for many years – but it's only now that that correction is occurring."
Supermarket price war continues
While many independent butchers have ratcheted up their retail prices up to account for higher wholesale beef costs, the same is not yet evident at supermarket level.
Both Coles and Woolworths, locked in a prolonged fresh meat price war to retain and attract customers, are yet to shift their everyday retail price on popular beef items, in response to significantly higher livestock prices this year. The arrival of low-cost Aldi as a significant retail presence has only added to that supermarket competitiveness.
Certainly what's gone is the beef 'specials' like MSA rump at  $13.50/kg, or regular mince at $5/kg, replaced more often with special in chicken (fillets for $9/kg in Woolworths catalogue this week), pork or lamb.
But everyday beef prices for Coles and Woolworths offer is essentially the same as what it was this time last year.
Click here to access today's second article featuring responses from leading butchers across Australia to the current surge in beef prices.
Beef Central first discussed the looming trend in wholesale/retail beef prices in this article published back in May.