AMIDST all the euphoria about looming cattle price rises evident at Rockhampton's Beef 2015 event last week, Beef Central also picked up pockets of unease and disquiet.
Scattered among the thousands of big hats representing beef producers, and logo-embroidered shirts and caps representing beef processors and live exporters were a handful of meat wholesalers and retailers whose businesses rely solely on the domestic market.
A representative from one of Australia's largest meat wholesale businesses, with operations in five states, told Beef Central on Friday that beef prices in the wholesale market had risen by around $1/kg on many sweet cuts over the past three to four weeks, and at least 50c/kg on secondary cuts.
Cattle price has had a lot to do with that, as has the sheer strength of market competition from Australia's export customers.
He could not remember wholesale prices being as high, at least since 2012. Somewhat perversely, the high prices seen that year were due primarily to shortness of cattle supply, as large parts of Eastern Australia enjoyed back-to-back boom seasons, encouraging producers to hold back cattle to expand their herds.
This year, as Beef Central has frequently reported, rates of kill are at record levels – but wholesale prices are still at, or near record levels, and only look like going higher. Only the drivers are different.
In the crowd at Beef 2015 last week was Melbourne independent meat wholesaler Anthony Divola and wife Erinbell, proprietors of Divola's Wholesale Meats.
They made the considerable effort to travel to Rockhampton to "try to get a better idea what's going on in the meat market and what lies ahead."
"We source of lot of lighter domestic type beef, but also heavier export-type beef, so we are somewhat concerned about what we are hearing about where prices might go," he told Beef Central.
"A lot of our domestic retail and food service customers are already finding it pretty hard, so any further rises will make business very difficult," Mr Divola said.
"We are concerned about what we're hearing in what lies ahead, and there have already been massive increases in price movements in the Victorian wholesale market. Retail shops today are already paying anywhere from 480-490c to 520c/kg for carcase beef, and an increase in boxed beef prices like we have never seen before."
"It's reached unprecedented levels. We're seeing items like chuckroll (becoming increasingly popular in export markets like China) wholesaling in southern Australia for $8.50-$8.80/kg. This time a year ago, they were worth $7 or less."
Mr Divola said he was worried that the momentum being seen in cattle pricing and export would negatively impact on the domestic market, and domestic beef consumption in general.
He said the reaction from his butcher, food service and independent supermarket customers had come in different forms.
"Firstly they are buying less beef generally. Their dollar spend on beef is down, perhaps replaced with more sharply-priced pork and chicken, until they see how the market pans out.
"Some retailer customers have tried switching from carton meat back to boning their own beef, buying bone-in sides or quarters. But now, carcase beef prices are again starting to align with the prices for boxed meat, so any advantage is gone."
Does he see a solution?
"We'd like to expand our business, but there is considerable uncertainty out there in the domestic market at present. It's hard to put on more staff, because volume turnover is coming under pressure. We don't have a great deal of supply to sell," Mr Divola said.
"The current situation is great for exports, and perhaps some others along the beef supply chain, but it certainly is not for the domestic trade, in our own back yard. Butchers are really struggling."
"It has nothing to do with the consumer's intrinsic support for beef, or how it is being marketed – it's just price. Butchers are aware of the rising price for cattle and beef that's occurring, but trying to convey that message to their everyday householder customers is very hard."
It's a difficult message to convey, but Beef Central is getting a strong, consistent message from people involved in the wholesale/retail trade – from major supermarkets to independent wholesalers and retailers – that the industry now has to attempt to manage consumer expectations over beef prices, going forward.
"The city media tends to run articles saying there's a drought on, so meat is going to get cheaper. They never run article saying, 'Expect to pay more for beef, because cattle and meat prices around the world are booming'," one trade contact said.
"At some point, domestic consumers need to be educated that supermarket, butchery and restaurant menu steak prices are going to rise, and perhaps not a little," he said.
Big swings in supermarket cattle prices
The nation's big supermarket groups Coles and Woolworths, which collectively account for more than 57 percent of retail beef sales nationwide, according to Neilsen Homescan data, are not isolated from the current price trends.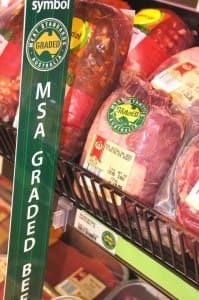 Inquiries this morning suggest Woolworths is currently paying its livestock supply contract-holders across Eastern States somewhere between 500c and 530c/kg, carcase weight, for cattle fitting their admittedly tight specs.
That's easily a record, and represents a rise from around 400c/kg little more than 12 months ago – a jump of 25-32pc.
Both major supermarket groups have so far held the line on established beef retail pricing on everyday items, but it's in 'specials' like MSA rumps at $12.99/kg, that are now much less evident.
Wholesalers say it is only a matter of time before Woolworths, Coles and Aldi have to start raising retail prices to account for the surge in cattle and wholesale meat prices. More on this in an upcoming Beef Central report.
Will domestic market be trampled underfoot?
MLA chief analyst Ben Thomas touched on domestic market outlook during a broader market update delivered during Beef 2015.
Beef Central asked him how much the domestic market would be 'trampled underfoot' by the current cattle pricing and export momentum.
"We've recently seen domestic beef and veal consumption fall below 30kg per person per annum for the first time. Each Australian consumed 28kg last year on average. Australia exported 74 percent of all beef produced last year, in a record beef production and export year," Mr Thomas said.
That figure is up from a more traditional figure in the mid 60's, graphs show. Price is a significant part of that trend movement.
"With the changing population demographic in Australia, we could potentially continue to see domestic consumption, and the proportion of beef sold into the domestic market decline," Mr Thomas said.
"Maybe we will see a continued trend down in terms of per capita consumption – but we are still well above other comparable countries. New Zealand, for example, eats only about 20kg per person per year."
Mr Thomas said for the first time in a very long time, Australian domestic beef prices had increased, in real terms, in the past couple of months.
"That's purely because there's less product on the market, with so much more going overseas. How much of that price movement will be passed down to the retail/consumer level, I don't know," he said.