While Australian beef continues to struggle for competitiveness in international markets due to high cattle prices, shortage of slaughter stock and cost-to-operate in the processing sector, some further relief is being experienced in the latest round of tariff adjustments in key export customer countries.
January 1 signalled another cycle of annual tariff and quota relaxations on red meat exports, in customer countries like Korea, China and the US where Free Trade Agreements are in action.  Reductions under the Japan-Australia FTA will take place a little later, from April 1, in line with the new Japanese financial year.
The biggest comparative advantage will be seen in Japan, where tariffs paid on Australian imported chilled and frozen beef continue to decline, as part of the Japan-Australia Economic Partnership Agreement (JAEPA) which came into force on January 1, 2015.  JAEPA is by far the most liberalising trade agreement Japan has ever concluded.
2017 tariff/quota levels for Australian export beef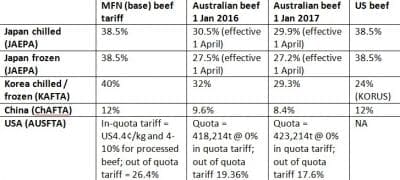 As outlined in the table published above, from April 1, our chilled beef exports to Japan will be tariffed at 29.9pc, a further 0.6pc reduction on last year. In comparison, US beef exporters, without the benefit if an FTA with Japan, will continue to pay the MFN (base) beef tariff into Japan of 38.5pc.
Our frozen exports to Japan will fall even further, attracting a tariff from April of 27.2pc – a gap of 11.3pc over similar exports from the US. The reason the tariff level is lower on Australia's frozen exports, versus chilled, is that they are deemed to be less directly competitive with Japan's own domestic beef industry.
A similar competitive advantage is emerging in China, where Australia's 2015 ChAFTA agreement sees this year's beef exports attracting a tariff of 8.4pc, versus 9.6pc last year, and a full 12pc by US exporters, who do not enjoy the benefit of an FTA.
Tariffs on Australian beef, which previously ranged from 12pc for fresh beef to 25pc on some value-added products, will be eliminated altogether within seven years. Ten percent tariffs on live cattle and sheep disappear after your four of the China agreement, while offal and hides tariffs will also gradually recede.
Circumstances in South Korea are somewhat different, because the US's KORUS trade agreement with Korea pre-dates Australia's own KAFTA agreement by two years, guaranteeing that the US will continue to enjoy a tariff advantage over us for some years to come.
Nevertheless, the gap between the two tariff rates continues to decline, in percentage terms. This year, Australian exporters will pay 29.3pc on chilled and frozen exports to Korea, down from 32pc last year.
The US, in comparison, this year pays 24pc, but as time goes by, the gap will narrow. Prior to the trade agreements being struck with Korea, both export countries paid a tariff of 40pc on chilled and frozen beef.
Australia's US quota continues to grow
Unlike other export customer countries listed above, Australia's access to the US market is limited primarily by volume quota, rather than tariff. Since the AUSFTA agreement was struck 12 years ago, our US beef quota has gradually risen from about 350,000t, to 423,214t this year.
That means Australia can export an additional 75,000t into the US without attracting any in-quota tariff whatsoever. Prior to the FTA being activated in 2005, we paid an in-quota tariff of US4.4c/kg and 4-10pc for processed beef.
The gradual yearly increase in the US quota allowance for Australia reduces the risk of hitting the quota trigger point, after which a tariff of 17.6pc would be paid (highly unlikely while Australia's beef herd is at 20 year lows, and exports are 21pc below the previous year's volumes).
For exporting countries like Brazil, however – just starting to penetrate the US chilled and frozen beef market after decades of exclusion due to FMD concerns – the tariff and quota levels into the US are of significant concern.
Brazil has no formal FTA with the US, and is currently forced to export to the US under the 'other country' quota of just 64,800t. It shares that quota with several other exporting countries.
In order to shift larger volumes of beef into the US, Brazil would be forced to pay the full MFN (base) beef tariff of 26.4pc. Some analysts have suggested it may in fact be prepared to do that, given how competitive Brazilian beef currently is on the world stage.
Only very small volumes of Brazilian beef have arrived in the US since market access was achieved late last year.