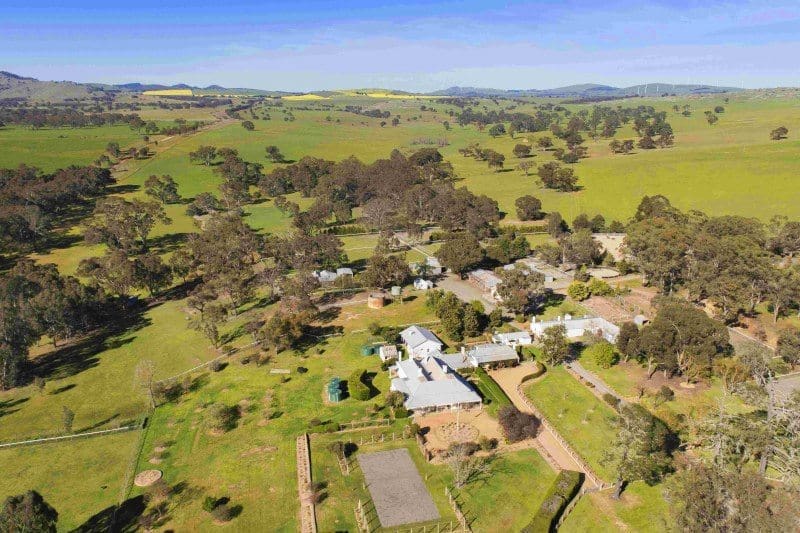 SPRING has arrived, and so too has a burst of rural property listings, as evidenced by the pages on Beef Central.
Here's our latest seasonal wrap of property trends in beef across Eastern Australia.
Back in our April quarterly review, dry conditions were still putting a serious handbrake on property sales and listings, particularly in Queensland. Then widespread and beneficial winter rain fell across most pasrts of Eastern Australia.
As a result, the market for beef cattle properties has since picked-up dramatically, and sales activity is predicted to get busier over the coming months.
Queensland
Danny Bukowski, Raine & Horne principal in Brisbane, said the Queensland cattle property market was looking excellent for spring and summer.
"Last week, I was in St George and the country was looking magnificent. The main problem is producers can't find enough cattle to stock their properties," he said.
"They have all this feed in front of them, and no cattle. While there are still some areas lacking good bodies of feed, most landholders are looking to restock. People want breeders, but there's a supply shortage."
Mr Bukowski said cattle property listings were still reasonably slow, but the situation was improving.
"The phones are ringing, there are people wanting to look at properties and some landholders are considering selling."
Mr Bukowski said larger-scale properties were in the greatest demand, where graziers could get economies of scale.
"Demand is widespread, however most interest is coming from established property owners who have had bumper cattle prices and are looking to extend their portfolios."
He said the value of some of the larger holdings had definitely risen, but the market had been slow for smaller cattle properties closer to Brisbane.
"However, after better seasonal conditions, there is a light at the end of the tunnel."
Queensland-based Ruralco national property manager, Andrew Adcock, agrees there is a lot of interest about, however he said there are always new listings coming onto the market.
"There will be different reasons for people coming to market. Some will be upgrading, others will be taking the opportunity to sell so they can retire. At the moment there are a few more property listings going into the open market, but I don't think it is any more than normal."
'Clean-out' occurring
He said what was noticeable was a clean-out of properties that had been on the market for quite some time.
"When you see those properties disappear after three or four years, you sense there's going to be an activity increase. There are always going to be people in the market that are looking to buy."
Mr Adcock said local demand was strong from all sectors – families, the smaller funds and new entrants with private money.
"We will see strong activity and strong prices paid for beef properties over spring and summer. There will be people that will upgrade from a smaller-style property of 1500 head to a 2500 head operation, or from a 3000 head operation to a 5000 head enterprise. Many people are keen to improve their lot. Any business aspires to be bigger and better."
Mr Adcock said the outlook for the Queensland beef property market was bright, especially with current cattle prices.
"Every market wags its tail after the price has been and gone, but even if cattle prices come off the boil a little, it will still be very positive for the beef producer, particularly as the season is shaping up in Queensland. If people can handle their debt levels, they will prosper."
Central Australia
The mini property boom in Central Australia has now come to a halt (see earlier Beef Central story).
Herbie Neville from Elders Alice Springs hasn't any listings at present, after two significant properties were recently sold.
The 295,000ha Singleton Station, 390km north of Alice Springs, is pending settlement at the end of October, while 200,000ha Numery Station, 180km east of Alice Springs, was sold recently to a local pastoralist for an undisclosed sum.
Traditionally, Central Australia properties have been closely-held with relatively low rates of turnover, however Mr Neville said quite a few had changed hands in the last 18 months.
"For example, cattle producers Tony and Pam Davis assembled a substantial aggregation comprising Hamilton Downs, Amburla, Glen Helen, Derwent and Narwietooma Stations giving them a continuous run of country stretching some 200km from Alice Springs along the West MacDonnell Ranges," he said (see earlier Beef Central story).
Mr Neville said despite a lack of listings, there was good enquiry from local and interstate buyers.
"Some locals are looking to expand, which hasn't been the case for a long time. The interstate enquiry is mainly from Queensland and NSW, and a small number from South Australia. Those people are looking at moving into the area. The reasons are 12 months of good cattle prices, a favourable season and a positive cattle market outlook."
However, Mr Neville said Central Australia is not getting the overseas enquiry it once was.
"I'm not sure why. Alice Springs is cheap pastoral country, there are no ticks and it lends itself to organic beef production."
He said the local cattle property market was approaching summer very positively with good falls of rain this year and predictions of more to come.
New South Wales
Demand for grazing properties in NSW's Highlands, Southern Tablelands and South-West Slopes has not waned this year.
Col Medway, who heads up CBRE's rural transaction business in NSW and the ACT, said demand in the mixed grazing and farming region was exceptionally strong.
"A prime example is the recent sale of the 907ha Billabong, between Yass and Boorowa. It had been held in single family ownership since 1935. The property offered the option for any combination of cropping and grazing enterprises, allowing flexibility to capitalise on seasonal and market variations."
He said it made $2600 an acre which was 27 percent over reserve.
"There was significant buyer interest. We had 12 registered bidders and most were current industry participants. It was an exceptional sale. I'm not saying that's the case everywhere, but it was an example of what a competitive auction environment can produce."
Mr Medway said demand was coming from generational family farming businesses that had strong balance sheets, access to competitive finances and who were willing to 'make the next move.'
"Land values in this part of the world are achieving more than $400 DSE bare."
He said it had been a busy time running into spring.
"We've had the busiest winter sales activity that I can recall, and that will roll-on into spring and summer," he said.
Currently, CBRE has two significant holdings for sale – the 2287ha Ballyhooley near Boorowa and the 31,062ha Pier Pier Station aggregation near Coonamble.
"And there is plenty of off-market activity as well," Mr Medway said.