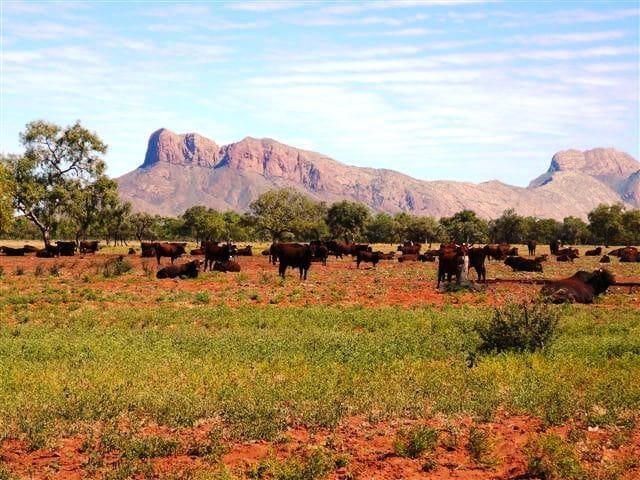 THE extensive semi-arid cattle holdings scattered across the region loosely described as Central Australia have traditionally been closely-held, with relatively low rates of turnover.
But all that has changed this year with a burst of transaction activity unlike anything seen in recent times.
While there is some evidence of foreign investor activity in the region, much of the +$50 million in transactions has been to family-scale Australian buyers – either locals expanding their operations, or outsiders looking for enterprise scale, low cost of production or other features.
Property Central has compiled the table below, describing six transactions that have taken place (or are nearing settlement), over the past five months. The outcome on a seventh property recently put to market – Singleton Station, northeast of Alice Springs, remains clouded*.
The following table shows the remarkable sequence of land transactions, totalling more than 1.2million hectares, which have occurred in the Alice Springs region since June this year.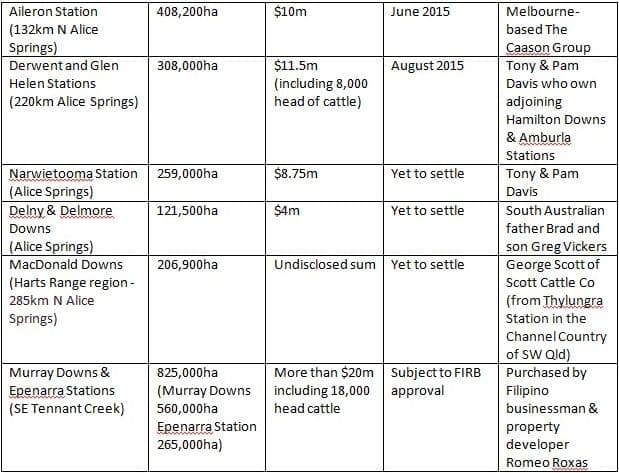 Cattle producers Tony and Pam Davis have been the most active sellers and buyers – offloading their Top End country (Limbuyna in the Victoria River District and Moroak, east of Mataranka) in order to purchase three conjoined stations in Central Australia, from where the Davis family originally came.
The Glen Helen, Derwent and Narwietooma Stations adjoin the Davis' current holdings, Hamilton Downs and Amburla Stations giving the couple a continuous run of country stretching 200km west from Alice Springs along the West MacDonnell Ranges.
In a recent interview with the NT News, Chris Nott from the Northern Territory Cattlemen's Association said the transactions were significant.
"It gives the industry a boost and the flow-on effects will help the Alice Springs economy and there's a chance more people can be employed. It shows they have a lot of faith in the industry," he said.
Veteran real estate agent Jock McPherson from Territory Rural McPherson said there had been increasing interest from local (particularly from the eastern states) and international buyers for Central Australian beef cattle properties, compared to the previous five years.
Mr McPherson said he was currently negotiating some significant sales (MacDonald Downs and Murray Downs/Epenarra Stations) that were due to be completed prior to Christmas.
Andrew Stephens from Landmark Harcourts Alice Springs, who was involved in the Derwent and Glen Helen sale, said he was fielding inquiry from foreign interests and was confident of more transactions early next year.
"Buyers are becoming aware of the viability of Central Australian beef properties, the cost efficiencies of running such large holdings and the suitability of cattle to the current markets," he said.
Mr McPherson said the Alice Springs region had been under-rated in the past, but buyers were now realising the opportunities.
"Many corporates have shied away from investing in Central Australia because it is low rainfall country. However, in my opinion it's the cheapest area in Australia to run a cow. The Alice runs significant numbers of cattle and animal quality has improved greatly."
Mr McPherson said the cattle produced in this region are highly suitable to both slaughter and live export markets, particularly the new Vietnamese market.
"Given a good or reasonable season, Central Australia has the ability to run and fatten cattle on a large scale."
He said the area was bluetongue free, giving local cattle access to a wider range of overseas live export markets.
"I know Central Australia is a long way from anywhere, but it is the same distance to Adelaide, to Darwin, to Townsville and almost to Perth. We provide cattle to all those markets. Even though distance is a cost, as the roads improve, there is greater accessibility. And because of the size of the holdings in Central Australia, producers can run significant numbers relatively cheaply."
With a shortage of beef cattle properties for sale in the region, Mr McPherson said there had certainly been an improvement in prices.
"The recent lift in beef prices has awoken interest in the Central Australia property market. In addition, there's the opportunity of gaining easy certification for Organic production."
While some analysts suggest beef cattle properties in the region have lifted by as much as 20 percent in value, both agents wouldn't be drawn on an actual percentage.
"It's hard to gauge at this point of time how much property prices have risen by," Jock McPherson said. "But what was difficult to achieve two years ago has become achievable, and prices are now over and above that."
Andrew Stephens said in the last three years, some property prices had doubled, reaching the heights of the previous 2006-2007 boom. "It has certainly exceeded people's expectations," he said.
* Reports that the 294,000ha Singleton Station, 390km north of Alice Springs, has been sold to Chinese interests for $10m are apparently premature, and may not materialise.  Beef Central will keep readers informed of any developments.