Broken Hill's Eaglehawk Station sets record
Condobolin Burrawang West finds buyer
Breeding future for New England's Achill West
$9.1m buys CQ's Tedlands at auction
Hassad's Clover Downs aggregation makes $27m
Busy eight weeks for Ruralco GDL property
Quilpie's Mogera/Hoomooloo, Mitchell's Wahcumba under contract
Recently listed: Meandarra's Adeena/Coorunga, NT's Broadmere
THIS week's property review focuses on recent transactions of note, holdings under contract and listings of interest across the country.
Sold: New South Wales
The $3.45 million sale of Broken Hill's Eaglehawk Station, in far western NSW, has set a new district $/DSE record, according to local Elders property marketing agent Marty Deacon.
The 28,240ha Western Division property sold at auction to a syndicate of near neighbours for well above pre-sale expectations, pitched at around $2.8m.
Eaglehawk Station has open, undulating red grazing country with a mixture of native grasses including Mitchell and button grass, native clovers, native salt bush varieties, pearl, blue & black bush, Sturt's desert pea and crowsfoot.
The owners, the Harvy family, have been associated with the Broken Hill district since 1910 when Thomas William Harvy selected Pine Point Station.
Great grandson Ron and his wife Marilyn added neighbouring Eaglehawk Station to their holdings in 1997. While a 15,643ha portion of Pine Point was sold with Eaglehawk, the Harvys will hold-on to the remainder of the property.
Mr Deacon said there was strong interest in the property, attracting 30 inspections, including two corporates and the balance farming families seeking expansion.
"While Eaglehawk is ideally suited to sheep, in good seasons it can run cattle. The vendor suggests the property can run 5500 dry sheep equivalents."
Mr Deacon said no other Broken Hill properties have come close to Eaglehawk's sale price in $/DSE terms. The $3.45m price equates to $122/ha ($49.60/ac) or +$627/sheep area.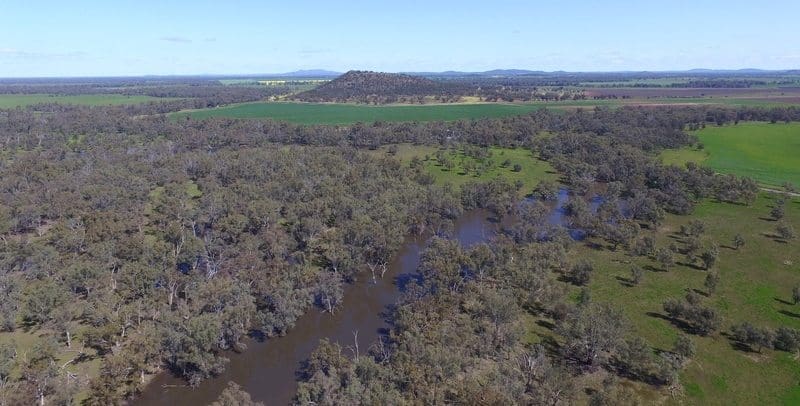 Burrawang West Station, the 4673ha pastoral holding in the Lachlan River region of Central NSW, has been sold to the newly established Murray Darling Food Company for an undisclosed sum.
The property, pictured above, 25km east of Condobolin and 60km west of Parkes, originally formed part of the highly-regarded Big Burrawang Pastoral Station pioneered by Thomas Edols during the 1870s. Since then, it has been owned by the Scottish Australia Land Co, the Killen family and the Kajima Corporation – one of Japan's largest construction groups.
Sam Triggs from Inglis Rural Property said over the past 12 years, Graham and Jana Pickles have developed the Burrawang West Dorper Stud.
"MDFC was attracted to the high fertility of the river country and the property's excellent track record producing commercial and Stud Dorper and White Dorper sheep," he said.
He said Burrawang West will serve as a commercial and stud production hub for the supply chain for MDFC.
"The property is well situated, carries a huge Dorper flock and the ability to dovetail the profitable Dorper Stud operation into the larger MDFC business plan was a big draw card."
The Pickles will continue to play a management role with the stud business and farm operations moving forward.
The 2216ha New England property Achill West has been sold on a walk-in, walk-out basis to local beef cattle producers Marengo Pastoral Co for an undisclosed price.
Originally part of the well-known Coventry family' fine wool empire, the property is located 38km east of Armidale and comprises predominantly open undulating, but well sheltered grazing country.
Chris Meares from Meares & Associates said Marengo Pastoral Co has a large beef cattle operation to the east of Ebor, near Hernani, currently running 800 breeding cows and turning off up to 3000 cattle a year.
"Achill West will become Marengo's main breeding holding, running 1000 breeding cows plus followers, allowing the company to further develop its beef cattle operation."
Queensland
After 50 years ownership, the iconic Tedlands Station on the Central Queensland coast, sold under the hammer at auction last week for $9.1m.
In 1968, Tedlands, pictured below, was bought by a partnership of the Glenn, Allen, Swanson and Lobban families. It was offered by two of the original families to allow a partnership restructure.
Described by selling Gary Bishop from Hourn & Bishop Qld as one of the best cattle properties in the high rainfall area of coastal Queensland, the 3285ha Tedlands Station is located at Koumala, 25km from Sarina and 65km south of Mackay.
"The property has been the subject of many pasture trials over the years and is known for its high carrying capacity. While Tedlands was offered on a walk-in walk-out basis with 2000 Droughtmaster females, it has consistently run 2400 cattle, including 1200 breeders," Mr Bishop said.
The purchasers were Ron, Diane and James Pullen from Mira at Rolleston, who have been looking for the right property to come along after selling Codrilla at Nebo.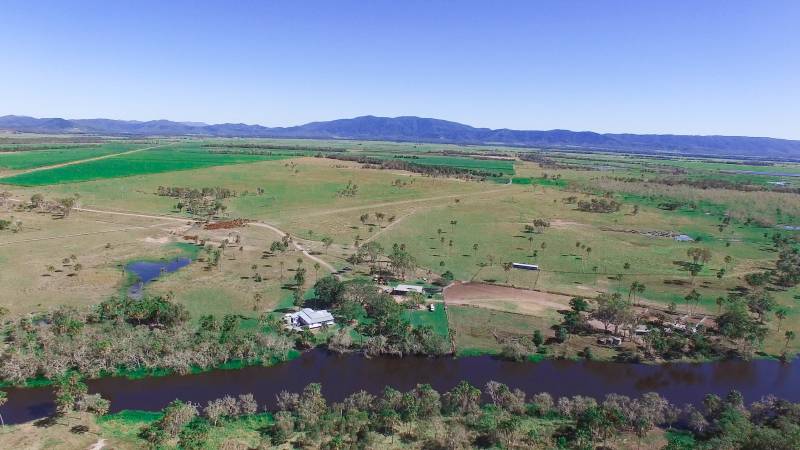 The 125,293ha Clover Downs Aggregation, located in Cunnamulla in south-west Queensland has been sold for $27 million to well-known Narrabri, NSW cattleman, Bill Zell.
Mr Zell, who was looking to expand his interests north, was the underbidder at last year's auction of showcase Central Queensland grazing property Northampton Downs, at Blackall, which sold under the hammer for $13.59m.
In 2012, Mr Zell purchased the adjoining 35,600ha Twynam Group holding Collymongle at Collarenebri in northern NSW for more than $40m.
Clover Downs, pictured below, is described by marketing agent Rawdon Briggs from Colliers International as an iconic large scale freehold aggregation boasting significant production upside from exclusion fencing.
"It has a dynamic enterprise mix of sheep, wool and beef production with a 64,000 DSE or cattle equivalent carrying capacity, 75 main paddocks, 21 holding paddocks, as well as exceptional infrastructure."
The aggregation was sold by the Qatar sovereign wealth fund-backed Hassad Australia. In December, the company also sold its 2630ha Kaladbro Station in western Victoria to the Brinkworth family for $24m.
Kaladbro was Hassad's first purchase in Australia back in 2010.
It then went on to purchase another 13 farming properties across Victoria, NSW, Queensland and Western Australia. Hassad Australia is now looking to sell more of its rural property portfolio due to a change of direction – from providing food security for the tiny Middle East nation to better investment returns by focussing its attention on downstream operations, such as marketing and processing.
Over the past eight weeks, the 15 branches of Queensland's Ruralco Property GDL has been busy, selling six properties and placing a further six under contract.
The 56,587ha Turn Turn/Wittenburra aggregation at Eulo, 124km south-west of Cunnamulla, was purchased by the Todd family from Cambooya for $3.296m or $58/ha to expand their existing Merino operation. The owners, the Wearing family, have downsized, purchasing the 559ha River Camp at Warra for $1.45m.
The 32,398 Cunnamulla cattle breeding or backgrounding property Glendilla has sold for $2.16m (or $67/ha) to Sydney-based carbon investor Panri Ventures who plan to run livestock under the current management.
The 493ha Tyirra at Taroom sold at auction for $1m or $2028/ha to the local MacIntyre family for expansion.
Oakleigh, the 522ha Upper Pilton cattle breeding and fattening depot, 50km south-east of Toowoomba, sold to the House family from Cambooya for $2.25m or $4310/ha. The property, which also grows grain and forage crops, will be used as a Wagyu breeding operation.
The 11,000ha Quilpie grazing property Bodalla sold to a neighbour for $1.5m or $136/ha.
Under Contract: Queensland
The 97,984ha western Queensland grazing operation Mogera/Hoomooloo, 100km from Quilpie and 180km from Charleville, is under contract to a family from Western NSW for an undisclosed sum.
According to selling agent Andrew McCallum, the abundance of high and low mulga makes for safe grazing during a dry period.
"The aggregation has a diversity of country types and is well watered by the Bulloo River and Blackwater Creek with permanent waterholes. It has a history of running both cattle and sheep and has run up to 4500 mixed cattle and 10,000 sheep over the years."
Earlier the property was listed for $6 million bare.
The 7021ha Wahcumba, 102km south of Mitchell, boasting a thick cover of improved buffel pasture and access to 380ha stock route, is under contract to a NSW grazier seeking more scale.
4596ha Amby grazing property, Womals, located halfway between Roma and Mitchell is under contract, as is 581ha Kamiloroi at Condamine.
1344ha Hannaford district cattle breeding and backgrounding property Karinya, 144km south-west of Dalby, is under contract to a Wandoan grazing family, as is the 1011ha Wandoan property Carinya.
Ruralco Dalby marketing agent Andrew McCallum said while activity is usually quiet this time of year, some people are seeing opportunities in the property market.
"Rural industry is going very well, giving people the confidence to buy. There is a lot of activity in the $1m to $3m price bracket, with good interest from New South Wales, South Australia and Victoria."
However, Mr McCallum admitted Ruralco Property GDL is just like every other agency at present.
"Property listings are limited, and the season isn't helping – particularly in the Central West, around Blackall and Longreach, which experienced a good winter last year, but an ordinary one this year."
Recently listed for sale: Queensland
Western Downs grazing property Adeena/Coorunga, 41km from Meandarra, 150km Dalby and 150km Goondiwindi, is on the market for $5.6m.
The 4737ha Hannaford district property, pictured below,  offers scale and diversity, according to Ruralco's Andrew McCallum.
"It boasts a good balance of country and excellent water supply. It is also Pimelea free. The property lends itself to multiple options or one operation," he said. It is currently running EU-accredited Angus cattle, MSA accredited Dorper sheep and Boer goats.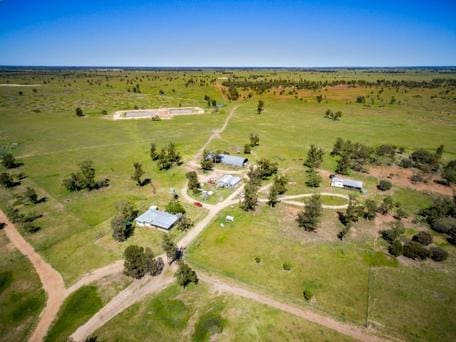 Northern Territory
Broadmere Station, featuring the renowned natural sandstone Lost City, is being offered for sale by an Expressions of Interest campaign with CBRE.
The 259,000ha pastoral lease, 250 km east of Daly Waters and 250km west of Borroloola, comprises a balance of open black soil plains, lightly timbered country to several escarpments typical of the NT Gulf region. It has highly secure water resources, including Limmen Bight River and October and Lansen Creeks.
Selling agent Geoff Warriner said Broadmere can carry 6500 adult equivalents, however this could be expanded by a further with improvements to fencing, water and the currently unimproved northern section of the property.
Mr Warriner said the station would be ideal for smaller, private owners, as a bolt-on acquisition for neighbouring corporates and for eco-tourism or wilderness operators who could run helicopter flights to the impressive towering sandstone formations.
Broadmere is being offered bare of stock and plant. EOI close on Thursday 24 August.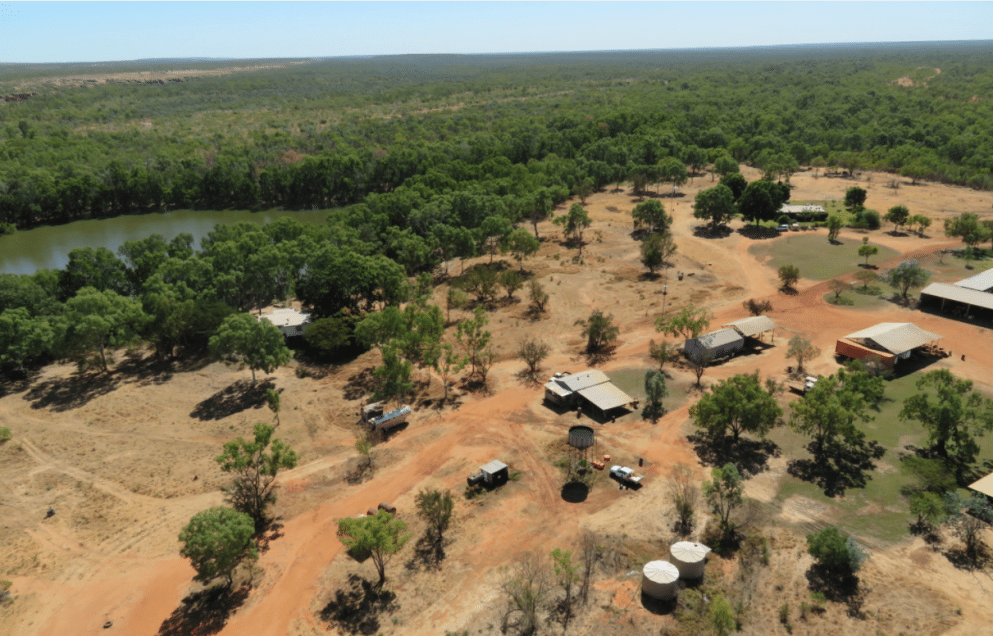 Meantime, Andy Gray from Ruralco Property/Territory Rural said there has been very good enquiry for the large-scale Barkly Tableland breeding property Kalala Station.
The 3760sq km Perpetual Pastoral Lease, 280km south of Katherine near the township of Daly Waters, was returned to the market last month, exactly 12 months after it was initially listed for sale.
It was reportedly sold in December to an Australian-resident Asian businessman, who after exchanging contracts was unable to complete the deal. While no price was disclosed at the time, Kalala was expected to make about $70 million.
Mr Gray said interestingly, most of the enquiry is domestic and from outside the NT.
"It has attracted a lot of attention because it is currently the only large-scale property on the market in the NT. Kalala is very well presented and is currently carrying about 35,0000 Brahman and Brahman cross cattle," he said.
The property is being offered for sale on walk-in walk-out basis via an Expression of Interest campaign closing on August 30.