A SOUTH Australian venture proposing to construct a large-scale land-based aquaculture project farming the much-heralded asparagopsis red seaweed for use in livestock methane reduction is seeking investors.
The novel project near the South Australian coastal town of Port Broughton on the Spencer Gulf holds a purchase contract on a parcel of tidal land originally developed as a prawn farming venture in the 1970s, but abandoned almost 40 years ago.
The 114ha (281ac) proposed farming site near Port Broughton already has extensive earthworks in place, constructed during the site's prawn farming days. Some 5.8km of banks have already been established across the farm, but significant further earthworks is needed to produce the ideal growing depth for the seaweed, and expand the network of ponds.
Working with James Cook University and MLA, CSIRO research found the asparagopsis red seaweed can reduce methane emissions in beef and dairy cattle by more than 80 percent. In August, CSIRO announced the formation of a company to take a methane-moderating seaweed stockfeed additive to market. FutureFeed Pty Ltd will commercialise a feed additive made from asparagopsis.
The five core investors in the FutureFeed project were GrainCorp, which already operates divisions producing a range of stockfeeds and livestock supplements; Twiggy Forrest's beef supply chain Harvest Road group; national supermarket retailer Woolworths; AGP Sustainable Real Assets-Sparklabs Cultiv8 Joint Venture; and CSIRO. In August, the project's backers said they hoped to get commercial quantities of the product to market within two years, and be fully operational within five years.
Enormous speculative interest has been shown in the feed additive prospects from across the Australian livestock industries, facing growing community pressure over methane emissions from cattle and sheep.
While several other asparagopsis production projects are also in development or under proposal, these are all based on 'wild' harvest of the seaweed, direct from the sea. If livestock industry demand proves to be as high as some people anticipate, all the current projects combined will deliver only a fraction of what the cattle industry requires.
The new land-based seaweed 'farming' project under controlled conditions near Port Broughton is being driven by businessman Jim Thiselton, who spent 15 years running a freshwater aquaculture project growing marron and yabbies on Kangaroo Island, and a further 19 years as a professional diver.
His project is seeking to raise $6 million to complete the set-up phase for production. It is anticipated that a further earthworks investment of $10.5 million will be needed over time to complete the project.
First harvests are expected within a few months of 'seeding' the first ponds. Projections suggest the business would make a small trading profit by the end of year two, with significant profit by year four as the pondage area expands.
The project has done its forecasts on a conservative annual production estimate of 10 tonnes of asparagopis per hectare. Some independent research is suggesting annual production volumes may double that figure. When conditions are ideal, growth rates of the seaweed are described by researchers as 'prolific.'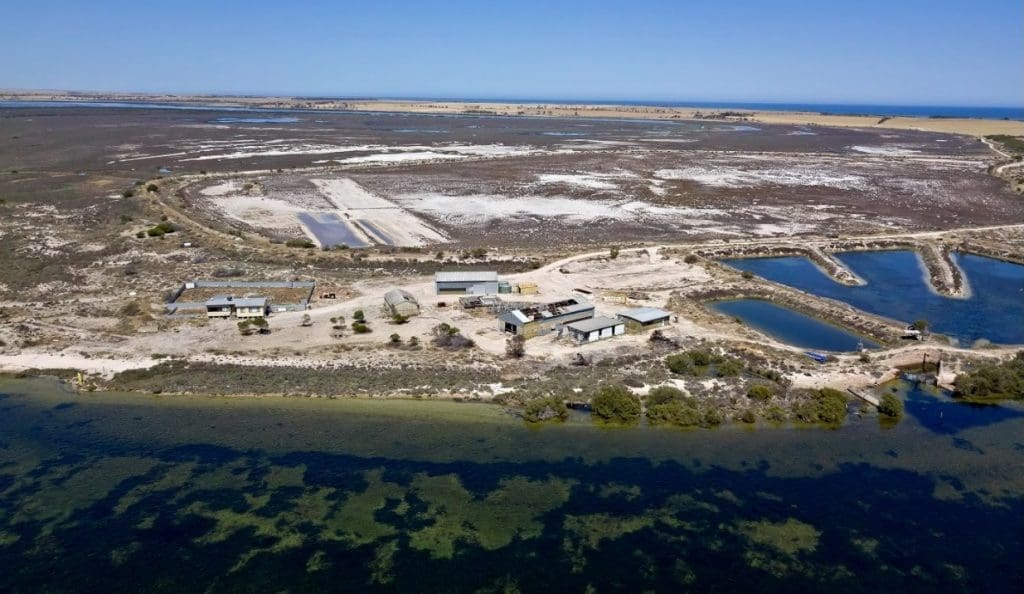 The Port Broughton farming project would sell its offtake to the CH4 Global business, which holds marketing rights to the seaweed product. Discussions are also being held with CH4 about the establishment of a joint processing facility for drying, preparation and packaging of the raw material.
The Port Broughton project would look at producing both 'seedstock' from a seaweed nursery for sale to other asparagopsis growers to establish beds in the ocean, as well as producing commercial volumes of the seaweed from ponds for commercial sale as a stockfeed additive.
The location is said to have an ideal climate to produce both naturally-occurring local varieties of asparagopsis (Taxiforma and Amarda), and in fact some of the red seaweed is already naturally present in the abandoned prawn farm ponds.
The two varieties are complementary, with Taxiforma growing mostly in the warmer months and Amarda performing better during the winter.
CSIRO scientists earlier estimated that if the feed additive were to be adopted by just 10 percent of beef feedlots and dairy industries globally, it could reduce livestock industry greenhouse gas emissions by about 120 megatonnes per year, equivalent to taking around 50 million cars off the road.
The Port Broughton project is working closely with the South Australian Department of Trade and Investment, South Australian Research and Development Institute and Primary Industries Regions SA.
People wishing to discuss the investment proposal with Jim Thiselton should send an email to feedback@beefcentral.com, and we will pass them on.