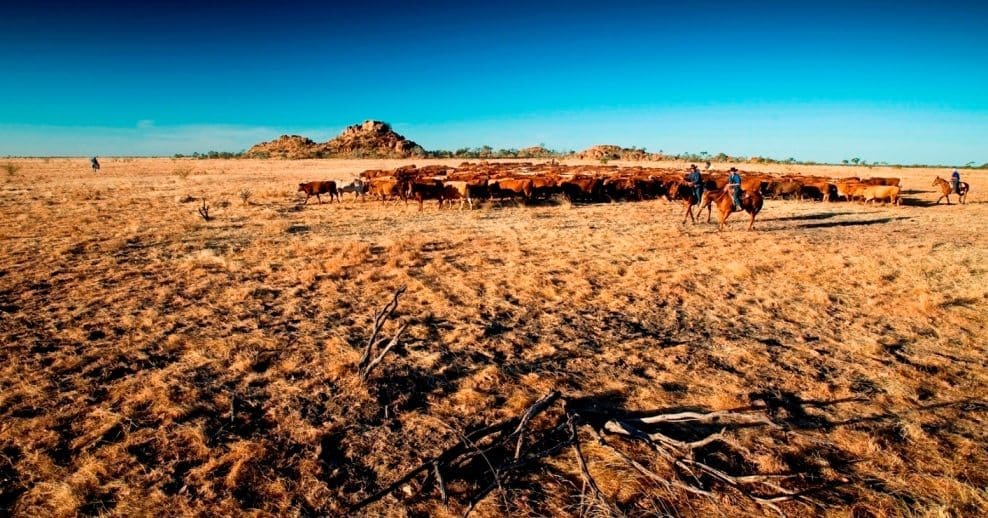 STATISTICS contained in the federal government's latest Foreign Ownership of Agricultural Land Register released last week are leading to some distorted views about offshore investment trends in Australian agriculture.
As reported yesterday, an annual update of the Foreign Ownership of Agricultural Land Register was released on Friday, suggesting that at 30 June, offshore investors held 13.6 percent of all Australian agricultural land, down from an adjusted 14.1pc at the same time a year earlier.
The latest review covers a two-year period ending June 30 this year. The details of individual investors and their investments are not disclosed, but figures are broken down by country of origin, region and land-use. Click here to access the full report.
According to the register, the United Kingdom remains Australia's largest foreign investor in agricultural land, holding around 27pc of the total held by foreign investors (or 2.6pc of total Australian agricultural land). That amounted to 16.45 million hectares.
Chinese investors owned around 25pc of all foreign-held land, and 2.5pc of total Australian agricultural land, totalling around 14.4m ha. That's a dramatic rise in the figures reported the year before. Next largest was the Netherlands (4.7m ha) and the US (2.7m ha).
But it's evident that just a handful of very large property/company deals in the past 12 months explain the biggest 'trends' reported in the annual survey.
Decline in interest from UK investors?
One obvious example is the apparent 'decline in interest' from UK investors, which city media has reported this week as 'plunging' from 52pc to 33pc of all foreign-owned Australian farmland in the past year.
But far from being a 'trend' among UK investors generally, almost all of that decline can be accounted-for in just one asset ownership change.
The North Australian Pastoral Co in May last year sold an 80pc stake in the business to Australian fund manager, QIC. Previously, UK-based members of the extended Foster family owned a sufficient minority shareholding in 160-year old NAPCo, to 'qualify' on the foreign ownership register.
But last year's partial sale to QIC pushed the remaining offshore Foster family members' stake well below the register's 20pc threshold, wiping-out about six million hectares of 'foreign owned' land from the register in one hit.
That hardly constitutes 'declining interest' among UK investors, generally, and serves to demonstrate how such statistics can easily be mis-interpreted. There has been no mass-exodus of UK investors in Australian agriculture – just the vestiges of a 140-year old multi-generational family investment in a pastoral company being dispersed to a new shareholder.
UK billionaire Joe Lewis's supposed 40pc stake in the Australian Agricultural Co, and Terra Firma's outright ownership of Consolidated Pastoral Co account for the lion's share of UK-based investment.
Dramatic rise in Chinese investor interest?
Another startling outcome in Friday's report was an apparent dramatic rise in Chinese investment.
The raw figures suggest the area of land apportioned to Chinese foreign ownership has gone from 1.46m ha in 2015-16 to 14.42m ha this year – a ten-fold increase.
City newspapers conjured up visions of hoards of Chinese investors descending on the Australian cattle industry, in what they described as a 'farmland grab.'
In reality, the past 12 months has been remarkably quiet for Chinese investment in the beef industry, in comparison with the previous two-year period. In fact, the latest statistics are skewed by just a handful of very large transactions, and mostly minority shareholdings at that.
Most notable among those was the S. Kidman & Co sale of some 7.8 million hectares of grazing land to a consortium led by Gina Rinehart (67pc share) and her Chinese partner, Shanghai CRED (33pc).
That single business deal explains the biggest proportion of the apparent 'leap' in Chinese investment.
In fact the number of Chinese purchases of Australian extensive grazing land has slowed to a trickle over the past 12 months. One of two other notable sales to Chinese interests last year was Consolidated Pastoral Co's $100m sale of Carlton Hill, in WA's far northeast. That deal was primarily about a relatively small area of irrigated farmland next to the adjacent Ord River dam, with CPC negotiating a lengthy leaseback on the majority of the surrounding 476,000ha of grazing land.
The other was the sale of Harold Mitchell's Yougawalla Kimberley cattle assets in May, totalling about 850,000ha of rough breeding country to a wealthy Chinese businessman for a reported $75m.
Has US investor interest in Australia really waned?         
Similarly, the land area apportioned to US investors in Friday's report apparently slumped from 7.7m ha to 2.7m ha in a year. But far from US investors "losing interest in Australian agriculture," as some metropolitan media have reported, this is primarily due to the ATO's continued investigations into true 'source country' ownership. In effect, assets previously allocated to 'US' owners have now been redistributed to other nations (principally China), as more becomes known about the nature and origin of company shareholdings.
Key to some of the distortions in the report is the definitions of 'owners' and 'ownership' it uses.
Many of the 'foreign owners' in fact hold only minority shareholdings in Australian agricultural assets. The definitions used in the report is an investment interest of at least 20pc, in the case of corporations and governments, and 40pc for individuals or aggregations of investors. Thus Shanghai CRED's 33pc minority stake it acquired in S. Kidman & Co, alongside Gina Rinehart's 67pc, attributes Kidman's entire 7.8 million hectare land area to a 'foreign owner.'
One of the new features in this year's report, however, is an attempt to apportion a percentage of foreign ownership, based on the size of the investment from foreign owners in each asset. What that means is that a foreign entity with a 30pc stake in a company controlling a pastoral asset of one million hectares, for example, is allocated a figure of 300,000ha.
On that basis, the report concludes that of the 50.5m ha of agricultural land identified with some foreign interest, 36.5m ha (71pc), could be attributed directly to foreign owners.
NT tops list for heavy overseas investment
Not surprisingly, given the extent of corporate/publicly-listed cattle land ownership in the region, the Northern Territory is identified as carrying the greatest level of 'foreign ownership', on mainland Australia. Next highest is the remote northern regions of WA, followed by the remote parts of western Qld, and South Australia (see map).
In WA, foreign ownership has 'leapt' to 16.7pc of foreign owned farmland, representing a figure of 12.8m ha. But just one single property – the 9.5m ha Ruby Plains, sold as part of the Kidman portfolio to the Gina Rinehart/Shanghai CRED syndicate, accounts for 74pc of that state figure.
The 'outlier' region is Tasmania's northwest, where more than 30pc of agricultural land apparently rests in foreign hands. But again, a relatively small number of transactions are responsible, principally Chinese billionaire Lu Xianfeng, who bought the extensive Van Dieman's Land dairy holdings last year for $280m. He is said to be struggling to pay his bills.
There have been decreases in the past 12 months in foreign held land in South Australia (back 33pc or 2.3m ha), Queensland (11pc decrease, 1.9m ha) and the Northern Territory (10pc decrease, back 1.5m ha). The Queensland and NT declines are due largely to the removal of NAPCo's property assets from the list, including the massive Alexandria and Mittiebah aggregation, 1.6m ha and 700,000ha respectively, in the NT.
In other information gleaned from Friday's report, livestock is the dominant land use on an area basis, accounting for more than 90pc of foreign owned ag land. Cropping was second at about 2pc, followed by forestry and unknown.
Friday's report is the second annual release of the Foreign Ownership of Agricultural Land Register since it was introduced in 2015 as part of a suite of reforms introduced by the Federal Government as part of a 2013 election commitment aimed at increasing transparency around the levels of foreign investment in Australian land.
QLD releases its own foreign land ownership survey
Whether by coincidence or design, Queensland also on Friday released its 2016-17 Foreign Ownership of Land Register, suggesting that 6.1 percent of the state's land (all land, not just agricultural) is foreign-owned.
Queensland is the only Australian state or territory that produces its own foreign land ownership report, having done so a decade or more before the Federal Government started its own survey two years ago.
The top three nations with a stake in Queensland were Britain (2.2pc, measured by land area), the Netherlands (1.09pc) and China (0.94pc). Again, this aligns closely with what is known about shareholdings (in some cases minority) in some of Australia's largest pastoral companies.
Those percentages amounted to 2.21m ha by British owners (pri, 1.89m ha for the Dutch and 1.63m ha for Chinese owners. In total, some 10.58m ha of Queensland land was deemed to be 'owned' by foreign interests as at June 30, although similar definitions of 'ownership' apply as in the federal register.
The overall foreign ownership figure in Queensland was up from 9.47m ha the previous year.
The Queensland figures do not specify whether the land is for agricultural use or other purposes, but regions and land area give some indication.
There were 140 countries of origin in total recorded in the Queensland register as at June 30. The overwhelming majority, by value, held residential property in the state's southeast corner.
Titles Registry records indicated foreign interests invested more than $4.28 billion in Queensland property during 2016-17, an increase of $400m or 8pc from the previous year.
The biggest spend by foreigners was in the Brisbane local government area in the past financial year (more than $2 billion), followed by the Gold Coast (more than $1b) and then Logan, south of Brisbane (more than $200m).
The largest total landholdings, by area, held by foreign interests were in the Bulloo, Barcoo and Diamantina local government areas (all western Qld, aligning with major pastoral company finishing properties) and Mareeba in the state's far north.