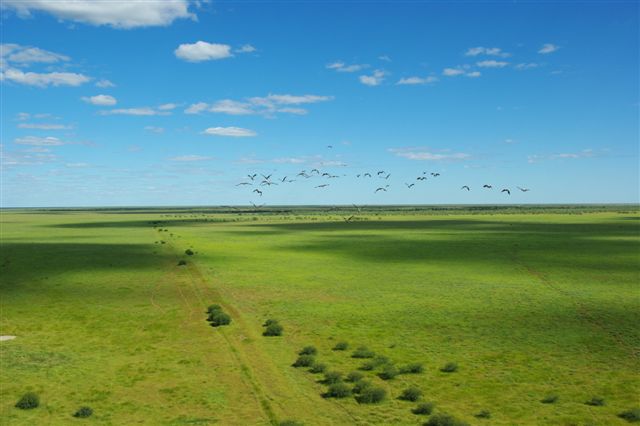 TWO showcase grazing properties in the Northern Territory that have been the subject of heavy investment to lift carrying capacity have been placed on the market, with price expectations of around $230 million.
Totalling about 1.32 million hectares on the Barkly Tableland east of Daly Waters, Walhallow and Amungee Mungee have a current carrying capacity of about 130,000 adult equivalents in normal seasons.
Both properties have been subjected to intensive development over the past seven years, focused on the provision of additional watering points and subdivisional fencing aimed to expand carrying capacity by spreading grazing pressure more evenly across the country.
The two properties are regarded as some of the best improved and performing beef cattle assets of their type in the industry, on a very large scale. The key objective was to reduce grazing radius down to about 2km, with Amungee set out in grid form in 1600ha (4000ac) blocks.
The partners in Walhallow Pastoral Co and Amungee Pastoral Co have made the decision to sell has been made following a strategic review of the partnerships' cattle operations late last year.
An Investment Overview document was sent to potential interested parties in late May. Interested parties were then asked to register their interest and sign a Confidentiality Agreement, following which they were issued with an Information Memorandum providing full details of the sale properties.
The two properties being offered for sale, on a walk-in-walk-out basis, are:
Walhallow, including Creswell Downs, covers just over one million hectares, on the northern end of the Barkly Tableland, being offered with about 53,000 head of Brahman cattle plus this year's calves/weaners. This aggregation has a carrying capacity of 95,000 AE; and
Amungee Mungee, 317,000ha in the Daly Waters region, which is currently running 24,000 Brahman cattle plus this year's calves/weaners. In normal seasons the property has a carrying capacity of 35,000 AE.
Ben Cameron & Brendan Goulding of Bentleys International Advisory have been appointed to advise the partners through this expression of interest sale process.
Mr Cameron said a sale process involving non-binding expressions of interest would seek indicative bids by 13 July. From there, the partners will choose a shortlist of potential purchasers to progress to the due diligence phase of the process.
"Weather permitting we expect to seek final binding bids in late September 2021," Mr Cameron said.
He said the partners, Brett Blundy and Adrian and Emma Brown were taking advantage of the strong investment demand for beef cattle assets.  Historically these properties have been operated as separate cattle businesses, independent of each other.
The holdings feature about 670 watering points and 2600km of fencing infrastructure provides the ability to control grazing and manage cattle efficiently. There was scope to make further infrastructure improvements to lift carrying capacity an information dossier said.
Brett Blundy's private investment firm, BBRC, bought Cresswell from Macquarie's Paraway Pastoral Co in 2015 for a then Australian record (for a single cattle station) of about $100 million, including 48,000 head of cattle. He bought Amungee Mungee a year earlier for about $6.5 million.
Mr Blundy's remaining NT pastoral asset is 7,100sq km Beetaloo, to the south of Amungee Mungee, near Dunmara.
It is understood Walhallow is valued at more than $160 million as a going concern, while Amungee is valued at more than $65 million on the same basis.
A number of Australian and overseas interests already active in Australia  have already registered interest in the assets, Beef Central was told. International travel restrictions will make it virtually impossible for overseas based interests to inspect the properties for purchase.