WHILE delivering methane-inhibiting supplements to feedlot cattle is relatively straightforward, given the controlled feeding environment, the beef industry has already identified that dosing such supplements to paddock cattle in extensive grazing conditions presents greater challenges.
A new research project in Central Queensland is examining methane-reducing compounds and how they can be effectively distributed to grazing cattle using water medication systems.
Central Queensland University's Dr Diogo Costa recently received a $240,000 grant to evaluate dietary supplements that reduce methane emissions, using technology to efficiently add these compounds into livestock water supply. New funding for the project came from the 2021 Advance Queensland Industry Research Fellowship awards announced last week.
Dr Costa, a senior research officer with Central Queensland University's Precision Livestock Management team, is working with agtech company Direct Injection Technologies, which manufactures water medication systems that can be monitored and controlled remotely, in the trials.
Rockhampton-based Dr Costa said one of the massive challenges of supplementing grazing cattle in Australia was the sheer size of many properties.
"I come from Brazil where the conditions allow much higher stocking rates and closer management of cattle, through lower labour costs," he said.
"Here, if it was not for technologies like that being used in this trial, it would not be physically possible to delivery supplements in many cases."
Methane emissions from livestock accounted for about 70 percent of greenhouse gas emissions in Australia's agricultural sector and 11pc of total national GHG emissions.
Using technology to deliver practical solutions for producers and industry to major challenges like emissions reduction is one of the primary focuses for CQ University's Precision Livestock Management team.
Dr Costa's intention is to look at a range of supplements that can be added to livestock water supplies, that have potential to reduce enteric methane production, which is the primary way by which livestock emit methane.
There was already a massive body of work available on compounds that will reduce methane in cattle, so the new project did not want to 're-invent the wheel,' Dr Costa said.
The preliminary stages of the project will include emerging methane-reducing compounds like asparagopsis seaweed and its active compounds including bromoform; and 3-NOP, an organic compound which inhibits an enzyme that contributes to the production of methane in ruminant digestive systems, found in the commercial feed additive product Bovaer.
Other compounds of interest in the search for potential methane reduction included ionophores, lipids, nitrates, algaes, tannins and essential oils. Some had already proven to be effective in improving feed efficiency, and in some cases methane emissions – either directly or indirectly.
"We don't want to discount anything from the candidate equation, at this point," Dr Costa said
"We certainly will look at asparagopsis and 3-NOP, because they are the gold standard for methane reduction at present, but there are issues with solubility with both," he said.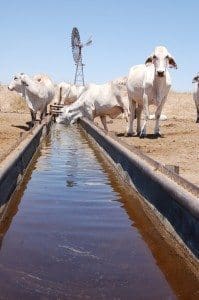 Finding water-soluble sources of suitable compounds would be an important part of the research.
"Whichever compounds we end up using for methane reduction, will have to be both soluble and stable, in order to be distributed through water medication," he said.
"It might be that the best solution is not a single compound to inhibit methane, but multiple ingredients."
"If we can get those emissions down, that will go a long way to helping Australia meet its 2050 net zero emissions target."
Dr Costa said the two-year project would unfold over four stages:
The first will start with laboratory trials at CQU in Rockhampton, looking at various candidate compounds for solubility and stability.
Stage two will involve highly-controlled pen feeding trials, monitoring the animals' health status for potential toxicity, using blood samples and rumen fluid samples, and looking at the effect on rumen microbes
The third stage will involve small paddock trials at Belmont Research Station exposed to water medication, with individual control and close monitoring of the animals involved in the experiment.
The fourth and final phase would be large-scale commercial paddock trials at one or more sites grazing sites across northern Australia.