THE move towards production of commercial quantities of the methane-reducing asparagopsis seaweed is making rapid progress, a Brisbane beef industry audience was told last week.
Speaking at the Australian Meat Industry Council's Innovation Muster, Eve Faulkner from seaweed project commercial developer FutureFeed told the audience that the venture was now in its commercial application phase, focusing on commercial-scale production of the seaweed for use in the broader beef industry.
"The next stage of the project is that we need the seaweed in volume," Ms Faulkner said.
"It is a seaweed that occurs naturally along the coast of Australia and New Zealand (there are tropical and temperate forms, assisting year round production cycles) but it has never been cultivated before.
"But there are people (licensees and collaborators) in Australia and overseas now making great progress in the challenge of producing commercial quantities of the seaweed, for use in livestock industries."
The Australian Sustainable Seaweed Alliance had suggested that the Australian seaweed industry could be worth around $100 million by 2025, and grow to $1 billion in annual value over the next 20 years, she said.
As part of that, FutureFeed is working with regulators in the development of certification standards, designed to give consumers the confidence that the steak they see on their plate lives up to the scientific rigour and any low methane claims that are being made.
"As part of that, that will feed into carbon accounting. Minister Taylor announced last week that feed supplements have been short-listed for R&D for the next 12 months, to go towards carbon credit programs," Ms Faulkner said.
"We are really excited about that, and our traceability platform that sits behind what FutureFeeds does will feed into those calculations."
Paddock applications
Ms Faulkner said the safety and efficacy of asparagopsis had now been proven in research, 'time and time again', and part of the challenge from here was coming up with a solution for open paddock grazing applications, as well as feedlots and intensive feeding where intake could be more easily controlled.
"We're really confident that given the foundational science that exists, we'll be able to get something out to the grazing industry pretty quickly," she said.
"It's not just a matter of how the ingredient is delivered to cattle in paddock situations, but how to accurately account for the methane reduction that occurs in those open grazing environments, given that there are fewer control factors than in a feedlot."
"We need all of them"
One of the participants in recent FutureFeed initial asparagopsis feedlot trials was Queensland grainfed beef supply chain Australian Country Choice.
ACC's Paul Gibson told the AMIC gathering that as the industry drove towards the carbon neutral by 2030 objective, methods needed to be found, quickly, to support that.
"This is one of them – an important one – but there are many others at different stages through the industry. We will need all of them, in my opinion, over the next nine years (to 2030) because we should not be an industry reliant on carbon credits to lower our footprint. We need to be able to build those carbon credits through production systems, as opposed to buying them," Mr Gibson said.
FutureFeed recently hosted an online participatory culinary event hosted by celebrity chef Matt Moran, where a small group of stakeholders got to prepare, cook and sample the first sirloin steaks produced in Australia carrying low-methane credentials (click here to view earlier article).
Sea Forest project making great strides in commercial production
One of FutureFeed's collaborators in the large-scale commercial production of asparagopsis is Tasmania-based Sea Forest.
FutureFeed holds the patent for using asparagopsis seaweed for methane abatement and will receive royalties from Sea Forest for the commercial sale of its products.
Sea Forest has this week received Federal Government co-investment of $675,000 to be used towards further development and manufacture the company's novel method for cultivating growing, harvesting and processing asparagopsis to reduce methane emissions.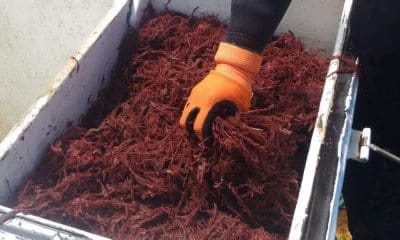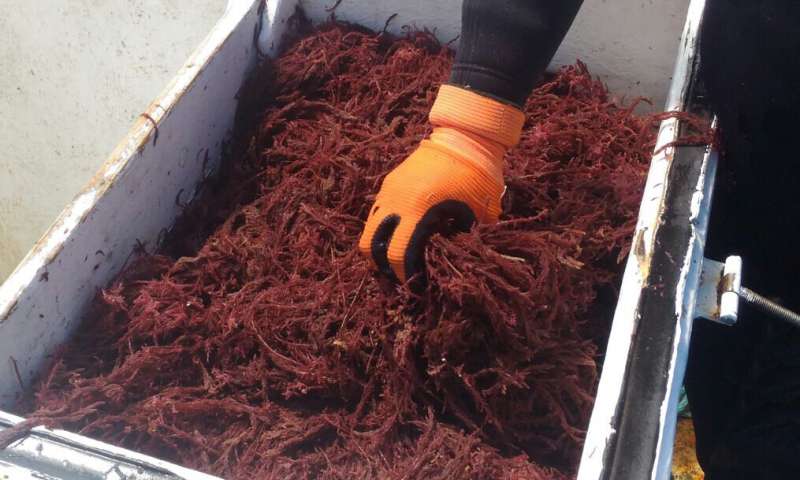 The funding follows a recent capital-raising by Sea Forest to expand its marine farming, harvesting and processing operations at its 1800ha sea lease at Triabunna, north of Hobart.
The company's operations feature a hatchery with a marine lease growing asparagopsis and a processing plant that converts the seaweed into dried products.
Sea Forest chief executive Sam Elsom said the company was making good progress with cultivation methods for its seaweed feed supplements.
Speaking during a sustainability webinar held today by the Australian Lot Feeders Association, Mr Elsom said from its stage-one farm Sea Forest planned to produce 7000 tonnes a year of seaweed for livestock – enough to feed around 150,000 head of cattle.
"This will go a long way, initially cutting carbon emissions from livestock by about 400,000t per year," he said.
The company has also leased a further 3500ha of adjacent 'marine space' for further development.
Asparagopsis was a 'zero input crop', he said, not reliant on nutrients, fresh water or pesticides. The plants can grow up to 30 times faster than land-based plants, and in doing so, captures carbon.
"But as we have found out, seaweed requires an extraordinary amount of science to cultivate," Mr Elsom said. "The plant contains complex chemistry, with the compounds that deliver methane emissions are held in gland cells within the plant. So far as we know, this is the only seaweed in the world that has this cell structure."
In 2018, Sea Forest began unpacking the complex science driving large-scale commercial cultivation of asparagopsis, in its Tasmanian location where the seaweed is annually abundant.
After 18 months of R&D, Sea Forest now says it is the first in the world to develop both land and marine-based methods for cultivation – and is currently the only commercial supplier of asparagopsis in the world.
"Our goal has always been to work with industry to develop forms and formulas which fit into on-farm infrastructure, and create as little disruption as possible to 'business as usual'," Mr Elsom said.
The world's first industry trials with livestock started in July 2020, at Kingston Merino farm in Tasmania, with sheep fed a ration containing asparagopsis for more than a year to measure impact on fibre quality and wool production.
Premium woollen suiting brand MJ Bale forward-purchased the clip, and is now creating zero-net emissions suits for sale from February next year. Kingston is expanding its trial to 500 head of sheep later this month.
"This is an exciting milestone for Sea Forest. It's the first time a livestock product has been available to consumers from asparagopsis-fed stock," he said.
Large scale beef feedlot trials will take place later this year, with some of Australia's largest pastoral companies.
"Currently the supplement is only evidenced to be efficacious in intensive feedlot and dairy applications. But this coming year, we will participate in trials to support the delivery of asparagopsis to livestock grazing paddocks," Mr Elsom said.
"We are absolutely committed to developing the scaled supply of asparagopsis to Australian livestock producers," he said.
"But the question always comes back to, How much will be available?"
"While Sea Forest is a start-up, we're making enormous progress with assets that have the potential to deliver seaweed supplements to 80 percent of Australia's feedlot population – abating more than one million tonnes of CO2 equivalent.
"But we can't do it alone. The company has patented its science and engineering behind the cultivation and processing of the seaweed, and we hope to facilitate further supply through the licensing of our technology."
Mr Elsom said the key takeaway was that this is an opportunity for Australia, to get ahead of the rest of the world. While other species are harvested overseas, the two asparagopsis species lived only in Australian and NZ waters.
"Herein lies opportuinity," he said.
Questions of cost to feed often came up in conversations with livestock stakeholders, he said.
"The long view on price is around $1/head/day, with the value to farmers coming from three areas: increased productivity, a price premium through differentiation for a low-methane or carbon-neutral product, and in time, returns from carbon credits," he said.
Curious Canadian cattle farmer
The now well-known back-story behind the discovery of the value of asparagopsis seaweed in mitigating methane in ruminants is that a curious Canadian cattle producer noticed that his cattle grazing along a seaside foreshore grew faster, produced more milk and had better reproductive performance that the rest of his herd.
He asked a scientist colleague, Dr Rob Kinley, to look into what was going on. That local form of seaweed was found to reduce methane emissions in cattle by 20pc, leading Dr Kinley on a journey of discovery, looking for other, even more effective species.
He joined CSIRO in Australia, working with James Cook University and MLA, testing more than 30 types of Australian seaweed. When they tested asparagopsis, the result was so dramatic, the researches thought they had a testing error. Three repeat trials proved that they were on to a 'game changer.'
"When fed to cattle as part of a mixed ration, at very small quantities, the seaweed has an overwhelming ability to reduce methane emissions," FutureFeed's Eve Faulkner said.
In laboratory tests, the results were around 98pc methane reduction. In feedlot applications, only five grams (or around 0.5pc of a kilogram of mixed ration/day), wasl required to consistently lower emissions by more than 80pc.
Studies have also shown positive indicators on productivity, including weightgain and feed conversion efficiency. Early feedlot trials have been 'really positive' for those parameters, with bigger trials to come, Ms Faulkner said. Stand by for results from those trials, carried out at Australian Country Choice, in coming months.
"One of the best things about it is that it is found in nature – it's not a manufactured compound but just a seaweed," she said said.
"One of the aspects that the most recent trial showed was that beef produced using a ration containing asparagopsis is completely safe for human consumption, in terms of any potential danger from residues from the seaweed in the meat or offal."