HISTORY was made last night when Australian consumers for the first time sampled beef carrying clear production claims around reduced methane, delivered through the use of the red asparogopsis seaweed additive.
A group of about 25 industry stakeholders across the country joined in an online culinary session hosted and led by celebrity chef Matt Moran, cooking and preparing striploin steaks taken from cattle involved in the first commercial feedlot trial using the asparagopsis additive in rations.
A group of 64 domestic trade weight cattle were fed for 77-days on a diet including 0.5pc asparagopsis under the recent trial at the University of New England's Tullimba research feedlot. The cattle were processed under normal conditions by Australian Country Choice at its Cannon Hill facility in Brisbane, with striploin steaks harvested from the program cooked and served by participants, including Beef Central's Jon Condon, last night.
FutureFeed, the company driving the commercialisation of the asparagopsis seaweed livestock feed additive hosted the event showcasing the 'superstar' seaweed, together with trial collaborators the University of New England, Australian Country Choice and Woolworths.
FutureFeed is the global Intellectual Property holder for asparagopsis – a seaweed that naturally prevents the formation of methane by inhibiting a specific enzyme in the gut of livestock during digestion. It has been proven to lower methane emissions by more than 80 percent.
Trial cattle were measured for methane emissions, feed intake and efficiency, and meat analysis.
Significant milestone, moving from 'science' to 'commercialisation'
FutureFeed chief executive Dr Regan Crooks said the trial and the steaks sampled during last night's novel online culinary event, marked a significant moment in the quest to lower-methane meat, with the solution now ready for the grainfed beef market.
"It's incredible to see the transition of a solution from science to a commercial reality and I think that's something worth celebrating this National Science Week," she said.
The steaks featured last night represented the launch of the technology for the feedlot industry.
"We are now anticipating many more steaks on plates in Australia and around the world that are certified by FutureFeed," Dr Crooks said.
"Climate change is happening now, and the IPCC reported last week that methane emissions in the atmosphere are at their highest levels in hundreds of thousands of years. We expect this will lead to increasing pressure on our sector, and it is timely that we are able to provide a solution that has now been proven, in a commercial setting, to significantly reduce methane."
"The science supports the safety and efficacy of the product, and we now look to the seaweed growers making incredible progress locally and globally for what we anticipate being rapidly increasing supply," Dr Crooks said.
FutureFeed's chief scientist, Dr Rob Kinley, said the commercial trial at University of New England's Tullimba Smart Farms was significant, as it showed the transition from science into commercial setting.
Customers' sustainability focus
Woolworths is an investor in FutureFeed, and collaborated in the commercial trial. Managing drector of Woolworths' Greenstock red meat business, Anna Speer, said customers were increasingly looking to supermarkets and industry to help them live and shop more sustainably.
"Woolworths is backing FutureFeed to help Australia's beef producers continue to deliver some of the world's best beef, with a lower emissions profile," Ms Speer said.
"We want to play our part in helping agriculture harness innovation for a low carbon future, and we're hopeful this trial marks an important step in the future of beef production."
Australian Country Choice chief executive Anthony Lee said his company was proud to be part of the trial and was encouraged to see the technology applied in a commercial setting.
"We love the idea of FutureFeed's asparagopsis solution. It's a natural ingredient that can be incorporated in daily mixed rations. The beauty is in the simplicity – people want what they eat to be natural, and this is. It's also backed by strong science that gives confidence that it's safe to use and it works," Mr Lee said.
"The reason the red meat industry is ahead of others in reductions is because of our commitment to innovate and be proactive."
Beef brand claims to be backed by trademark
Dr Crooks said the emission reductions achieved using asparagopsis had the potential to be incorporated into commercial beef brand claims.
"We anticipate there being a number of ways producers can monetise the benefits of using asparagopsis – through the open carbon market, the sovereign carbon market or through a premium product claim for consumers."
She said FutureFeed was developing a Certified Trade Mark and standards that would underpin it, to give the value chain and consumers confidence that what they were buying meets the standards the science behind the commanded.
"We're also developing a digital traceability platform enabled by blockchain technology to allow certified operators to calculate their reductions based on asparagopsis use," Dr Crooks said.
"The red meat industry in Australia is a world leader in emissions reduction having halved its contribution since 2005 and with reductions in GHG emissions larger than any other industry in Australia. We are excited for the role asparagopsis will play in the next leap to achieve carbon neutrality by 2030."
And the participants' response to the flavour, juiciness and texture of last night's launch steaks? "Perfect," "Amazing," "Steaks so good they would turn a vegetarian into a carnivore," "brilliant," were just some of the home cooks' reactions (see an example of the home cooks' work below).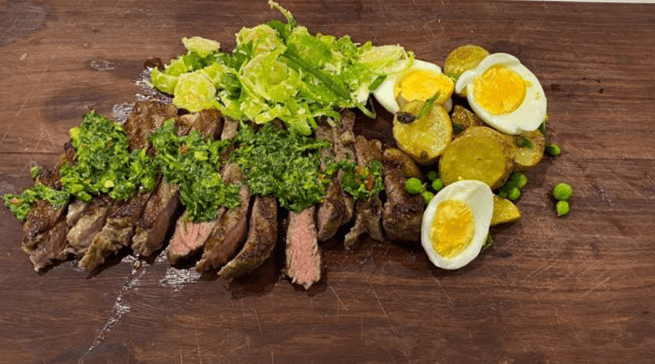 About FutureFeed:
The special properties of seaweed as a feed ingredient came of interest after a Canadian dairy farmer noticed cattle in his paddock near the sea-shore were more productive than his other cattle. He discovered the cattle produced more milk, were healthier and easier to manage and then provided it to the rest of his cattle. He reached out to his friend and scientist Dr Rob Kinley, to explore why he was seeing what he was. During initial testing, it was discovered that greenhouse gas emissions were 18pc lower from the cattle that were eating the seaweed mix. Excited by this finding, a global search for seaweed with even more methane busting potency began. Dr Kinley joined the NQ beef research team at CSIRO to work with James Cook University macro-algae scientists on an MLA program in a quest to find a natural algae based feed ingredient to reduce methane. From this, the FutureFeed company was born out of an IP partnership between CSIRO, Meat & Livestock Australia, and James Cook University.
FutureFeed Pty Ltd was established by CSIRO with investment support from Woolworths, GrainCorp, Harvest Road and AGP Sustainable Real Assets/Sparklabs Cultiv8. The company holds the global IP rights to technology developed by CSIRO, MLA and JCU. It delivers supply chain access to its seaweed producers through license agreements.