ONE of the worst drought episodes in history across large parts of Eastern Australia has had little real impact on Meat Standards Australia beef carcase compliance over the past financial year.
Statistics for MSA operations for 2013-14 show that Australia-wide MSA grading compliance for the 12 months reached 92.6 percent of eligible carcases presented, a decline of only 1pc on the previous financial year.
The strong result came despite significant growth in grading numbers (+24pc on operations in 2012-13 – see yesterday's article, click here), and the fact that almost 6000 'new' MSA-eligible suppliers took part in the program last year.
History shows that producers 'get better' at meeting MSA grading targets, the longer they are in the program, based on accumulated knowledge.
The good compliance outcome last year might be partially explained by heavier reliance on grain-finishing systems (many Queensland and northern NSW feedlots have operated at, or near capacity for much of the past 12 months), but closer scrutiny of the grassfed MSA component does not suggest it has significantly declined in performance.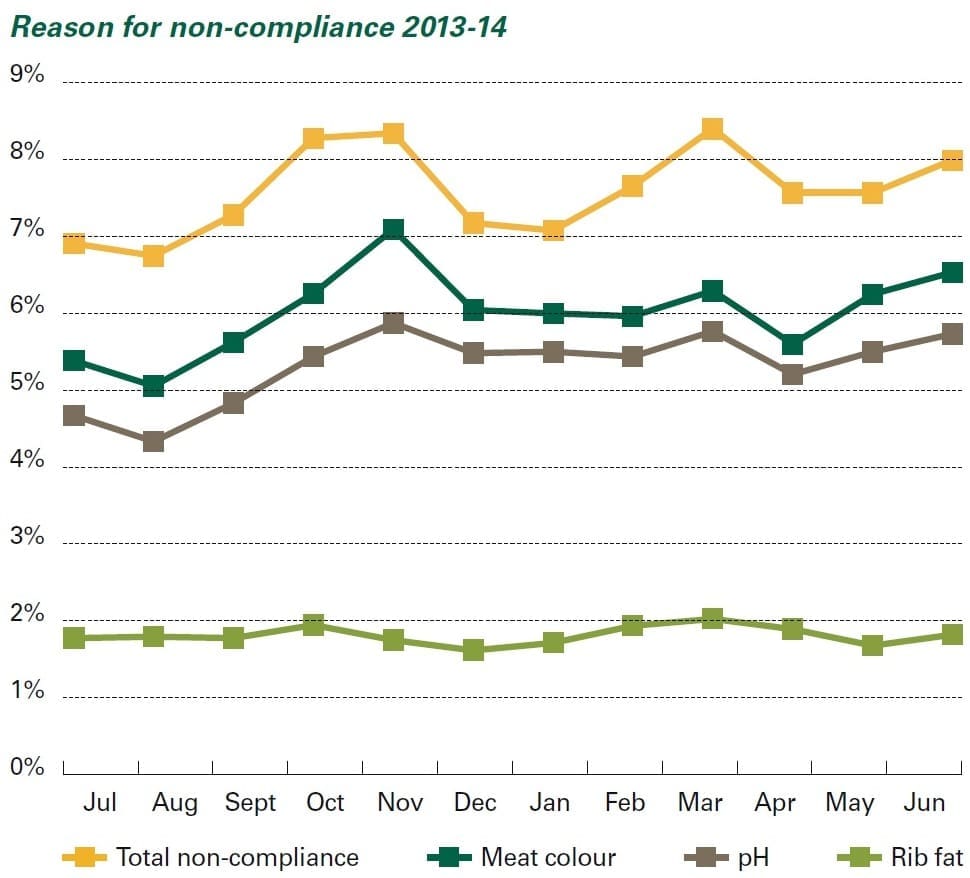 Once again, there were clear seasonal patterns evident in monthly compliance rates plotted in the chart, published here, based on seasonality of different regions in Australia, as evidenced in this graph. Non-compliance was greatest during October and November 2013 and March this year, reaching levels above 8pc.
As has been seen in previous years, meat colour was again the biggest factor in non-compliance, accounting for 5-7pc of outliers, depending on the time of year.
pH was next, impacting about 4.5 to 6pc of carcases presented during the yearly cycle, reaching a high-point in October/November, while insufficient rib fatness rained fairly constant, at slightly less than 2pc of rejects.  MSA has a minimum requirement of 3mm rib fat, and the non-compliance was slightly elevated in all months during 2013-14 compared to the previous year. That's understandable, given the drought effect on grass-finished cattle.
Of all carcases graded last financial year against MSA standards:
0.92pc had less than 3mm rib fat
4.85pc had pH levels exceeding 5.7, and
5.63 exceeded the meat colour specification of 1b – 3.
In addition to MSA specifications, some MSA processors and brand managers impose their own additional specifications based on their market requirements. Throughout 2013-14, an additional 7pc of MSA graded cattle did not meet company-imposed specifications.
It's worth noting, however, that carcases can be recorded as not meeting specifications for multiple attributes – i.e. pH and meat colour simultaneously.
MLA's general manager for livestock productivity, Alex Ball said it was a testament to the ability of producers to manage cattle through difficult times that MSA performance had remained so strong.
"Given the sheer rise in MSA grading throughput last financial year, reaching three million head for the first time, it meant that we were also potentially starting with cattle that would not have normally been graded for MSA – yet the non-compliance rates have been remarkably good for those 'first time' cattle entries," he said.
Dr Ball said if the drought was going to have an impact, it perhaps would have been seen in a lot more grassfed MSA cattle struggling to make the 3mm rib fat requirement, but that was not the case.
Also interesting reading is the seasonal trend evident in the new MSA index data. The information shows no significant change in the eating quality of cattle that could be attributed to the drought effect.
Dr Ball agreed that the strength of the grading compliance outcome could not be explained simply by a greater proportion of MSA cattle being fined on grain programs.
"We absolutely see better compliance in grainfed systems than grassfed, as we do every year, but in many cases, the grassfed MSA programs – particularly in southern states, but also as far north as Central Queensland – have not dropped off in quality or compliance rates this year. In fact the MSA index for grassfed versus grainfed cattle (see gallery image below) is almost exactly the same," he said.
Dr Ball agreed that pricing for MSA steer and heifer had held up remarkably well during the past 12 months of price declines due to oversupply, and this had perhaps motivated producers to work harder to maintain compliance.
"To be honest, high MSA compliance now is becoming the norm, rather than the exception, and many people are targeting those premiums very effectively," he said.
"As overall cattle supply now starts to tighten-up, we're starting to see even a little more interest in those MSA bids. That's a recognition in the market that eating quality underpins what we do both domestically and internationally."
Dr Ball said there were obviously the season 'blips' in compliance rates seen every year – in March/April in northern Australia and September in the south – where the seasonal shift in the glycogen content in cattle occurred. This could be quite significant in terms of performance changes.
For this reason MLA has a big southern beef compliance program underway, being headed up by Dr Peter McGilchrist, which is looking at strategies to address that reduction in performance.
"One of the areas being looked at is that normally though the year pH and meat colour compliance trends tend to track each other," Dr Ball said. "But during certain periods, the correlation drops off, and we are trying to determine the biological reasons why."
Dr McGilchrist was analysing data from 53,000 MSA cattle to try to establish exactly what is happening in that area, and the on-farm impacts.
Asked what the hypothesis was, Dr Ball said it appeared to be connected to meat colour development, which was not occurring at the same rate as pH changes that were occurring.
"Some of the influences may be on-farm nutritional and management issues, and others may be how we manage animals better through the processing cycle," he said.
The northern Australian March cycle was exactly the same, but in reverse.
"It's all to do with management of glycogen in cattle on-farm, and the fact that animals need to be in good, positive growth rates prior to slaughter," he said.
Mixing cattle prior to slaughter also had obvious deleterious impact, which might be part of the seasonal variation investigation.
"The simple message is avoid mixing and stressing cattle prior to that slaughter period," Dr Ball said.
Long distance transport challenge
The 2013-14 financial year MSA compliance data also includes the first full-year including animals delivered through the MSA long distance transport pathway.
"It does not appear to have had any significant impact on compliance rates of meat quality as measured through the MSA Index," Dr Ball said. "In fact a lot of the companies involved have commented about just how well those long distance cattle have handled things, and the results they have delivered," he said.
"You get producers doing the right thing on-farm, and it makes cattle just that little bit more bullet-proof in the MSA assessment process."
Some long distance cattle can travel 18 hours or more before slaughter.
"We are looking into that as part of our research, using postcode data, to try to determine how far some of these cattle have travelled, but it appears to be having very little impact on performance. We've not yet seen one example of a pastoral company saying this long-distance transport pathway is giving us lower rates of compliance."
Subtle shift in marbling, oss
In other MSA yearly data results, Dr Ball said there was evidence of a little more marbling, and lower ossification in the population of carcases.
"One of the findings is that cattle that have just that little bit more marbling, and that little bit more muscling, tend to have better compliance rates. Again, those cattle with better performance tend to be a little more bullet-proof."
Asked by Beef Central whether the subtle improvement being seen in oss and marbling could be attributed to decline in use of HGP, Dr Ball said while HGP definitely had an impact on development of both, it was important to remember that most cattle going through grainfed MSA programs were HGP-treated, and were producing excellent compliance rates.
"I don't think HGP is having an impact on MSA compliance rates at all. But it's true that within grassfed MSA cattle, there is an expanding sub-set of brands are now aligning with non-HGP use through 'Natural', 'PCAS' and other programs which do not use HGP. Such programs are definitely growing – there's examples like the Teys PCAS program, Bindaree's grassfed programs, Wingham's grassfed brands."
"All of those programs are just giving more confidence to the producer to chase those higher quality cattle."
Dr Ball said using the MSA Index, more producers were now starting to be aware of where their cattle sat, performance wise, against the broader population.
"We're also seeing brand managers putting out requirements around better quality cattle, in terms of carcase weight, fatness, marbling and oss, which is driving an improvement in quality right across the Australian beef herd."
Some brands were already adopting MSA index references in specifications, such as Wingham Beef Exports, Bindaree, Greenhams and others.
"I expect over the next 12-18 months we will see tightening requirements around some brands, and MSA really starting to underpin differentiation amongst brands, allowing them to be much more comprehensive in describing their value proposition to the consumer."
The beef industry's done such a great job of managing MSA performance during the drought, if we get a great season, that's when the fun's really going to start."