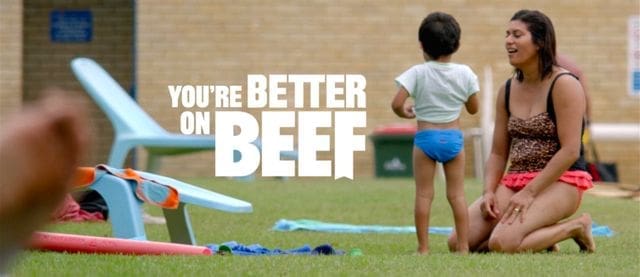 Results from the "You're Better on Beef" advertising campaign which debuted last year show that Australia's domestic beef marketing strategy is now back on track, Meat & Livestock Australia managing director Richard Norton told an audience of about 230 cattle producers in Toowoomba this week.
The campaign targets young mothers in particular and communicates how the nutritional benefits of beef make it easier for people with busy lives to overcome the challenges they face every day.
Mr Norton told an MSA forum in Toowoomba this week that the campaign was the result of a new strategy introduced by MLA and the cattle industry's marketing taskforce 12 months ago to stem a long-term decline in domestic beef consumption.
Red meat consumption has been declining in all western economies in recent decades for a range of reasons, including campaigns against beef consumption based on animal welfare, health and environmental issues, competition from less expensive proteins and a basic desire by consumers for greater variety in their diet.
This has also happened in Australia as our population has grown and diversified.
Adding to the challenge for beef marketers was the fact that consumers have also been asked to pay 40 percent more on average for Australian beef in the past year than in previous years. Marker research repeatedly confirms that consumers choose proteins firstly on price, then on health and convenience.
Mr Norton explained that when he first joined MLA almost two years ago, he noticed a clear discrepancy in satisfaction levels between sheepmeat producers and cattle producers in MLA's respective domestic lamb and beef marketing performance.
MLA's Australia Day lamb campaigns have consistently ranked among Australia's most effective and most awarded advertising campaigns.
By contrast, domestic beef marketing messages had shifted and changed and had failed to stem gradual declines in beef consumption among the target market of household purchasing-decision makers.
Cattle producers were benchmarking MLA's performance in domestic beef marketing against its performance in lamb marketing and were annoyed by the lack of relative success for beef.
"So we changed the marketing team," Mr Norton explained.
"The great thing about getting people out of Coca Cola is that you say to them at the start, 'if domestic beef sales continue to decline you don't have a job in 12 months', and they say that is the kind of target we're used to."
"Some of the results we are quite proud of and I think you should be proud of the domestic beef campaign and what it has achieved against a 40pc price increase (in domestic retail beef prices)."
The focus of the new beef marketing strategy was to reduce barriers to consumption by giving consumers "permission" to eat more beef. Consumers had been bombarded by negative messages telling them why shouldn't eat beef. The new campaign sought to explain to families the benefits of eating beef and how the 30 essential nutrients it contains can help people to overcome every day challenges.
The outcome was the "You're better on beef" campaign, centred around a mainstream television commercial with supporting social media, point of sale and food and nutritional industry promotions.
Evaluation results include a 13 percent decline in the target audience (mums) who limit red meat consumption due to health concerns, and 54pc of the target audience saying they are now more likely to eat beef .
Consumption increased among the target audience by 0.17pc.
On face value 0.17pc is perhaps the most marginal increase possible, but its significance lies in the fact that it represents a leveling out of beef consumption among the target market, while every other western economy has a cumulative falling rate of consumption.
Mr Norton said this was not just the result of the beef industry campaign but the fact that beef has many very loyal consumers in Australia.
"Price is the number one driver, but you have an extremely loyal consumer base," he said.
"One major supermarket decided that when domestic beef prices would go up they would promote the hell out of pork and chicken. To their detriment they underestimated the loyalty of Australian consumers to red meat."
The next stage of the "You're better on beef" campaign has been released today (see separate article here).
Mr Norton said the campaign has been a significant success in its first year.
"It has been very successful, and as industry, I believe, we have got the domestic marketing campaign back on track."