TWO well-known companies with a long history in the field of water medication of livestock across Queensland and the Northern Territory have joined forces, in a move designed to lift overall adoption of the technology.
The new business represents a merger between Pastoral and Feedlot Systems Australasia, and Direct Injection Technologies.
Pastoral & Feedlot Systems, which originally adopted the Dosatron equipment for livestock applications and later developed the Nutridose medicator, was launched in the 1990s by highly innovative veterinarian and livestock consultant, Dr Tony Wood and his business partner, Norm Basford.
Direct Injection Technologies emerged from another company that started at much the same time, developing the rival Norprim and later Promatic systems.
Both companies had their own following in terms of the nutrient delivery systems used, and each system approached the challenge somewhat differently.
The intellectual property of both former businesses is now combined, and the new Direct Injection Technologies business will continue to market and service both delivery systems. Going forward, though, the prospect exists to combine the best elements of both into a single water medicator unit.
The merged Direct Injection Technologies group now has the ability to manufacture and distribute its own supplements to put through the systems, out of its facility near Toowoomba.
"Like any technology company, we now intend to scale-up and build critical mass, and part of our growth strategy is to bring in new technology that will be complementary to our existing systems," company director Mark Peart said.
"We're currently talking to others with technologies that we could bolt-on to our business, and will increase our staff presence to build the customer base," he said.
The same liquid injection technology used for livestock supplementation is now being developed for cropping and horticultural applications, allowing users to do away with mixing tanks, and use direct injection of a knock-down herbicide or insecticide straight into the spray lines, selecting different applications from paddock to paddock if necessary, at accurately calibrated dose rates.
Technology delivers advances       
Water medication in extensive northern cattle areas mostly distributes urea as a source of non-bypass protein, and phosphorus, as a much-needed trace mineral in deficient areas. Two of its key attractions are the potential to deliver nutrients far more cheaply than other options like loose licks or blocks, and the inherent ability to dose different animals of different sizes proportionately, according to water intake.
Early technologies developed in the 1980s used mechanical rocker-arm delivery systems, which unfortunately earned water mediation a bad reputation, because of their unreliability, and risk of delivering toxic concentrations of urea to cattle in remote locations. Some cattle exposed to the systems died – but like anything in the bush, bad news travels fast, while good news takes forever. But technology has come light years since the crude, early attempts to medicate cattle.
"With the way technology is really starting to take off across agriculture, we see the opportunity now to scale the business up," Mark Peart said.
"Water medication has always been one of those out-of-the-box technologies, and the timing may not have been quite right 20 or 25 years ago. But farmers now are so much more comfortable with technology, and are focussed in driving productivity. Advances in the use of the internet and smartphones, satellite communication and ADSL out in the bush are making so much more possible," he said.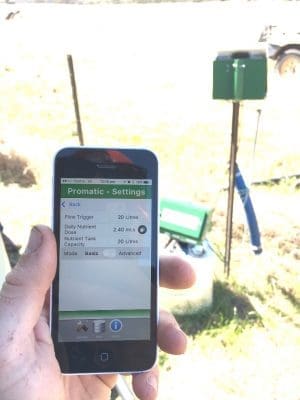 As Beef Central reported in this earlier item, telecommunications is allowing water medication users to accurately monitor the performance of systems remotely, and make adjustments or even shut them down, from the farm office, if need be.
Pastoral & Feedlot Systems worked for many years to make livestock water medication systems safer and more reliable, and technology has played a big part in that.
Devices like peristaltic pumps, which can potentially replace diaphragm pumps, conductivity meters, and software advancements delivering failsafe measures have greatly increased safety and reliability of the equipment. Conductivity meters measure the conductive nature of the water, when there are different concentrations of salts and compounds in the solution passing through it.
New compounds perform better
Arguably the biggest advancement in water medication systems, however, has come from changing the type of compounds being fed to animals, for optimum rumen performance, as well as safety.
One of the early challenges with delivering water-based supplementation to livestock was the pH and iron content of many sources of stock bore water, and the way urea molecules react to that. Urea phosphate is now commonly used to stabilise the compounds used in different bore water types found around Australia.
An added advantage with the use of urea phosphate over earlier forms of urea is that it acts as a slow-release form of urea, eliminating toxicity. In addition to its urea component, it also delivers phosphorus supplement to animals, to keep them going in the wet season, when phosphorus deficiency occurs. As the dry season approaches, the formulation changes to a proprietory urea-based product, which still has some urea phosphate in it to keep it stable in bore water. The combination of those two products means the medicators are not dosing straight urea during the dry season, and equally importantly, makes it very difficult to accidently deliver a dose that could be considered toxic to an animal.
The combination of the new, safer supplement products, and the safety features now built into the dosing equipment, and the ability to remotely monitor the systems means the earlier industry reservations about operational safety using medicators are now obsolete.
Enormous potential market
One estimate suggests there is currently around 50,000 head of cattle being water-medicated throughout Queensland and the Northern Territory, but the potential for greater adoption is considerable.
Given the vast investment now being made across northern Australia with water infrastructure using reticulated systems, poly pipe and troughs, the size of the market for water medication of livestock in northern Australia is enormous. The major limiting factor is the need for controlled waters, so cattle cannot drink from another open source.
Using the Mungabroom/Beetaloo project on the Barkly as an example, the business uses just eight stock bores to feed 200 tanks and 800 troughs, watering up to 100,000 cattle when the project is fully executed. Currently supplementation is carried out in lick block form.
Labour savings alone is one of the big attractions to water medication today, in a labour-starved extensive cattle industry.
Click here to view the Direct Injection Technologies website.