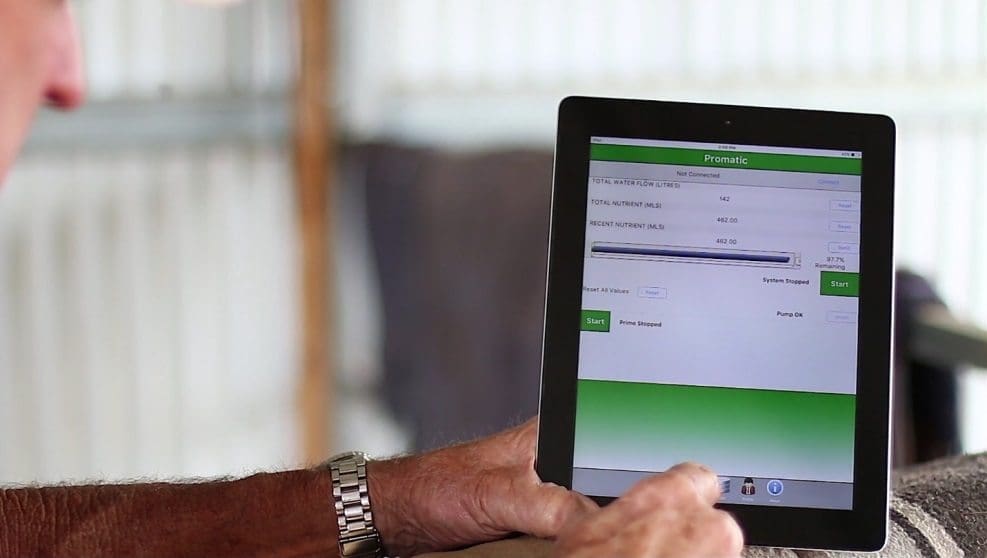 TECHNOLOGY is helping lift the performance, reliability and flexibility of water medication systems, used widely to supplement livestock in extensive and some intensive cattle operations.
Medication equipment manufacturer Promatic has developed an App for use on smartphones or tablets that allows the operator to remotely monitor critical system performance, and turn off or adjust dosage rates on dispensing units.
Water medication systems have been around in different forms for 30 years or more in livestock production, delivering a wide variety of soluble nutrients, trace minerals, electrolytes and other production additives in a cost-efficient and regulated manner.
In extensive grazing applications, urea (providing non-bypass protein in dry times) and phosphorus are most commonly added to stock water using medicator units, as are proprietary products like Beachport Liquid Minerals' livestock supplements. Other applications are seen in dairy and some forms of more intensive livestock production for bloat control and other purposes.
One of the early issues with water medication, especially when delivering potentially-toxic urea, was the risk of overdose and potential stock losses in the event of system failure. It left some users wary about risk, necessitating regular physical checking of water medication systems, often in remote locations, to ensure they were functioning correctly.
Moving with the times
The modern-day Promatic direct injection technology is a descendant of the Norprim system.
Promatic sales manager, Tom Feez told Beef Central that while the basic concept behind direct injection systems remained much the same, opportunity was seen to 'move with the times' with the adoption of monitoring systems based on telecommunications advances.
Medication units can now be linked to an App, developed by Promatic, and accessible via a smart phone, tablet or farm office computer. Monitoring systems use either Bluetooth, or with the addition of telemetry using a NextG modem and the cloud, it's possible to monitor and control water medication operations remotely. Data from the app provides information on water flow, rate of nutrient usage, as well as alarms which can be pre-set for low nutrient product levels, pump time-out, and lack of nutrient flow. Dosing rates can be customised, remotely, as required.
Further research and development is examining even greater reach, using satellite-based data transfer and monitoring, and improving radius of signal transfer – currently between 20km and 50km, depending on the environment.
Multiple water medication injectors servicing different paddocks can be monitored from the same App.
Mr Feez said some users of the new Promatic systems compatible with monitoring units had replaced old Norprim water medication units, some of which had been in service for 10-15 years or more. Newer systems had more advanced pumping technology, replacing older diaphragm pumps and preventing the risk of siphoning occurring from the concentrate tank.
He said there was also a 'new generation' of beef producers looking at installing water medication systems for the first time, who were attracted by the new monitoring technology.
Aside from the safety issue, water medication systems offer a host of advantages over other forms of livestock supplementation, including delivery of prescribed nutrients at a fraction of the cost of lick blocks and other delivery systems. Additionally, all livestock drink water proportionate to their body weight, ensuring that each animal receives an accurate dose of nutrient suited to its specific requirements.
The Promatic dispensing units features a unique design that allows them to be fitted to a variety of liquid nutrient containers, from 20 litres through to 1000 litre shuttles, and eliminating the use of nutrient mixing tanks.
Quick-connect fittings make it easy to change over drums when replenishing product, or to move the system to another location. Mains power and solar panel driven units are available.
Promatic is working with CQ University to align its new monitoring system with the University's Cattle Muster data recording program. The company is also working towards development of its own urea and phosphorus-based liquid supplements, and potentially for the first time, a water-soluble energy supplement.
More on Ag Tech developments later this week.