HELD in Germany every three years, IFFA is the world's biggest exhibition of meat processing and packaging technologies, with around 1000 exhibitors mounting displays and 63,000 visitors from 140 countries in attendance.
This year's event, which finished last week, again provided glimpses of likely future trends in the meat processing and value-adding field.
Here's a snapshot of exhibition items that caught the eyes of Australia's Wiley Engineering staff in attendance – engineering project manager Arthur Seiler, business operation manager Michael Matthewson and senior process engineer Beau Taylor.
Co-botics:
Co-botics is a term that's often spoken about but rarely implemented outside of Europe and the US. Robotik-Pack-Line displayed a sample processing line using co-bots. It was an impressive display which showed just how much the technology has advanced in recent years.
Co-bots offer an enormous cost saving in labour. The capital costs associated with automation is dwindling rapidly. Co-bots are designed with sensors that allow them to be extremely sensitive to the presence of humans and require no guarding as a result. These sensitivities can be adjusted dependent on the area of operation, the number of other operators on the line, the product being handled and other environmental conditions. This means that human operators can work side by side with them, in direct collaboration.
Working with Universal Robots, Robotik-Pack-Line offer a solution suited to any range of food packing lines, or other applications. This represents an excellent opportunity to reduce labour costs for manufacturers and improve the uptake of technologies across the industry.
Rotary Forming Machine:
An exhibition item of interest was a rotary forming machine that promises reduced shear, better hygiene and less rejectable products. Exhibited by Provisur, theVerTex has been developed to improve the quality of retail-ready products and the manufacturing processes that makes them.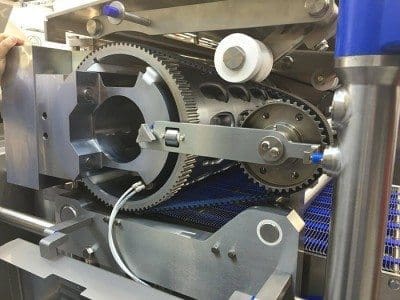 The VerTex is a state-of-the-art forming machine packed with significant improvements over traditional formers. Improvements such as less moving parts, simplified servo controls and additional hygiene features that allow the VerTex to operate without the need for drum cleaning during a production shift. This means that production stoppages are reduced, fewer spares are required and no separate drum washing facility is needed. The VerTex can also facilitate high and low pressure forming as well as 3D forming.
Technologies like the Vertex provide a wide range of benefits that retail ready manufacturers should focus on to be globally competitive into the future.
Ilapak Delta Rotavac:
IFFA offers a brilliant chance to see what the entire world is doing in meat manufacturing and as such the new Ilapak vacuum packer piqued my interest. The automatic rotary vacuum sealing machines by Cryovac, specifically the 8600, have dominated the industry in some parts of the world.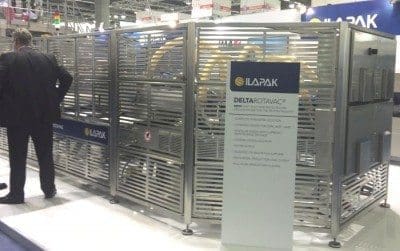 The Ilapak Delta 6000 flow–wrapper boasts a throughput of 45 cuts per minute, matching the output of the latest 8600 models. However, where the older models of the 8600 required cuts to be bagged prior to sealing in the machine, the Delta 6000 accomplishes both; Ilapak suggests that this can reduce labour by up to 60pc. Ilapak also offer in-place customisation for changes in product, meaning that any production changes can be managed in situ.
Healthy competition in this area is something that all meat manufacturers should keep an eye on, as significant production and operational benefits are likely to emerge.
Single Set Weigh Portions: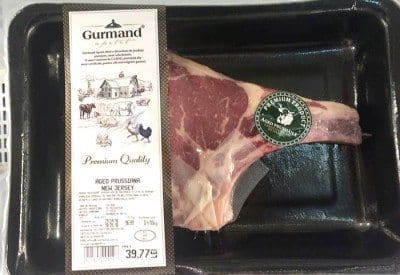 I've noticed at IFFA there is a strong consumer trend in retail-ready product. This is motivating equipment suppliers to empower food producers with technology to meet this increasing consumer trend.
In particular, advances in single-set weigh portioning processes are noteworthy.
The precision and accuracy of slicing, batching and packing operations is what I find astounding. For example, a 100g steak can be cut to an accuracy of +/- 4g. Considering this accuracy requires the analysis of a primal cut for yield, density and abnormalities, the result is remarkable.
High Pressure Pasteuriser by Hiperbaric: 
Touted as the 'biggest vessel in the world' the Hiperbaric company showcased its latest 525 HPP (High Pressure Pasteuriser) model.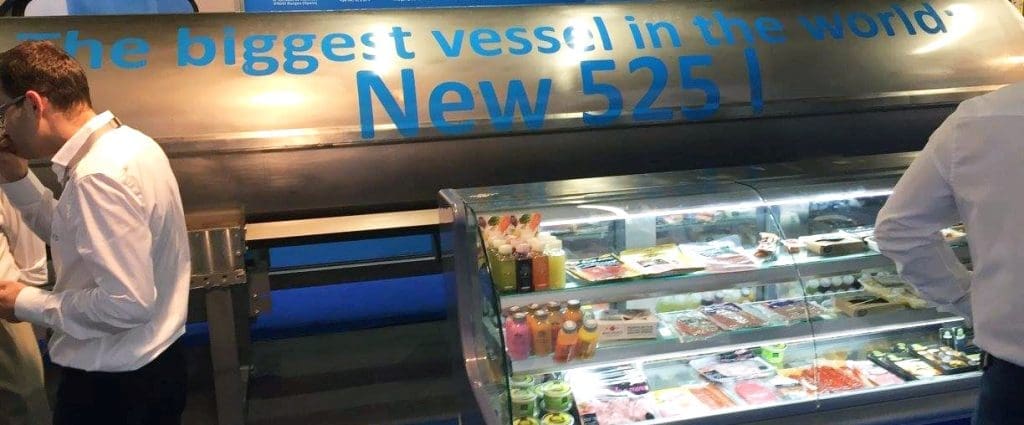 What caught my eye was the sheer size of these vessels, pictured above. This means that greater throughput can be achieved at a similar production cost which will push a user's OEE (overall equipment efficiency) up just that little bit more.
The control of contaminants and food safety is always a hot topic at trade fairs like IFFA and Hiperbaric is obviously always aware of this. Offering up the largest HPPs in the world Hiperbaric machines are built to be fully-integrated, meaning that there are no additional external accessories to support the machine; it all comes as one unit.
HPP (sometimes called High-Pressure Processing in Australia) is a novel form of pasteurisation, discussed in this earlier beef Central article.
Retail Ready:
Before I made my way to IFFA, I had the privilege of networking with some colleagues from Multipack in Switzerland. A few key learnings came out of this opportunity. While exploring the aisles of a local Migros (Switzerland's largest supermarket chain), I noticed that the retail-ready market here in Europe is significantly different to what we see elsewhere.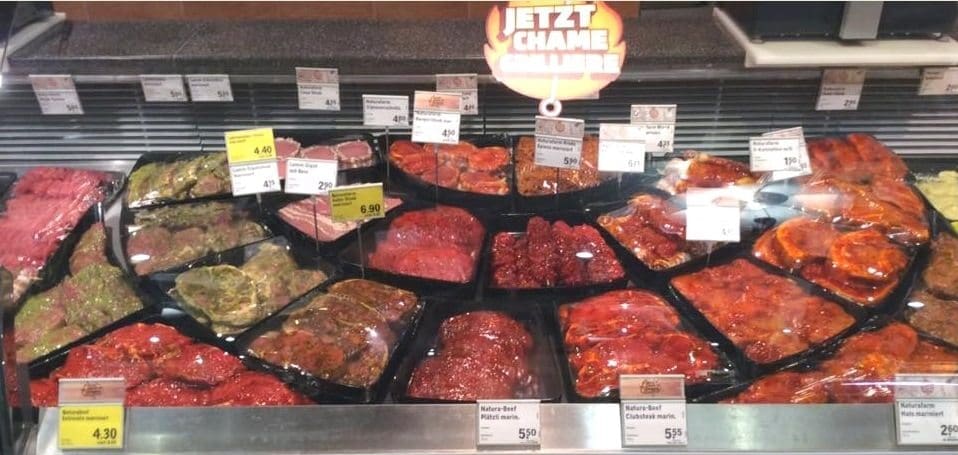 Firstly, consumer trends have begun to favour the more artisanal, handmade, retail-ready meat products. The butcher presentation cabinet in Migros was incredibly impressive, all products were handmade on-site and presented by the Migros staff. These products attract a higher price point due to the personalised service and the high customisation the butcher provides.
Also noteworthy is the push towards vertical hanging for retail packs which makes for great presentation and an increase in consumer interest.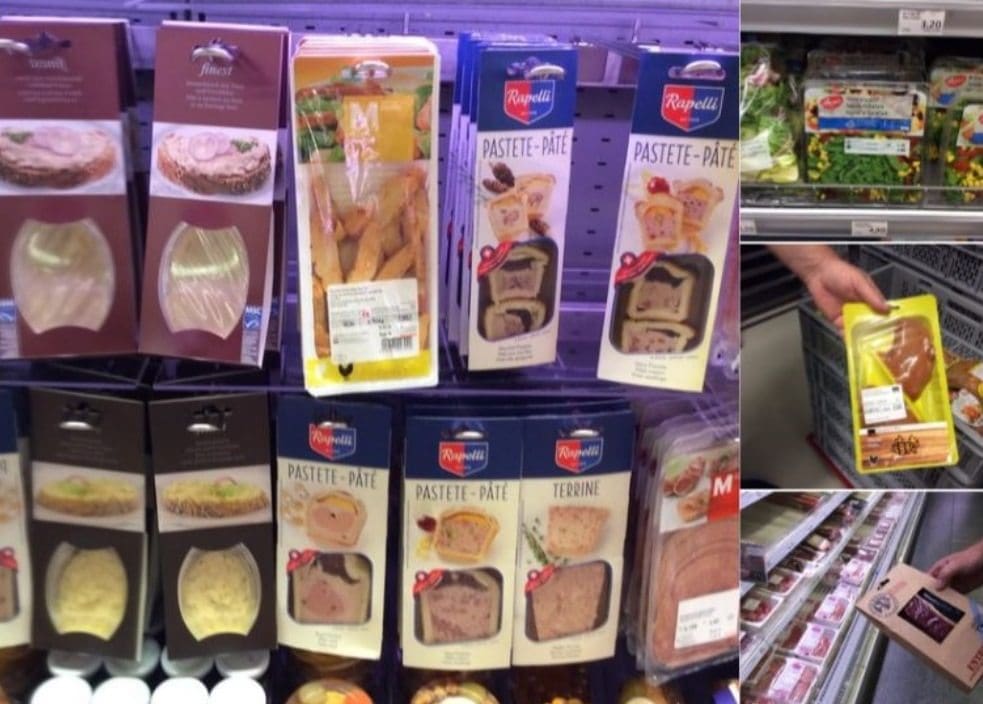 Weber Shuttle System:
I was particularly taken with a shuttle system that was displayed at the Weber Packaging Solutions Stand. The shuttle system displayed at IFFA illustrated the control that automated processing brings to the handling of retail-ready products; allowing for full traceability of single SKUs (stock keeping units) on a multi-SKU line.
Using magnetically-driven conveyors, the rapid transfer and merging of products was seamless. The in-situ application for display was demonstrated for a sliced, retail-ready product and showed how all products were tracked throughout the system. Ninety degree transfers were facilitated easily by the system which guided individual modules onto the main run using magnetic force. Due to the absence of a continuous power-driven mechanism like a motor, the system could be easily stopped by hand with minimal force.
Most impressive, however, was the fact that multiple SKUs could be managed, traced and tracked throughout the entire system. This is similar to ASRS (automated storage and retrieval system), however instead of managing cartons that are filled with any number or combination of SKUs, the Weber system manages individual products which are later packed into cartons. This sort of system easily integrates food traceability with automated product handling (using pick and place robotics) to add significant value to any retail ready production line.
Alginate Sausage Casing:
Vemag have developed a line of machines that utilise alginate casings that can be used immediately without the costly and timely drying process of traditional casings.
Using alginate casings means retail-ready sausage manufacturers can significantly decrease the cost and time of production per SKU thereby improving OEE (overall equipment effectiveness) on sausage lines.
Alginate casings, which are produced from algae, do not pose a crossover product complication for halal products and ensures a consistent thickness of the casing. As a result, there is an opportunity for continuous production optimisation. Alginate casings are also significantly cheaper than traditional sausage casings and the CC215 from Vemag has maximum portioning capacity of 1800 pieces per minute, so alginate casing lines double-down on reducing both cost of goods and production.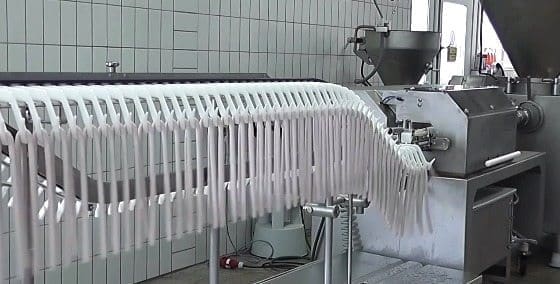 Meat Processing Robotics: 
Working with robotics company, Aira, the German company and slaughter experts,Banss have formed Innovative Food Robotics (IFR), a consortium dedicated to innovating in the application of robotics in slaughter applications.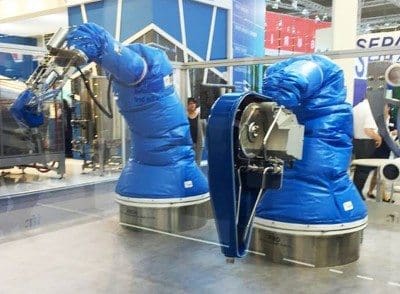 The IFR robots on display at IFFA this year (pictured left) are impressive, perfectly synchronised as they performed the movements required on pig slaughter lines. Unlike the cobots we featured on day one, these robots do require guarding and have the potential to cause severe personnel harm. IFR's robots are intended to operate within cages and autonomously of human operators.
Impressively these robot's movements are calculated based on the digitised surface profile that is constructed by the 3D scanning module which is part of the system. Each movement is specifically determined for the individual carcass. In addition to this, the system maintains food safety by programming cleaning cycles at the end of every shift.
Marel V-Pumps:
Made with the consumer in mind, the Marel V-Pump for the Marel RevoPortioner is capable of pumping batches of up to 5000kg per hour.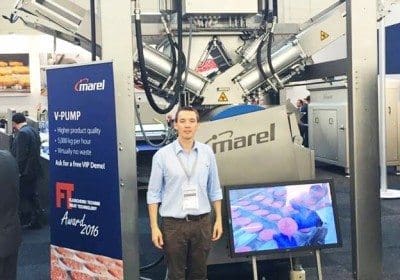 The V-Pump guarantees a reduction in loss of raw material and a retention of the original meat structure which has traditionally been difficult to achieve when batching ingredients and raw materials for retail ready products. The design of the V-Pump allows for a uniform pressure to be applied to the batch product which maintains the original meat structure.
Marel have been a trusted name in this space for a long time and their commitment to improvement and innovation in the retail ready space is excellent. Unfortunately, the V-Pump is only operable with the Marel RevoPortioner. While, the Marel RevoPortioner is a high quality former, the inability to operate with equipment from other manufacturers is severely limiting, particularly given the need for customisation on retail ready production lines.
Moda Packing Machines:
Another excellent example of a rotary vacuum packing machine is the Moda packing machine. Moda have taken sleek design to the next level with their latest generation machine targeted at reducing maintenance and ownership costs.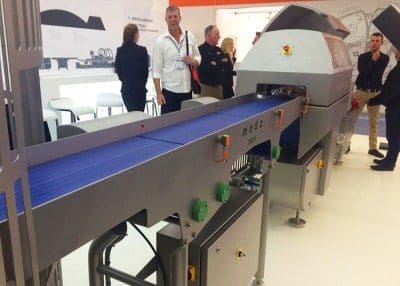 The system has an integrated shrink tunnel line and feed and is designed so that control boxes and panels do not protrude from the machine's base footprint. The symmetrical design allows for a significant reduction in moving parts that, along with other enhancements, could reduce maintenance cost by up to 55% compared to other rotary vacuum machines.
What is really interesting is the customisable functions of the Moda machine. Internal vacuum and seal monitoring systems have been coupled with Allen Bradley/Rockwell automation controls. This allows operators to adjust the machine using the HMI (human machine interface) touch screen and can seamlessly integrate with Rockwell's MES Solution. In addition to this, a fully-programmable central lubrication system means less time spent on the greasing gun.
Plastic Replaceable Bollards: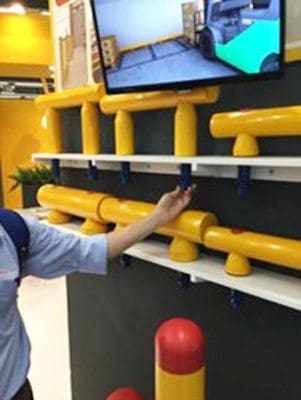 European systems for ensuring safety and hygiene in food manufacturing facilities is of an extremely high calibre. A good example of this is the plastic bollards and protection systems on show from a range of suppliers. While plastic bollard systems may seem inappropriate in industrial applications, suppliers offer several years of warranty, provided the installation is carried out correctly.
The plastic bollard systems rely on a booker rod system which is epoxied into the existing slab. The suppliers demonstrated how a high level of damage from impact can be rectified by simply removing and replacing of the bent booker rod and the damaged bollard. They showcased how any impact would not damage the slab nor would any replacement require modification or works on the slab.
If high hygiene and flexibility are a focus, then these systems are an application worth investigating. And, should there be an incident such as a damaged bollard or barrier, you can return to an operational state in next to no time.
Cool-It Door Systems:
Cool-It Door Systems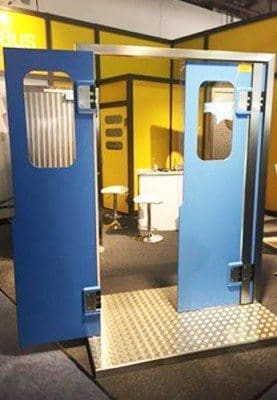 were exhibiting a range of pre-formed polypropylene doors. Unlike panel doors trimmed in stainless channel (the typical configuration for such doors), the pre-formed poly doors are supplied as a single component, for ready installation.
The benefit of a single-mould door is no cracks or crevices as potential zones for contaminant collection and the product presents as an excellent opportunity for high hygiene improvements.
All of the doors we examined seemed to be very durable and the Cool-It doors operate on a well-designed double-hinge system. The hinges have limited potential for contaminant collection and remain open when pushed to a certain extent.
Doors and doorways are an area of innovation that are often overlooked but offer the potential for significant improvements in hygiene and food safety.
More information: www.wiley.com.au