THE impact of Cyclone Marcia on beef processing operations in Central Queensland was clearly reflected in weekly slaughter statistics for the seven days ended Friday, released by the National Livestock reporting Service yesterday afternoon.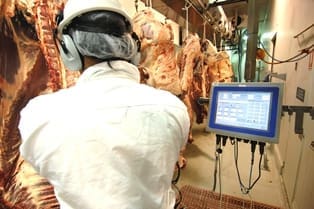 Queensland's kill retracted to 75,275 head, down 7 percent on the week before, as a direct consequence of the week-long closure (so far) of Rockhampton's two main export abattoirs, and a shorter stoppage a little further inland at Biloela.
As Beef Central reported to readers last Monday, both JBS Rockhampton and Teys Lakes Creek remain shut, following damage caused by Cyclone Marcia.
This update published on Friday provided further details about the status of closures, suggesting Lakes Creek will not re-open until Friday this week at earliest, and more likely sometime next week.
The situation at JBS Rockhampton is even more clouded, as the plant works its way through a cleanup with the added complexity of asbestos-related workplace health & safety concerns in damaged fibro roofing materials. Parts of Rockhampton and nearby communities are still without power, ten days after the Cyclone struck.
Queensland's kill last week was its lowest five-day week since the return to work in early January, and the figure is unlikely to change much, this side of Easter.
Two upcoming short Easter weeks (week ending Friday April 3 and week starting Monday April 6) will further curtail national kills by 20pc in coming weeks. As a result, Queensland looks unlikely to return to +80,000 head weekly kills until mind April, at earliest.
While the big concentration of processing capacity in the state's southeast was already coming under considerably supply pressure prior to the cyclone, the events in Central Queensland have only exacerbated that.
Large plants in SEQ and northern NSW currently report solid bookings three weeks out – some into April, week one. Some have stopped quoting altogether as a result. Several plants, including NH Foods at Oakey, have re-activated their Saturday boning shifts, in order to keep-up with the high demand and rates of kill.
Adding fuel to the fire in terms of supply is the fact that after the earlier promising rain events around December/January, large parts of central and southern Queensland are drying-out rapidly and are in search of rain. Further north, there are large parts of northwestern Queensland that remain in serious drought, and conditions are deteriorating badly further east around Charters Towers.
Grids under pressure
Processor grids seen this morning show those grids still active in Central Queensland back another 15c/kg this week. That comes as no surprise, given local problems.
Southeast Queensland grids are either unchanged on a week ago, or back 10c/kg, as different processors bring their grids into competitive-alignment based on the timing of earlier changes.
Public grid prices for SEQ we have seen this morning are 410-420c/kg on the four-tooth heavy steer, 390-400c/kg the heavy cow.
Processors in some cases are still working their way through cattle bought earlier at higher rates, some choosing not to book further cattle until that inventory can be cleared. However several reported 'a lot of supply inquiry' out of the Central Queensland beef heartland presently.
The combination of an encroaching Easter stoppage period, CQ's weather problems, a deteriorating 90CL manufacturing beef market into the US, and general heavy cattle flows continue to exert pressure on the market, and it looks like there will be a continuation of supply exceeding capacity for some time yet.
Southern grids now all-square with the north
One factor which may help ease congestion in northern processing plants is the relativities between southern and northern grid pricing.
Grid prices in the south have not changed significantly in the past fortnight, bringing north and south into close alignment. If anything, southern rates may now be a few cents ahead over the north, after being as much as 30-35c/kg behind only a few weeks ago. One large SA export processor was quoting 430c/kg on the four-tooth steer this week, a full 10c/kg above best southern Queensland rates, and 410c/kg on cows.
It indicates that the north/south seasonal kill tide is turning. That trend is not the slightest bit unusual at this time of year, however, as southern processors start to run out of cattle, and northern processors find local supply more plentiful. Traditionally, Queensland processors step out of those southern markets about this time every year, as the freight component starts to overwhelm the relative pricing advantage in buying southern stock.
Having said that, southern processors historically do not start to ramp-up their grid offers until later in March, but northern competition – year-to-year – can influence the timing of that. A little 'price creep' in the past week or so perhaps reflects a desire to maintain those southern kills at high levels.
Adding a little competitive tension in the southern cattle market recently was the order for lightweight Angus type steers for a live export order, understood to be for Vietnam, departing out of Adelaide. The moderately sized order called for 290-400kg black steers. Most of the cattle came out of Central Australia.
Kills ease across eastern states
Last week's Eastern states kill dropped 4pc on the week before, for reasons discussed above, to 164,462 head.
On top of the 10pc reduction in Queensland, the NSW kill retracted 3pc to 41,814 head, while Victoria was slightly down, week-on-week, to 32,159 head.
South Australia reported a kill of 10,241 head, +1pc on the week before, while Tasmania was -2pc at 4974 head.