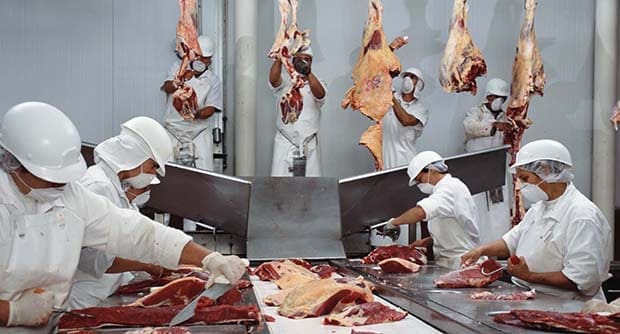 TYPICAL beef processor margins on slaughter cattle have produced losses exceeding $300/head for the first time, a recent analysis has shown.
A theoretical monthly processor margin calculation made by Thomas Elder Markets suggests losses during January averaged $310 per head*, across adult slaughter cattle.
As the graph below shows, this is the lowest recorded monthly margin (or more accurately, negative margin) since records began in early 2000.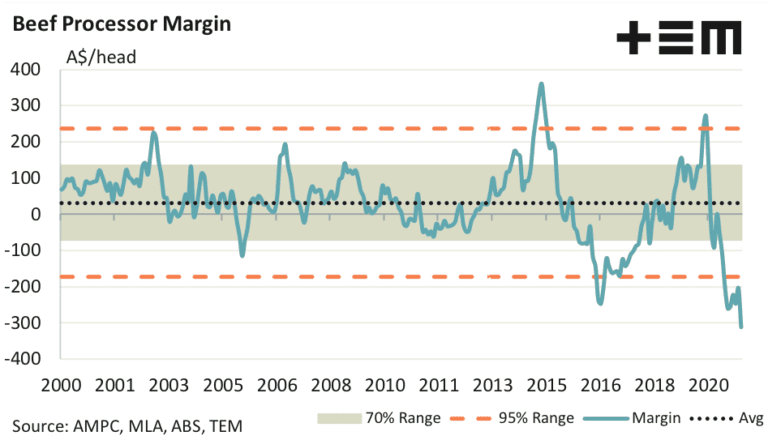 "Looking at the margin model for the start of the season, it is pretty clear that it has been a shocker of a beginning to the year," TEM analyst Matt Dalgleish said.
"It's never a good thing for a supply chain to have a key participant suffering financially and it makes it difficult to see how finished cattle prices can continue to push higher during 2021," he said.
The record loss trend for processors on slaughter cattle was flagged in this weekly kill report published back on 19 January, when both grassfed steers and cows were at least $300 in the red.
As Beef Central reported last week, Victoria processor HW Greenham closed one of two lines at its plant in Tongala due to cost and supply pressures, and in December, Monbeef, a hot boning processor near Cooma in NSW closed its plant for eight months.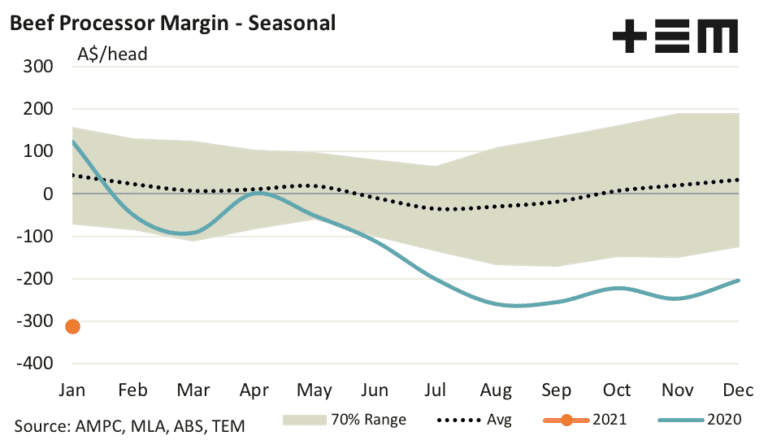 * Note – The TEM processor margin model can be adjusted retrospectively as new input data comes to light. The January 2021 figures include co-product pricing and some export pricing that is yet to be updated fully for the month of January, so the $310 figure may be adjusted slightly in future analysis releases.
Click here to access original TEM article.