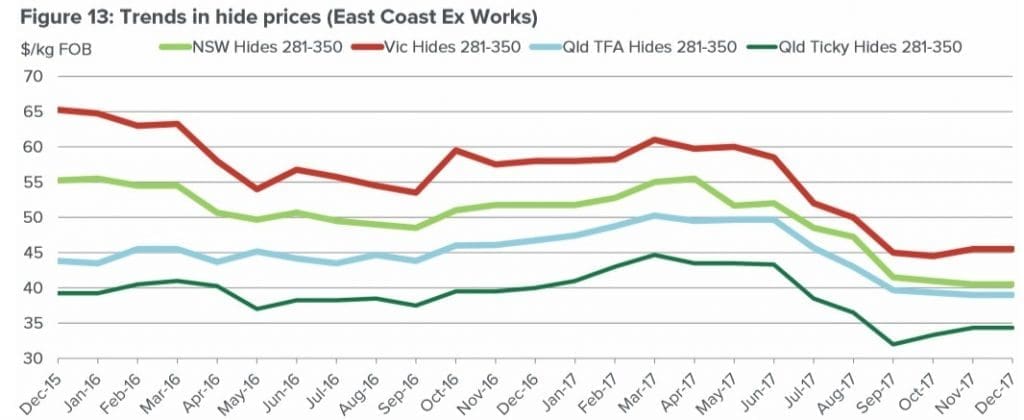 CHINA increasingly dominates the global trade in hides used to produce leather goods, but synthetic leather is providing a serious obstacle to demand and price, a well-connected Australian hides consultant has told Beef Central.
Responding to Beef Central's recent article noting declining hides values (click here to view), the consultant, who asked not to be identified, said in his experience, Australian hide prices were driven by:
Global supply and demand (tanneries)
Local supply and demand (trading companies)
Currency was another big factor, as international hides are mainly traded in US dollars. The recent sharp rise in the value of the A$, reaching US81c in late January, had not helped recent demand or prices.
Increased supply. Globally, hide supply had increased, mainly due to increased meat demand in Asia more than offsetting decreased demand elsewhere. Other major beef exporting countries like Brazil and the US are slaughtering more cattle, adding significantly to global hide availability.
"If supply in Australia is at normal levels, then global demand will drive prices, but if supply in Australia is low (as it currently is, due to restrained rates of slaughter) then increased competition amongst local hide traders can push local prices up, against the global trend," the consultant said
Of course if local supply was above normal levels, then the opposite could be the case.
He said it was necessary to go back to the days of the Global Financial Crisis around ten years ago to see 'just how low hides prices can go.'
"What drives global hides demand is a complex business, but end-uses for Australian hides fall mainly into the categories of shoes, furniture, car seats, and fashion handbags & accessories."
Many tended to be higher-end consumerables, with some elasticity in demand depending on the state of the economy.
"Demand and supply within these categories can change from month to month due to the season, fashion trends and other reasons," he said.
Record high 2014 prices forced changes
The rise and fall of China as a leather producing powerhouse was topical at present.
Low labour costs, soft loans, overinvestment and overcapacity fuelled huge demand for hides in China which lead to all-time record prices in mid-2014, he said.
"Since 2014 we have seen a structural unwinding of leather business in China due to increased labour costs and a severe crackdown on industries which create air and water pollution. Investment in the leather industry has reduced, and tanneries have closed due to pollution related and/or financial reasons," he said.
It is thought that the extremely high prices reached in 2014 forced manufacturers of leather products to seek cheaper alternatives and to design leather 'out'.
Consequently, shoe and furniture manufacturers took a gamble and introduced a large percentage of synthetic products to gauge market reaction.
"As a surprise to most in the leather industry, this strategy had success, and products sold well," the consultant said.
"One of the reasons for this success was that the quality of synthetic products has improved vastly and casual buyers had some difficulty in identifying synthetic product from genuine leather."
As synthetic products are generally petroleum-based, it was thought that if oil prices rose and hide prices fell, then manufacturers would simply go back to using leather again.
"However, manufacturers found that synthetic products are far more compatible with automation than the natural and random nature of leather, in terms of size and quality. Once synthetic compatible production lines of were set up with automation and robots, the efficiencies and cost savings made it compelling," the consultant said.
Fashion bags is a business that continues to use leather, but very high quality hides are required. Australia has very few suitable hides for this item, and most are sourced from Europe.
One reader comment on Beef Central's previous story suggested that hides from Tasmanian cattle attracted the highest prices of all Australian hides, due to the absence of fire brands, the absence of ticks and less use of barbed wire. Hides from the southern region of Western Australia were next highest in value, for similar reasons, he suggested.
Car seat leather has increased in popularity in recent years, and was still considered to be a good business, the hides consultant said.
"Larger hides of better quality Australian origins are suitable for this product, but so are many other global origins, so competition for this business is strong," he said.
Despite its recent setbacks, China still represents the dominant destination for Australian cattle hides. One of the nation's largest multi-site processors estimated that between 75pc and 85pc of his company's hides ended up in China for processing.
The consultant said the current global outlook for hides did not look optimistic, with a further downturn in prices more likely than an improvement.
Responding to earlier suggestions that collusion might be involved in Chinese cartel buying of hides, he thought in unlikely.
"The Chinese are very competitive by nature, and have never really been renowned for collaboration or collusion. Short-term collusion is possible, but my feeling is it wouldn't be long before someone broke ranks, to gain a competitive advantage."